Are you planning to start selling on Walmart Marketplace but don't know where to start?! Whether you are selling already on other marketplaces (Amazon FBA, Etsy, Ebay, Shopify) or not and are wondering how good or bad is Walmart compared to them, this blog post is for you!
When it comes to your e-commerce business, it never hurts to have multiple channels to grow your revenue and find new customers. If you're a recurrent visitor of this blog, by now you – probably – already have your personal business website to sell and ship orders in addition to an account on the Amazon Marketplace. Did you know that another big up-and-coming marketplace is the Walmart Marketplace? If you're only hearing about this now, don't worry – keep reading to find out all you need to know about selling on Walmart Marketplace and why it will help grow your e-commerce business.
What is Walmart Marketplace?
Walmart Marketplace is the new(ish) competitor to the eBay and Amazon marketplaces. If you've sold items on either eBay or Amazon, the Walmart Marketplace will be a similar experience. Walmart Marketplace offers sellers the opportunity to reach 100 million shoppers on Walmart's e-commerce channels (website, app). Since it was launched in 2009, it has quickly grown. In 2020, Walmart experienced a 79% increase in e-commerce growth. While Amazon still controls nearly 40% of the market share in e-commerce sales, Walmart is a distant second with 6% market share, but it's growing – fast!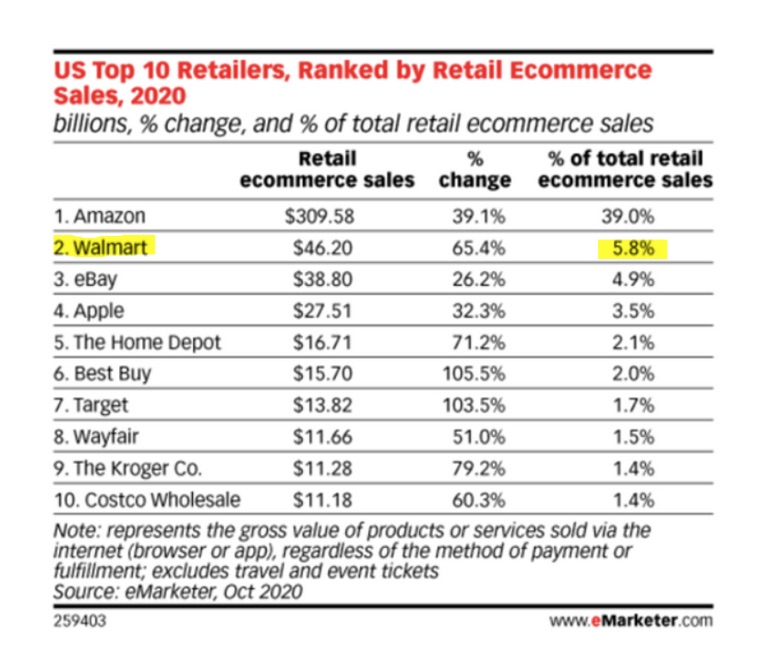 Just like Amazon Marketplace, Walmart Marketplace gives sellers total control over their business. You can manage inventory (no limit on SKU's or inventory), set your own pricing, fulfill your own orders and if you need a hand, Walmart offers online customer care.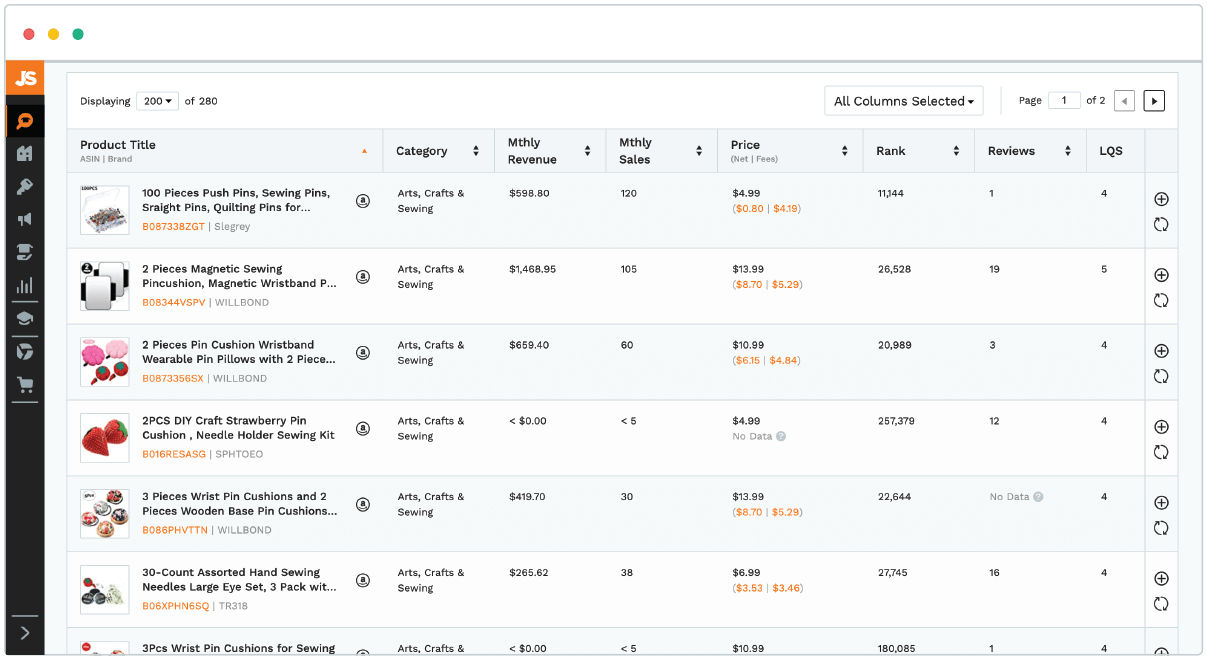 Why You Should Sell on Walmart Marketplace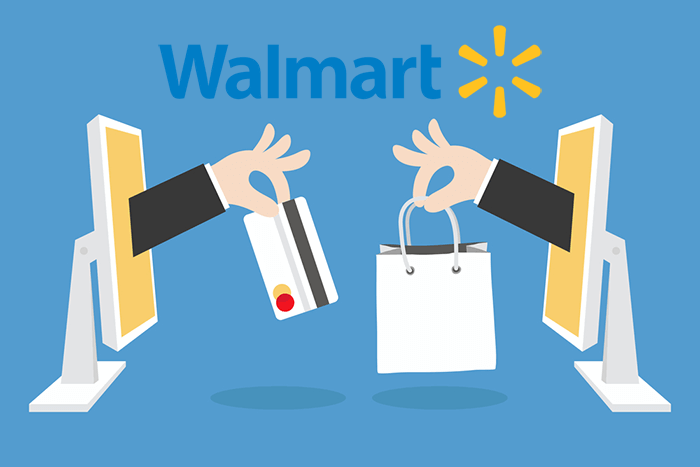 Reach a Larger Audience with Walmart Marketplace
The first reason why you should add Walmart Marketplace to your list of e-commerce sales channels is because of Walmart's large audience. You can reach millions of new customers that may not be shopping on Amazon. Leveraging this audience is a huge advantage, you get to put your products in front of Walmart's established audience that is actively shopping and looking for deals on the website and mobile app.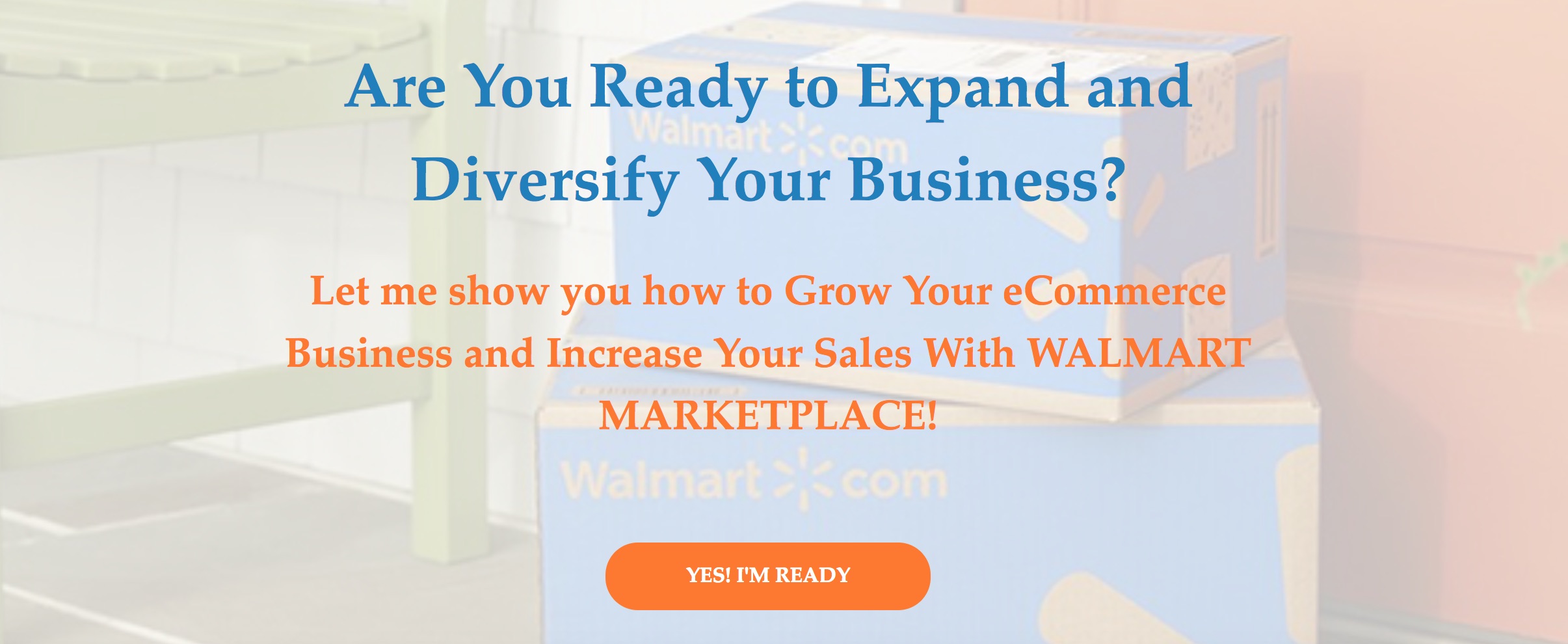 Because of Walmart's method of approving sellers, the Walmart Marketplace is a curated community of sellers. And these sellers are high-quality real sellers, not a group of dropshippers. To even get approved to sell, sellers need to provide proof of offering high-quality products that are priced competitively, and that the seller provides excellent customer service. While this makes it harder for sellers to onboard the Walmart Marketplace, it also creates less competition, helping create more visibility for existing listings.
Read More: Scaling an Amazon FBA Business to International Markets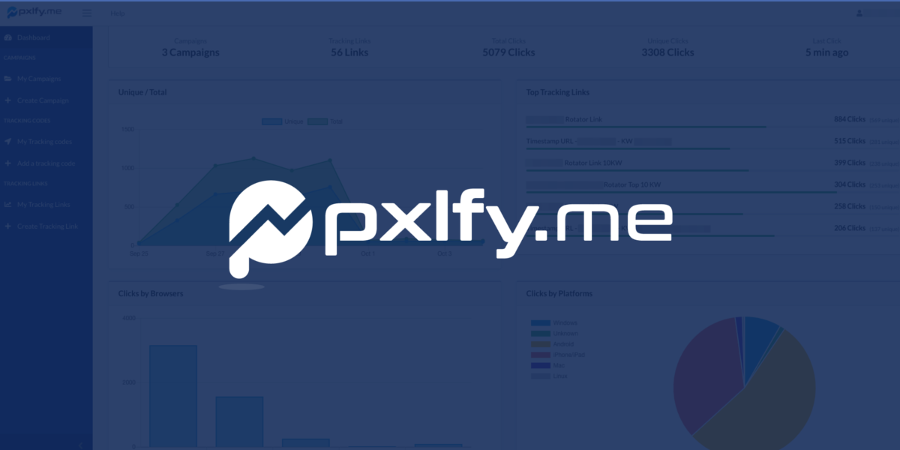 There is Less Competition on Walmart Marketplace
Although the Walmart Marketplace has been available for some time, it's only recently that the platform has been fine-tuned and tweaked to draw in sellers and shoppers alike. This means that there is less competition from other sellers, creating an opportunity for you, your brand and your products. This also results in greater visibility and an opportunity to price your products competitively alongside other products and brands in the marketplace, including Walmart's first-party brands.
It pays to be an early adopter. Overall, you'll experience less competition on Walmart Marketplace, as there just over 50,000 sellers on the platform and that number has continued to grow, ever since the partnership between Walmart and Shopify was announced. Compared to Amazon, Walmart Marketplace sellers get 13 times more visitors than on Amazon; that's 27,000 average monthly visitors per seller on Walmart compared to 2,100 on Amazon. That's huge!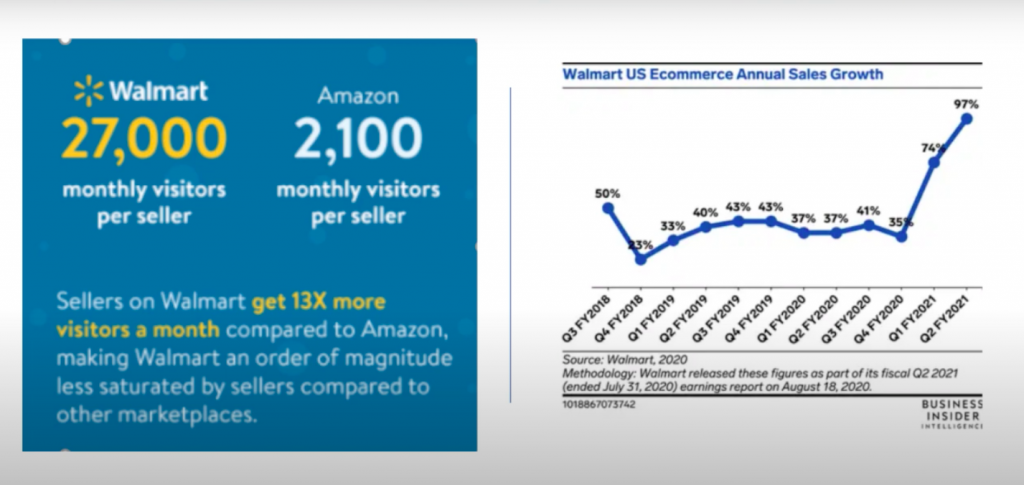 In our video interview with Michal Chapnik, she explains how just one product can be so saturated on Amazon, that you have to search from 10 or 20 pages to find yours. To work on ranking the product to show up on the first page can take lots of money and lots of time – even up to a year. With Walmart, you only have search through three pages before you can find your product, and ranking your product higher takes significantly less time, effort and money.
There is also less competition for the Buy Box. Unlike Amazon where you can reprice your listings multiple times, you can only reprice on Walmart once a day – which further helps to reduce competition.
List What You Want on Walmart Marketplace, How Much You Want
What if you want to sell dozens of SKUs and hundreds of products at once in multiple categories? If you're wondering whether that's possible on the Walmart Marketplace, it is! Walmart promises that it has "no SKU minimums or maximums" so you are able to list your "entire catalog of eligible items." You can also list products that are offered as a limited special inventory and can manage them by setting a fixed threshold.
This makes it easy for you to list as many products as you want in whatever category you choose. As soon as you upload your listings, your listings go live almost immediately. Walmart has made the listing process easy for sellers to attract sellers.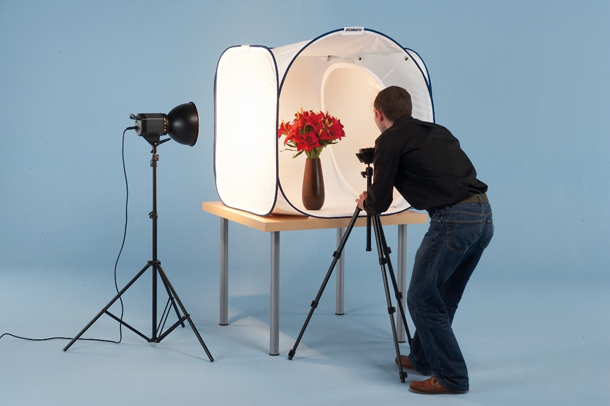 Pay Only For What You Sell
One big advantage to Walmart is its ethos of saving customers money. Walmart is well-known as an affordable retailer that sells quality products. The same cost-saving ethos is applied to Marketplace sellers. There are no setup fees or monthly seller fees. Walmart's fee structure is simple and straightforward and apply only to a completed sale, with fees ranging between 8% on the lowest end (baby, beauty, consumer electronics) and 15% at the highest end (furniture & décor, home & garden, tools & home improvement).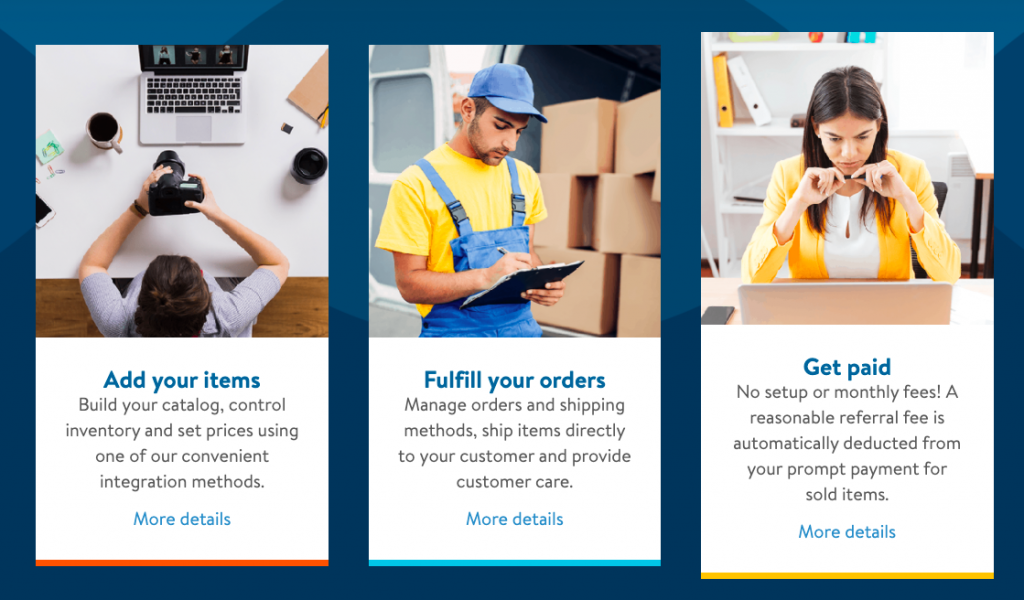 If you have products that you want to sell quickly or have too much supply, you can take advantage of Walmart's clearance section. You can set your products to be on sale or on clearance, and these items will have a badge next to them as a customer browses the website. This not only attracts attention to your product listing, it also includes it in Walmart's sale and clearance section automatically, driving more traffic.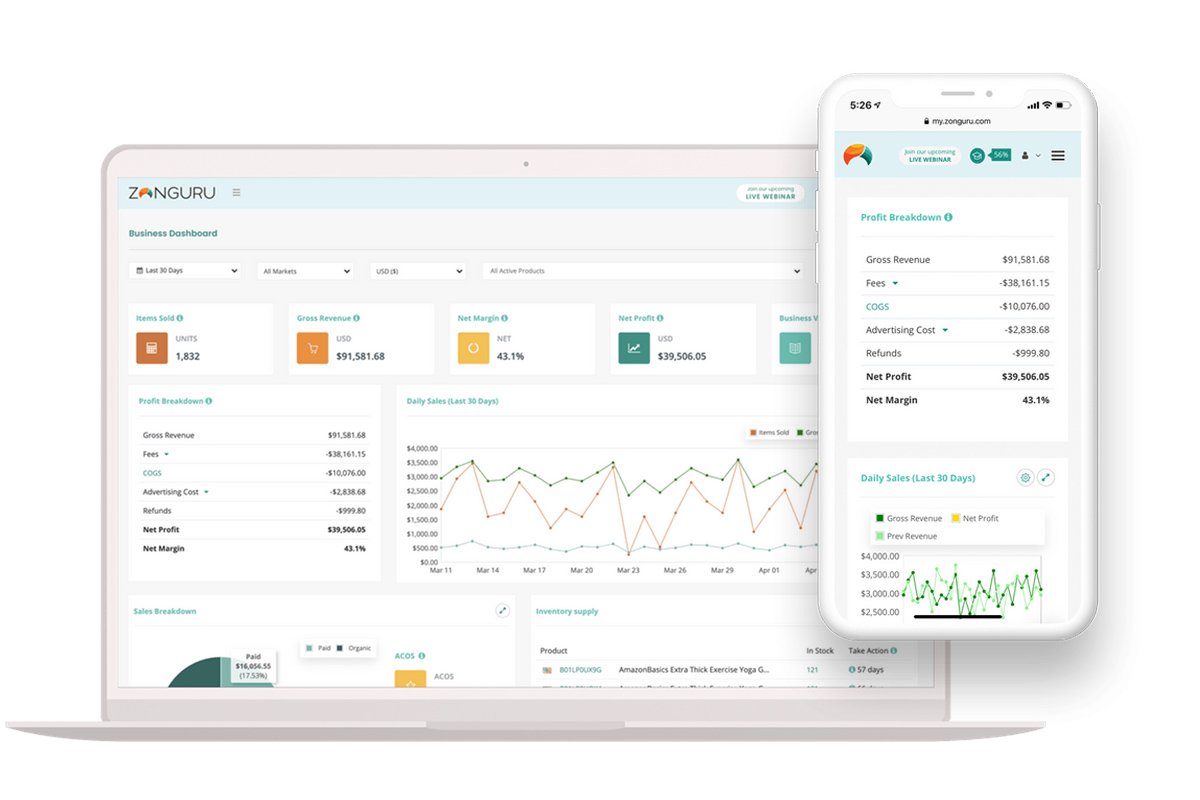 Get Access to New Useful Tools
Just like partnering with Amazon, you get access to a whole suite of tools that help you become a successful seller on the marketplace. These tools include:
Walmart's Listing Quality Dashboard: make improvements to your listing discoverability, content, optimization and receive post-purchase quality insights.
Walmart Connect: utilize Walmart's advertising options by reaching 150 million weekly users who shop online and in-store; view online/offline sales results; choose your audience and launch new products and seasonal items.
Brand Portal: If you ever run into theft of your intellectual property, you can turn to Walmart's Brand Portal. You can manage your various brands, submit multiple intellectual property claims and track each claim.
Item Spec 4.0: Improve your efficiency with faster setup, increase product discoverability through new attributes and set up just once for Marketplace and Walmart Fulfillment Services setup.
Expedited Shipping: As a seller, you can take advantage of Walmart's expedited shipping, offering your customers TwoDay Delivery, receive discounted shipping rates from couriers, utilize fulfillment by Walmart, and take advantage of the entire ecosystem that can help you land Buy Box prominence, make more sales and save money.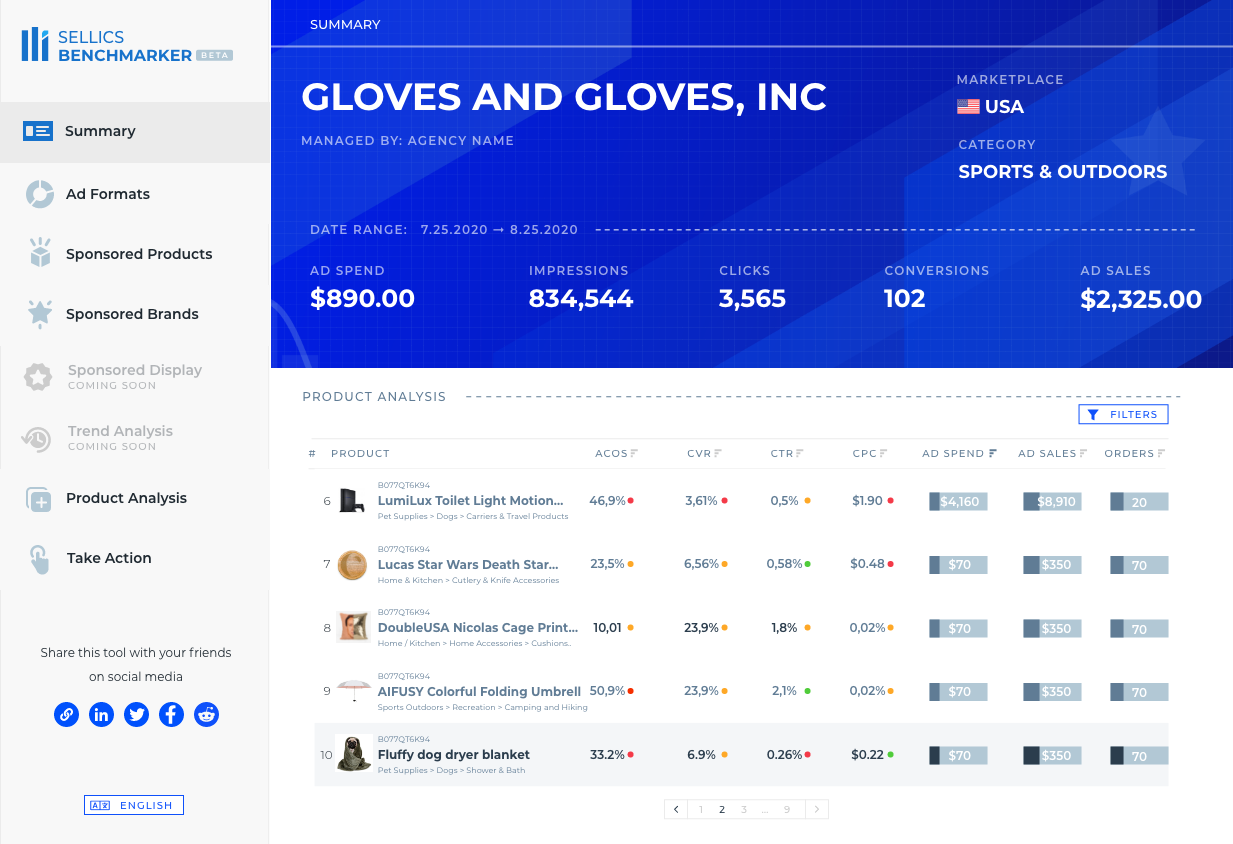 What is Walmart Fulfillment Service?
As an alternative to Amazon's Fulfilled by Amazon (FBA) service, and to support its growing roster of marketplace sellers, Walmart launched its Walmart Fulfillment Services (WFS) in early 2020. WFS offers marketplace sellers the opportunity to take advantage of Walmart's highly developed world-class supply chain. Just like FBA, WFS allows sellers to store their product inventory at a fulfillment center. Once a customer purchases a WFS-eligible product, Walmart picks, packs and ships the product to the customer. Walmart also takes care of the post-sale processes such as returns and customer service.

Key Benefits of WFS
TwoDay Delivery
Amazon has changed the way people shop online. People now expect their order to get to them within days, not weeks. WFS offers similar delivery speeds through the TwoDay Delivery offered nationally (USA). Walmart has developed a successful supply chain over many decades, with 90% of the American population living within a 10-15 minute drive of a Walmart store. This guarantees speedy delivery all across the USA.
Sales Growth
By taking part in WFS, sellers can improve their chances of winning the Buy Box. Items that are labeled/tagged as TwoDay Delivery can boost organic rankings  – all of which is important to win the Buy Box.
Competitive Fulfillment Costs
Going back to Walmart's top-notch and large-scale nationwide supply chain, sellers can take advantage of this by paying a monthly fee to reduce their logistical headaches. This not only saves time and money but it also provides a better shopping and customer experience through WFS.
Diversification from Amazon / Other Marketplaces
COVID-19 showed how important diversification is for anyone, that includes individuals and businesses. In the beginning of the global pandemic, Amazon froze all FBA shipments and only allowed priority items to ship. This caused a financial and logistical headache for many sellers. In an interview with Michal Chapnik in May, she highlighted this issue for Amazon sellers. However, sellers on the Walmart Marketplace didn't have the same restrictions on what could be sold, resulting in huge success stories for many people. Many consumers and sellers moved to Walmart Marketplace for the first time, helping Walmart win its first battle against Amazon.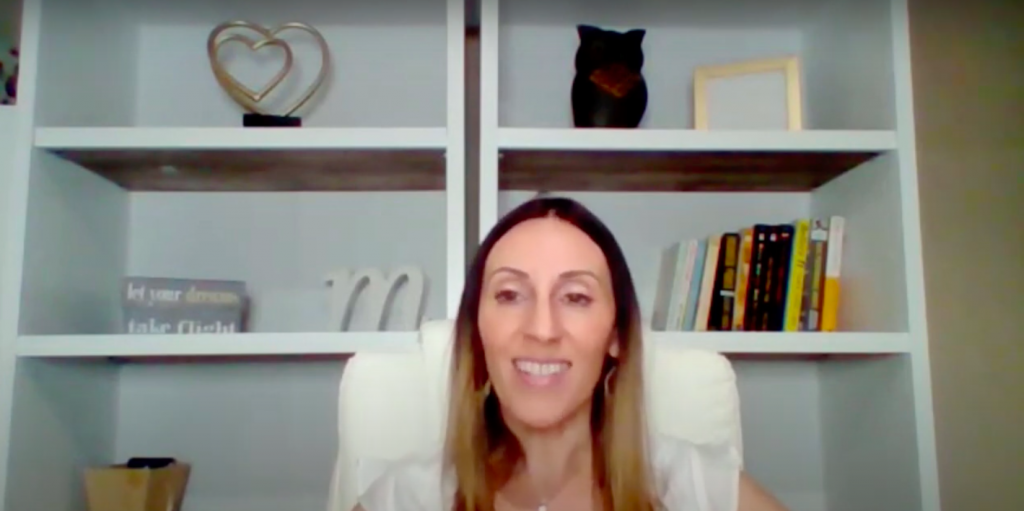 By diversifying to WFS, it offers you an alternative marketplace to continue to operate and ensure the health of your business through multiple channels.
Can International Sellers Sell on Walmart Marketplace?

Yes! Walmart announced in March of this year that its marketplace would be open to non-US based sellers. This means that foreign sellers located anywhere in the world can join the marketplace. This is Walmart's effort to compete against the e-commerce giant that is Amazon, and to tap into China's huge network of manufacturers and entrepreneurs. This will create more competition for US-based sellers but it's great for consumers – it means there's more products to choose from at a more competitive price.
If you're a seller that's based in China, Europe or Canada, you can now apply to be a Walmart Marketplace seller. You will have to submit a form and wait for Walmart's screening process to approve your business status and the products that you are selling.
Related: How the South East Asian Ecommerce Platforms are Booming and Why You Should Take Advantage of it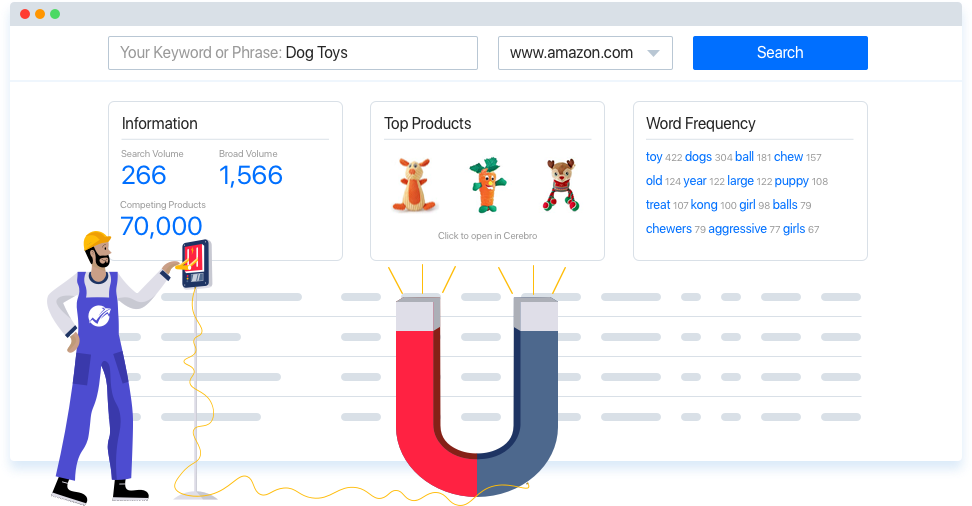 What Are the Downsides to Walmart Marketplace?
Nothing is perfect. And with Walmart Marketplace new to the scene, there are going to be some hiccups. We'll cover the downsides below but don't let these things turn you away, there is lots of opportunity on Walmart Marketplace.
Difficult to Onboard
Unlike Amazon, it's much harder to become an approved seller on Walmart Marketplace. New sellers first have to submit an application and part of the process involves a review on the trustworthiness and safety of the seller. If you're brand new to the e-commerce world, you might get rejected. Sellers have to prove their have previous e-commerce experience, demonstrate a high level of professionalism and submit other qualifications. This process can take weeks before an approval or rejection is delivered.
UPC Requirement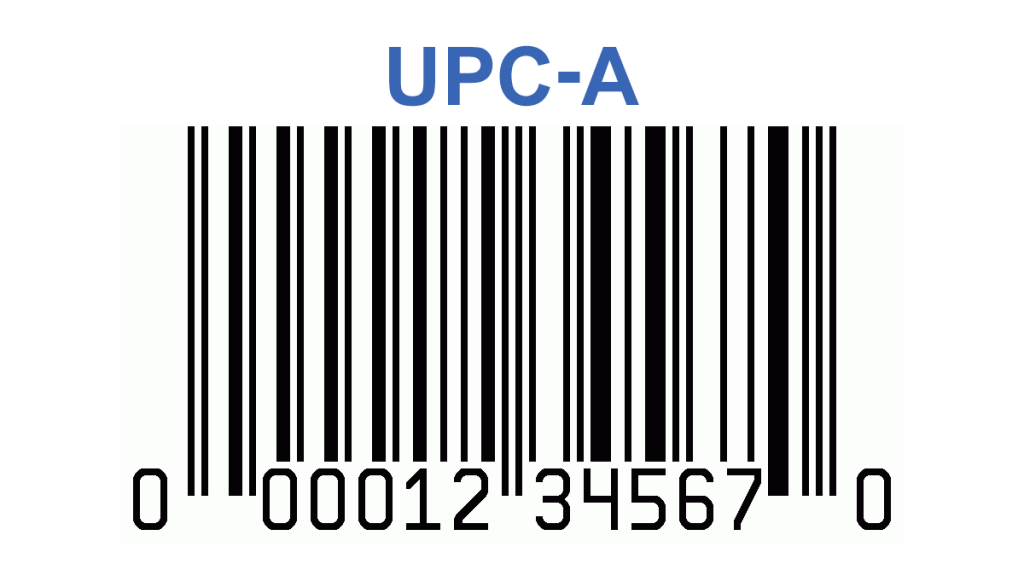 If you're accepted as a marketplace seller, you then receive a checklist with instructions on launching and registering your business. Only then can you start uploading your listings and that has been a cause of headache for many sellers, as Walmart's API is new, underdeveloped and takes time to get used to.  Other difficulties involve Walmart's requirement of UPC barcodes for every product listed. To get a UPC barcode, you have to obtain one from GS1, an organization that has standardized the barcode industry. There is an initial setup fee associated with each barcode and then an annual renewal fee.
Still an Evolving Platform
The Walmart Marketplace platform is notoriously difficult to navigate for sellers. It's not as easy and simple as Amazon, which has perfected its seller portal over many years in the business. Performing basic tasks like uploading listings, tracking performance and integrating advertisements involves a major learning curve. Sometimes it is easier to work with third-party integrations than to use Walmart's seller portal directly.
Strict Price Requirements
Walmart is a trusted brand by American consumers. It is known as the one-stop shop for the lowest prices "guaranteed." Brands and sellers have the freedom to choose the price for their products but it cannot interfere with Walmart's Price Parity Rule and Price Leadership Rule. This means that sellers cannot list the same product on another marketplace – for example, Amazon or your own business website – for a lower price. Walmart will delist listings if this rule is broken. Ultimately, this means lower profit margins for sellers.
Buy Box Competition
While it is true that there is less competition for sellers on Walmart, there is something to consider. Sellers can experience listing issues because Walmart Marketplace operates on a first-come first-serve system for the Buy Box. If a seller lists a new specific product first, the system prioritizes this product over any other seller's product. The best method to win the Buy Box is to list your own product at a lower price.
Should I Start Selling On Walmart Marketplace?
Absolutely! If you're an established seller who wants to grow your business, then this is the perfect time to start selling on Walmart Marketplace. Being an early adopter means that you will experience less competition, can grow your brand awareness and take advantage of the platform. As we covered earlier, diversification is important for any business. Being able to sell your products on multiple channels means more sales which means more growth. If you need a helping hand on how to join and take advantage of Walmart Marketplace and establish yourself quickly – contact us!
Continue Reading: Create Amazon Product Images that Convert – Guide for FBA Sellers with Examples