You found the perfect product to sell on Amazon FBA and want to reach a wider audience base across all marketplaces?
Unsure of exactly what to focus on and what to ignore? Then
this blog post is going to provide a lot of valuable information on how to approach the Amazon FBA business on an international scale.
If you weren't aware of that, Amazon operates inside of 180 countries across the globe. With the
acceleration of online shopping
throughout COVID-19, more sellers are looking to ride this wave and take their business overseas. Once upon a time, this would have been almost impossible for most companies to do: Understanding local business and labor laws, customs,, as well as with the sheer amount of capital needed to expand, would have made this feat almost impossible for many.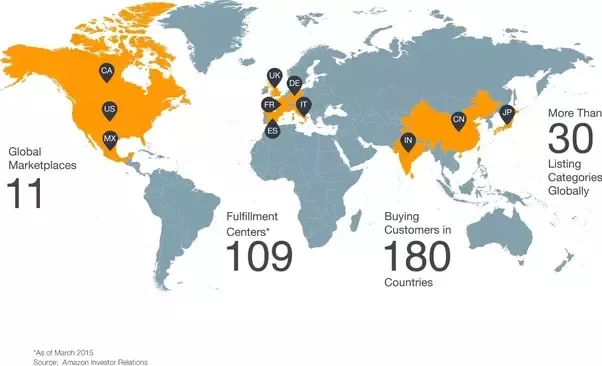 Luckily, Amazon makes expanding your business easier than ever.
The tech giant helps sellers get their products to customers in 180 countries across the world
. Not just this, it gives you all the tools and features you need to make this process as easy as possible. So, how can you take advantage of this e-commerce boom? And will an expansion help or hinder your business? In this article, we take you through exactly h
ow to maximize your potential when breaking into a new market.
Sit tight as we give you our eight top tips to follow before making your international debut. Let's start by highlighting why expanding your business is so important to its success.
The Benefits of Expanding Your FBA Business
Let's start by outlining some key benefits of expanding your business to International waters:
Out-of-season products in one market could be in season in another market.
Products may have less competition and more potential in a different market.
Varying cultures make products more or less suitable for different markets.
More revenue potential in Europe because it is the second-largest economy in the world.
By expanding your market, you can keep your seasonal product flying off the shelf all year round.
Let's say you have a BBQ that flies off the shelves when the sun shines. Well, why not
sell your product in Australia
and the UK? When it's summertime in the UK, it'll be winter time in Australia. This way, your product will always be in demand. Another benefit of expanding your business is that if you expand to the EU, you will enter the second-largest market per nominal GDP in the world. That's a lot of revenue potential if we do say so ourselves. Sellers might also find that there is too much competition in the Amazon US marketplace for a certain product to stand out.
Checking to see if there's less competition in other marketplaces might be your golden ticket to success.
Lastly, certain products can be more suited to certain cultures. Your beach umbrella might sell better in Australia than it would in the UK, for instance.
🤓 What to Keep in Mind Before Scaling Up
Before you start scaling your Amazon business, here are two things to consider: ™️Trademark your business and
register with Amazon Brand Registry.
📝Get to know
Amazon's terms of services
, policies, and performance metrics. Now let's get into our top eight tips to scale your Amazon business to International Markets.
Top 8 Tips to Scale Your Amazon FBA Business to International Markets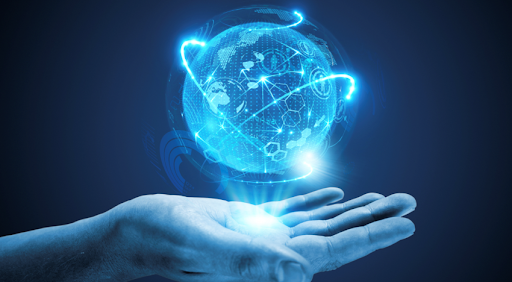 #1 Make Sure the Product is Suitable for Your Chosen Market
A product may be great in one market and not so great in another. For example, baseball items might sell well in the US but not so well in the UK, where baseball isn't as popular.
Before you consider expanding your product internationally, do your research
. To help,
check out the ZonGuru Niche Finder
the best products to fit your needs, depending on the market, as well as an in-depth look at all the figures you need to know to make a decision.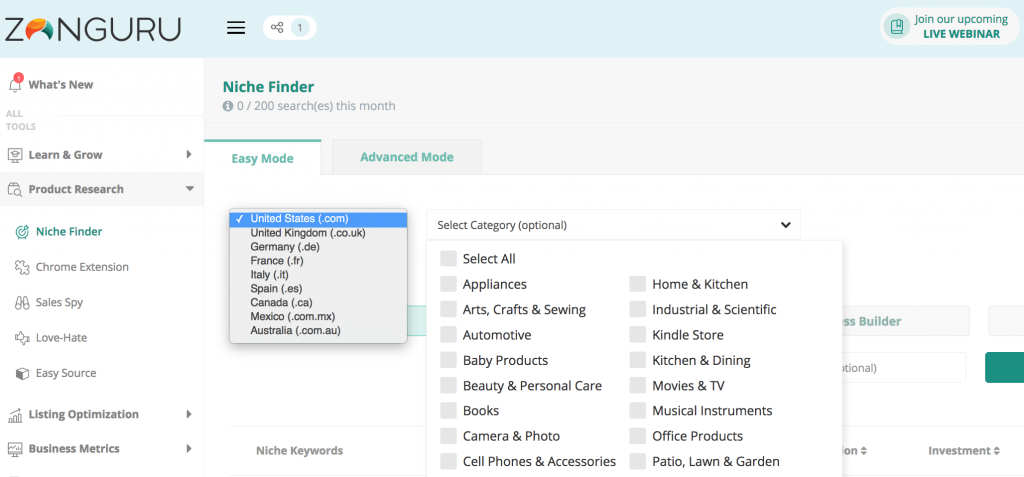 This tool is easy to use and offers both an Easy Mode and Advanced Mode, depending on your preferences.
Niche Finder gives you key data you need to make a decision, including average revenue and search volume and provides
key data
you need to make a decision, including average revenue and search volume. Once you run a search, the most suitable niches will pop up, including the average PPC costs, average sales, and most importantly, the average revenue. When you find a product with potential, understanding its sales metrics in detail is important. For this, check out
ZonGuru's Sales Spy too.
This allows users to analyze sales trends going as far back as a year. That's a year's worth of data on seasonality trends that you can utilize for your strategy. Spot a slump in the US and a spike in the UK? Go for the UK! When you've decided on the product for you, get to work on the most crucial way to increase your conversion rate: Keywords.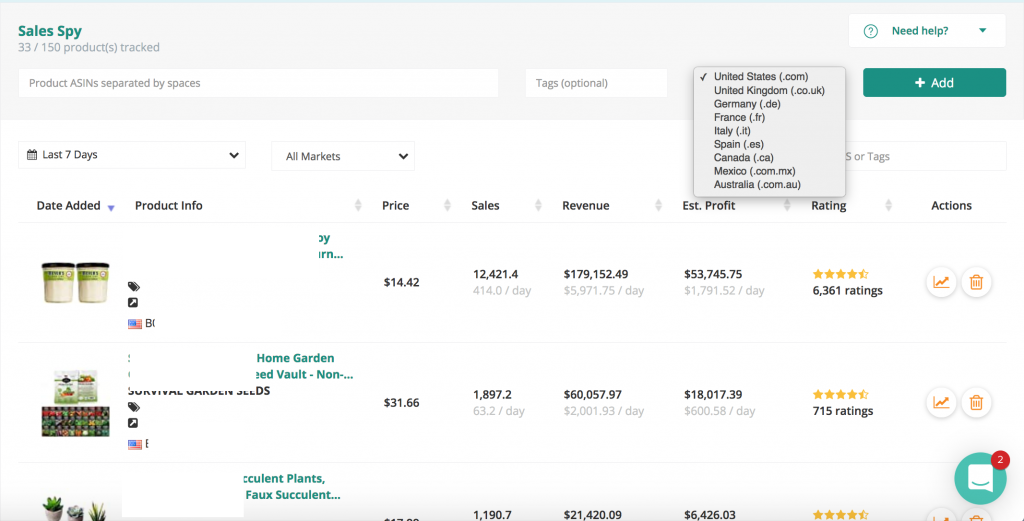 #2 (Knowledge is) Keywords are Power
Knowing the right keywords to focus on in a specific market could make or break your chances of success. On top of knowing which keywords will optimize your page, keep in mind that just because a set of keywords work in one market doesn't mean it will work as well, or even
at all,
in another. Why?
Marketplaces have varying cultures and, with that comes varying languages and idioms.
Residents in the US might refer to certain things differently than residents in the UK. What's known as a "trash-can" in the US is a "dustbin" in the UK. So, including trash-can in your keywords in the UK market will probably be a complete miss. This ties into cultural differences, which we'll go through in more detail next. So how do you find the best keywords for your market? ZonGuru's
Halo Effect Method
will help you narrow down which keywords will help you easily grab those conversions. Now that you have your product and keywords sorted, let's get into the nitty-gritty of increasing your sales.
#3 Make Sure Your Brand Resonates with a Local Audience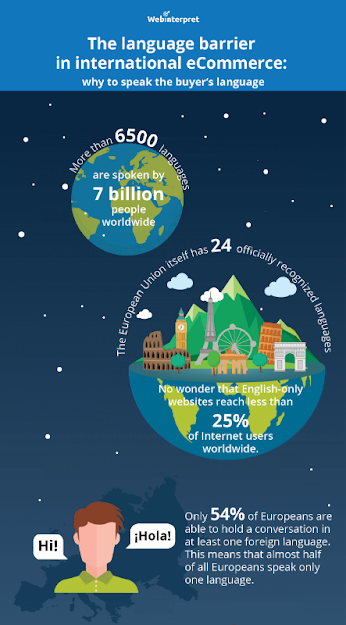 Cultural differences, like language dialects, should be kept in mind when selling internationally. Once you have your keywords in place, it's time to start
optimizing your listing
. But wait. ✋ Before you write undeniably amazing copy, be sure it's suited the marketplace. Right now,
there are over 6,500 languages spoken by more than seven billion people worldwide.
Even if we consider the English language online, varying dialects, and how we interpret the meaning of phrases, and words can differ immensely depending on the location.
Cultural differences don't just affect languages, they affect far more aspects too,
like color perception. People in different countries perceive colors differently. For instance, the color blue, a corporate color in the US, is seen as cold and evil in East Asia. This means that the color of your product, or even the colors in your images could affect your sales. If you're planning to sell internationally, then be aware of these language and cultural barriers that may hinder your success. The solution? One way out of this is to hire a local to look over your listing and make sure your branding will have a positive impact. Local freelancers could also be helpful to point out struggles that are unique to the market.
💡 Tip:
Platforms like
Upwork and Fiverr
offer an accessible way to get in touch with the best, and budget-friendly freelancers to help ensure your message is on point to locals. Even better, ZonGuru's Virtual Assistant function allows you to give freelancers access only to specific parts of the account, so your data isn't compromised. Once you have your message down, you want to optimize your listing as best as possible to make sure more people see it. How? Check out
ZonGuru's Listing Optimizer, of course.

ZonGuru's Listing Optimizer shows Amazon sellers how to increase your listing's visibility. It will makes sure you're using the most effective keywords, so you can take full advantage of the Amazon landscape. Get a list of keywords that are highest in demand, and have the most potential for a specific market. This tool will make sure your message hits all the right spots.
#4 Apply For New Patents
When selling in a new marketplace, you might need to consider applying for new patents. P
atents are very market-specific, which means that it only applies to the country it was filed in, even if you have one.
Before doing this, it's helpful to understand the process, timeline, and fees involved to make sure you have a speedy process.
💡Tip:
Listen the ZonGuru podcast episode, where Anita Mar, founder of Patent Angel talks about the
patent process for FBA sellers
. In the podcast, Mar delves into everything you need to know about the approval process, fees, and which Amazon tools to utilize to help you through.
#5 Manage Your Amazon Seller Listing and Account
It happens the best of us: We get meshed in various seller accounts across different regions. To avoid this, use a single-sign-on (SSO) for all your Amazon marketplaces. Instead of remembering separate logins for the US and UK, for example, you need one single username and password to access both. Check out this flowchart of the SSO process:

SSO allows users to handle several accounts in one spot. Even better, with SSO, you can take advantage of the
Build International Listings
(BIL) tool. This lets users manage several listings from one marketplace and shows all of your metrics in one neat little sales graph. 📈
#6 Choose Your Fulfillment Type
When choosing another market to scale your Amazon FBA business to, whether it's Europe, the UK, or Australia, it's wise to assess your business needs. Within the EU market, for example, there are several ways to sell, including:
European Fulfillment Network (EFN): This is suitable for beginner sellers as Amazon takes care of all the logistics. All you need to do is send your items to a warehouse, and Amazon makes sure they get shipped across borders for a fee.
Pan-European Fulfillment (PEF): For sellers dealing with larger amounts of products. With this option, you ship everything to Amazon, and they hold in locations they predict most customers will buy from. No fees are required for shipping across borders.
Multi-Country Inventory (MCI): Sellers can choose the country they want their product shipped to, with up to five countries allowed. Sellers can also divide their inventory up as they wish.
Or maybe you'd prefer to stay put in the Western hemisphere?
#7 Consider a North America Unified Account

Access to 3 different marketplaces all under one account. Unsure if the global market is for you? Why not start with North America. Start slow and utilize a
North America Unified Account
to expand your Amazon FBA business across Canada, and Mexico, not to mention the US. Account owners can manage and share inventories in all three marketplaces for one fixed monthly fee. A North America Unified Account is created to:
Update account information in one spot
track orders across multiple channels
get payments sent to a bank of their choice
Global vs. Market-Specific Stock Keeping Units (SKUs)
When dealing with global markets, it's important to understand the two types of stock-keeping units (SKUs): global and market-specific. Global SKUs are an umbrella term for all three regions. For example, say you have 500 units in the US; these will show up in Amazon Seller Central that you are holding 500 units in Mexico and Canada too. This is suitable for those selling products across all 3 markets. Market-specific SKUs focus on one market at a time. In this case, inventory isn't shared.
#8 Use FBA Export to Sell Globally From One Spot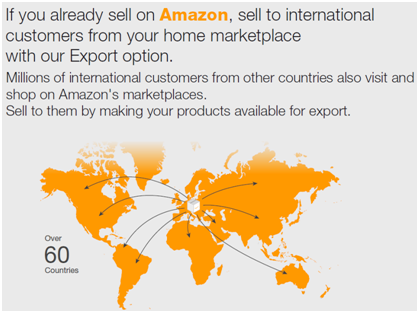 Amazon allows FBA sellers to store their product locally and sell internationally. If none of the options above were to your liking, you could also choose to store your stock in just one warehouse. This is known as FBA Export. With this program, Amazon keeps products in one warehouse in the US and ships them internationally when bought. With Amazon Export, anyone, anywhere in the world with access to Amazon can purchase your product. And with over 60 countries buying from your market, the potential for growth is substantial.
Closing Thoughts
By now you have some key insights to keep in mind to help you succeed: make sure your product is suited to another market, ensure that you have a patent, and be aware of cultural differences, to name a few. Understanding where to focus your limited resources and energy will help you build your kingdom in the long-run. At the end of the day,
ZonGuru's suite of tools
will help lower costs and increase potential sales no matter what stage you're at in building your empire.