Marketplace Pulse
reported on July the 5th 2021, Amazon suspended hundreds of Chinese sellers for having used fake reviews. They have started suspending sellers from April this year and are continuing to do so. Marketplace Pulse states:
Amazon has suspended hundreds of top Chinese sellers over the past two months. The company seems to be just now enforcing its rules for blatant policy violations like manipulating customer reviews. Tactics that some of those sellers have used for years.

A few of the suspended sellers have already announced layoffs and even bankruptcies too. That will inevitably cause many others (and sellers outside of China) to re-assess their Amazon strategy. Some of the Amazon seller aggregators have recently started evaluating and acquiring sellers in China; they too are revising their due diligence processes. – Source: Markeptlace Pulse
On top, according to the Shenzhen Cross-border E-commerce Association,
since May at least 50.000 merchants have been affected by Amazon's severe review policy violations control
. The reasons for these bans include "improper use of review functions", "soliciting fake reviews", and "manipulating reviews by giving gift cards".
The list of banned sellers includes wholesalers with annual sales exceeding $1 billion US dollars. Shenzhen Cross-border E-commerce Association stated that these wholesalers have suffered losses of more than 100 billion yuan ($15.4 Billion US Dollars). These bans & restrictions are notable for their scope and high profile, to say the least.
Several huge players in the Chinese cross-border scene have said that Amazon's actions prompted the industry to develop more independent selling solutions and create their own selling channels such as independent eCommerce stores for their brands.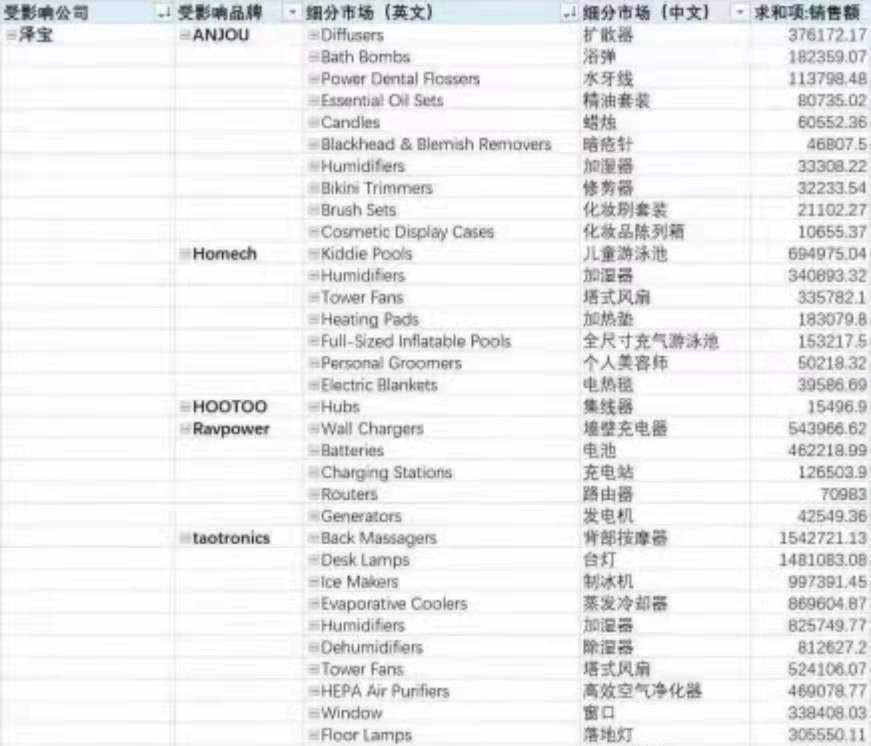 In the next paragraphs, we are going to have a look at
what exactly happened, what Chinese sellers were affected, how Amazon dealt with fake reviews over the years, how Amazon started enforcing its policy in 2021, and what you can do to get organic reviews
.
The Chinese Sellers Affected by Amazon's Review Policy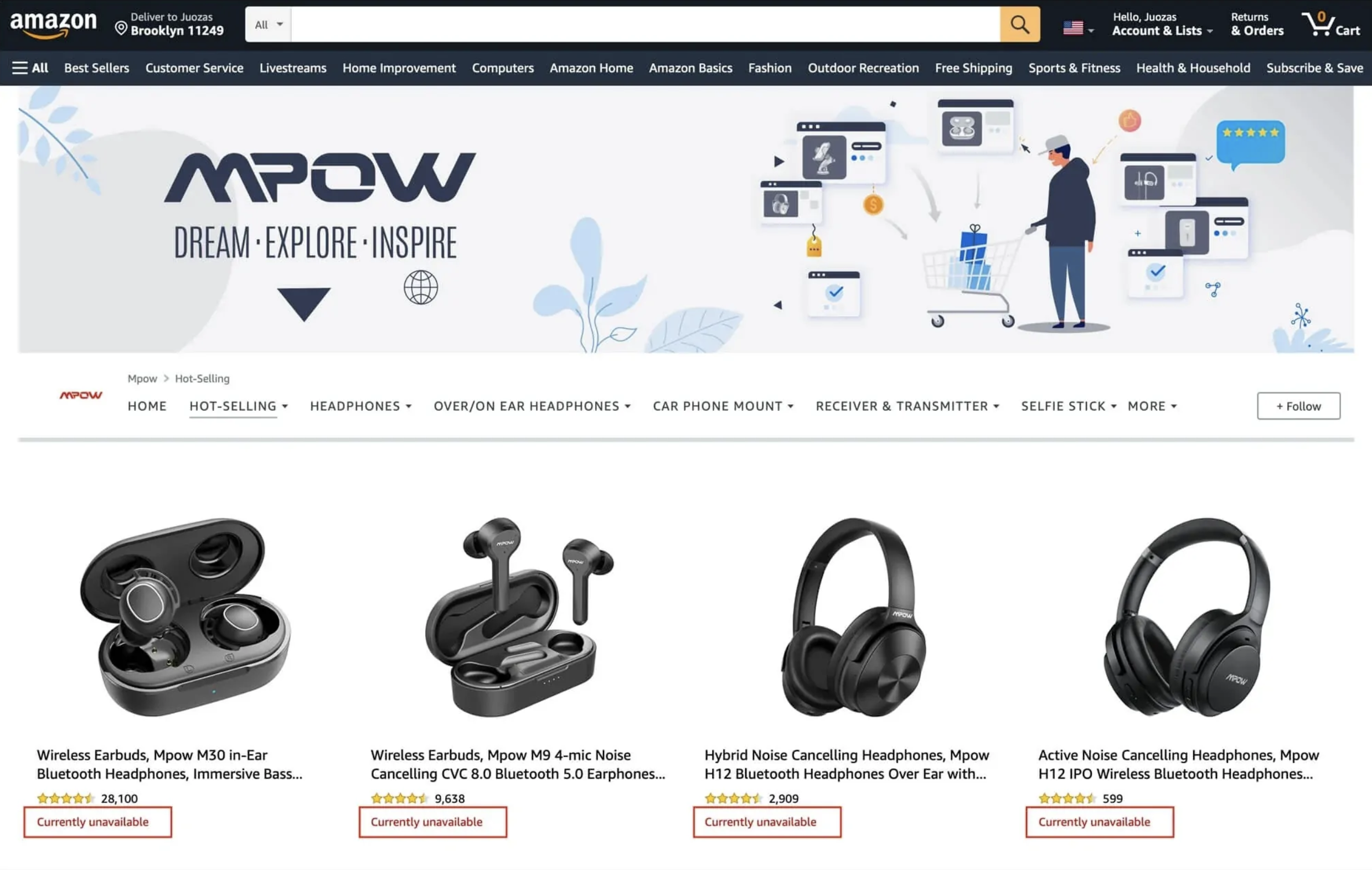 Some big names that have been suspended are Mpow & Aukey (click the links to search on Amazon.com). Mpow's products have represented 10 of the top 100 products in the headphone category for years. Also RAVPower, a brand specializing in power banks and chargers, has been suspended from Amazon alongside with many other brands of the company SunvalleyTek such as HooToo, VAVA, TaoTronics and more…
A journalist from the Wall Street Journal received a small card with a printed QR code that explained how to get a discount code in exchange for a positive review.
Shenzhen Tomtop Technology, part of the group Yiwu Huading Nylon Co, announced that several brands have been suspended and had their funds frozen by Amazon
. According to the Global Times, in total 54 stores under Tomtop Technology were banned and 41.43 million yuan was frozen (6.4 million US dollars).
Why do Amazon Sellers use Fake Reviews?
It's no secret that the more positive reviews you have, the more sales you can generate. That's why getting fake reviews is one of the most abused malicious tactics out there among Chinese sellers, as we have already explained in our in-dept article: The Secrets Behind The Success of Chinese Amazon Sellers. Thus to many Chinese sellers reviews equal sales, and since Amazon didn't act up against this tactic at scale, it was worth the risk trying for many merchants. However now sellers across the globe will think twice before participating in malicious activities on Amazon.
So why are there so many Chinese sellers that got suspended for fake reviews, and not other nation's sellers?
Easy: there are simply many more Chinese sellers with top-selling products on Amazon. Amazon never released specific data but by using
Seller Motor
we identified that around 50% of 5000 products with a Best Seller Rank (BSR) come from Chinese sellers.
In our article on
how to fight unfair competition on Amazon, we go through many of the other black hat strategies
out there.
Selling on Amazon has never been so competitive
– and so dangerous – as it is today. A consumer truly starts trusting a listing, and thus buying from it, once it has more than 20 reviews with an average of 4 stars. However, to get to 20 reviews, a seller needs to sell on average 650 items (considering that on average 3% of buyers leave a review).
How do you sell 650 items if it only starts selling big-time ones it hits 20 reviews?
This is why
many new sellers out there feel like they need to use fake reviews to get the flywheel going.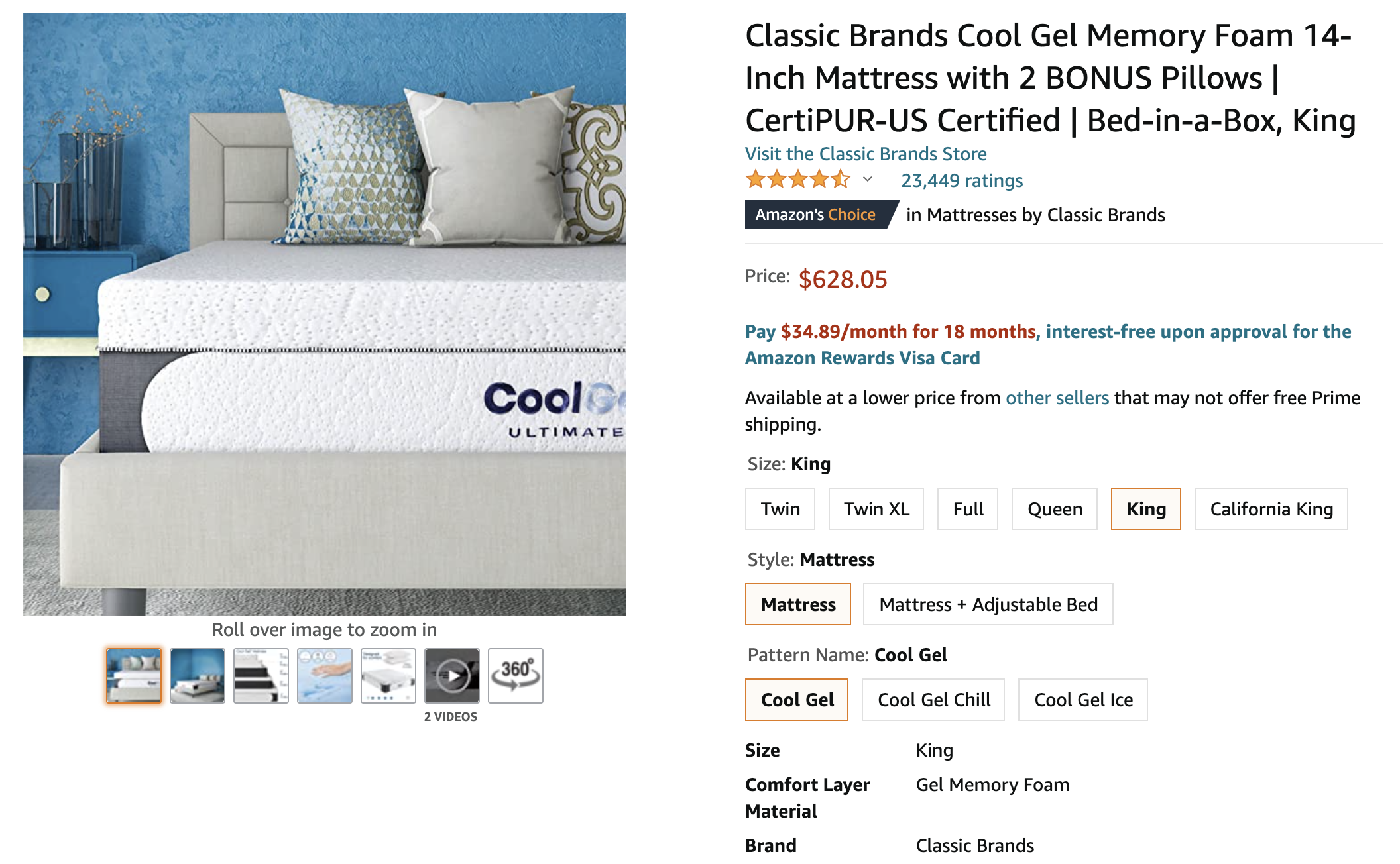 Don't worry though:
you can absolutely rock it on Amazon as a new seller without having to use malicious tactics
. The
secret to selling is having crazy-good marketing
, and this is something that a lot of the Chinese sellers haven't mastered yet since they don't know how to talk to Western consumers. Have a look at this
listing from Classic Brands
(click the link to see on Amazon.com)
for example. It's one of the higher-end products costing over 600$, with competitors starting at 99$. It does crazy numbers and is even Amazon's Choice! No wonder, it has an amazing-looking A+ page including a video, high quality images, a 360 image and more. But even by optimizing your listing without adding a video or other additional features, you cut back on at least 80% of the competition.
What are the Most Common Fake Review Strategies on Amazon?
A seller's review strategy can come in one of two varieties:
Compensating / Reimbursing real customers

: this means that you may see Amazon Verified Purchases that are purchased by actual consumers but have fake reviews attached to them. This is what RAVPower did.

Making fake orders

: There are review farms (almost always in China & India) that create hundreds of fake accounts to place gift orders and address them to random people. With these accounts, "real" customer browsing is simulated to "trick" Amazon in thinking the accounts belong to real consumers. These "zombie accounts" really place product orders. However instead of sending them the actual product, they mail a lightweight item that costs less to ship. This way the item will have a tracking number. When the package is delivered the service provider can leave a positive review behind and a verified purchaser.

Soliciting fake reviews on social media: merchants and review farms have been reaching out to new strategies that are harder to detect by amazon – also known as "off-amazon review tactics". On social media you can now find so-called "Amazon review groups" that bring together sellers in need of product reviews and buyers who want free or discounted products.
Fake reviews generally cost around $3 to $5 per product. Prices depend on the level of "service" these review fabrics provide and the potentiality to get detected.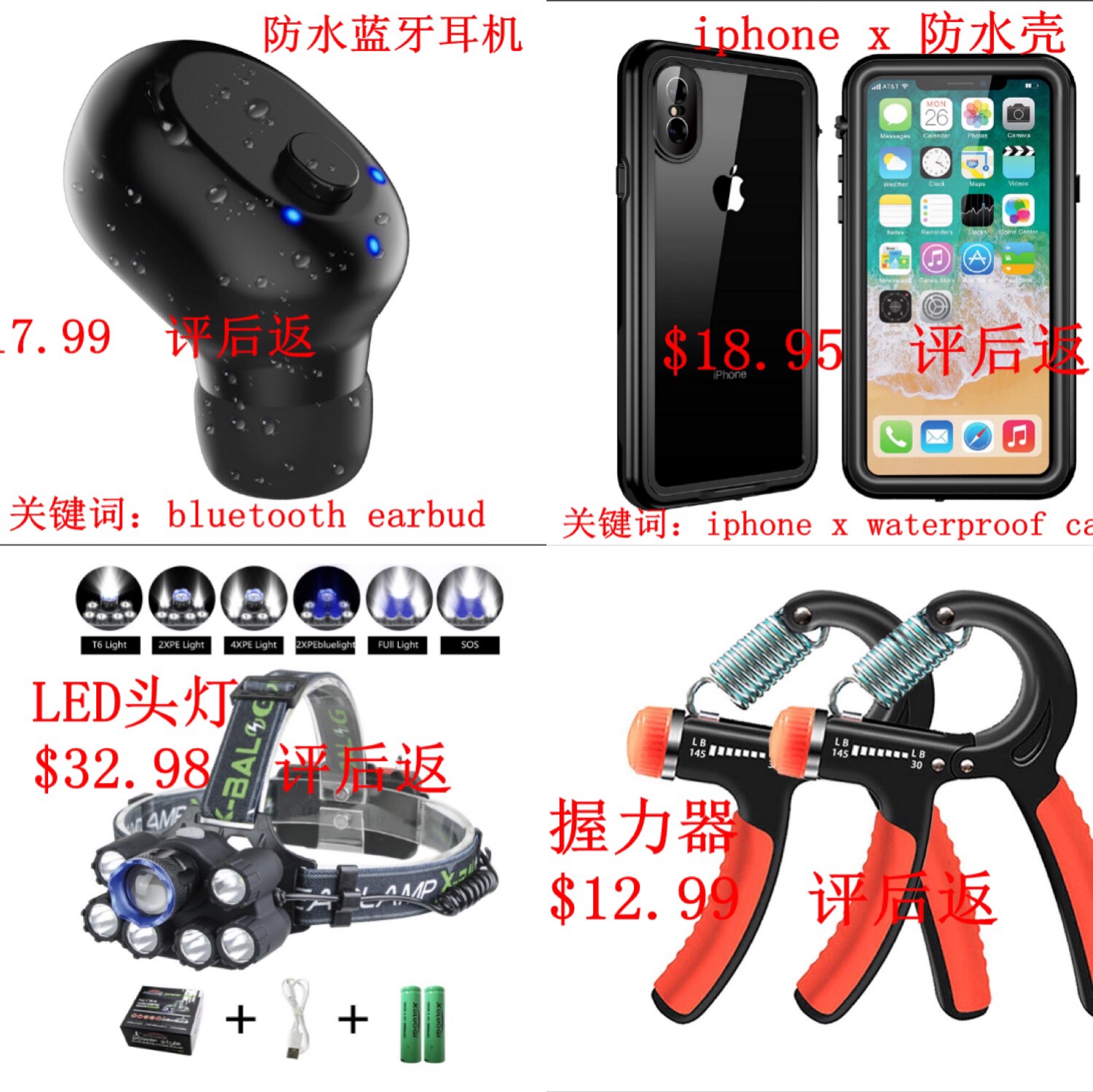 Fake reviews have been around for years. Above an image we found in one of the WeChat Amazon review groups – there's groups on Facebook, Telegram, Discord… The list is never-ending and they will probably be around for a while. And even though the recent suspensions on Amazon have been a big shock to many (Chinese) FBA Sellers,
it's not the first time Amazon took action against fake review practices.
Mid 2018 we discovered that Amazon swept thousands of fake reviews from Amazon Sellers around the world
from one day to another. The same happened in 2016. This year's suspension for many FBA Sellers in regards to the fake reviews thus does not come as a big surprise to us.
What tactics does Amazon use to Detect fake reviews?
Amazon is struggling hard with fake reviews, especially as review farms start to explore more and different solutions.
To detect malicious review tactics, Amazon uses advanced machine learning to try and detect activities that can be linked and grouped. They analyze customer accounts, products, brands, selling accounts, and more.
When Amazon detects fake reviews that have been obtained outside of Amazon, they contact the social media company where it occurred to report groups and social media pages. Together with the detected social media company, Amazon works to shut down these groups to minimize abuse. Once such a review group is detected, it takes the social media company a median of 5 days to take it down.
On top, since May Amazon has started holding sellers accountable for their activities at scale, shutting down even the most profitable of sellers. Amazon even filed lawsuits against the companies that purchased fake reviews and the companies that provided those fake reviews.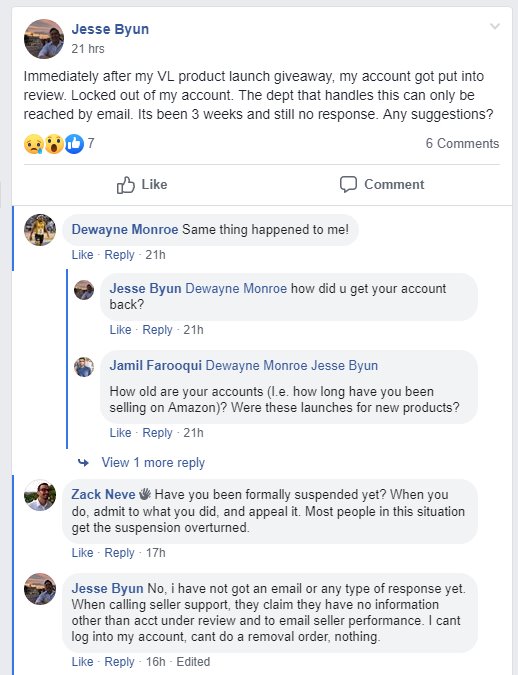 Another way Amazon tries to block fake reviews and other black hat activities is through its Sales Velocity Limits which we explained in-depth before. These Sales Velocity limits have been in place for years now and we have reports from sellers get suspended in 2019 for crossing Sales Velocity Limits.
Sales Velocity Limit introduced by Amazon is a way of protecting both customers and sellers. Amazon is able to monitor the monthly dollar amount and transactions of a seller, allowing them to assign a sales velocity to each account. The sales velocity (link to seller central here, must be logged in to access), also known as "selling limits" or "velocity limits" are applied to seller accounts at the time of registration. All sellers begin with the same limit. These limits are based on a 28-day "rolling cycle". This means that only transactions from the previous 28 days count towards a seller's current velocity.
From our reports, we know that in 2016 Amazon deleted fake reviews, in 2018 again, and in 2019 Amazon actively suspended accounts for crossing Sales Velocity Limits. This makes it really clear that Amazon is on top of malicious activity and is not afraid to suspend you to keep their platform safe.
How to get more reviews on Amazon – the compliant way
Optimize your products to rank higher
Brands that update their product images and titles to stand out from the crowd will increase shopper engagement and increase conversion rates. From the moment shoppers see you in the SERP you need to let them know WHY your product is different from competitors. Add a benefit keyword in your title to convince them right away.
We also noticed Amazon pushing carousel product appearances in the SERP more and more often – one more reason to optimize those bestsellers!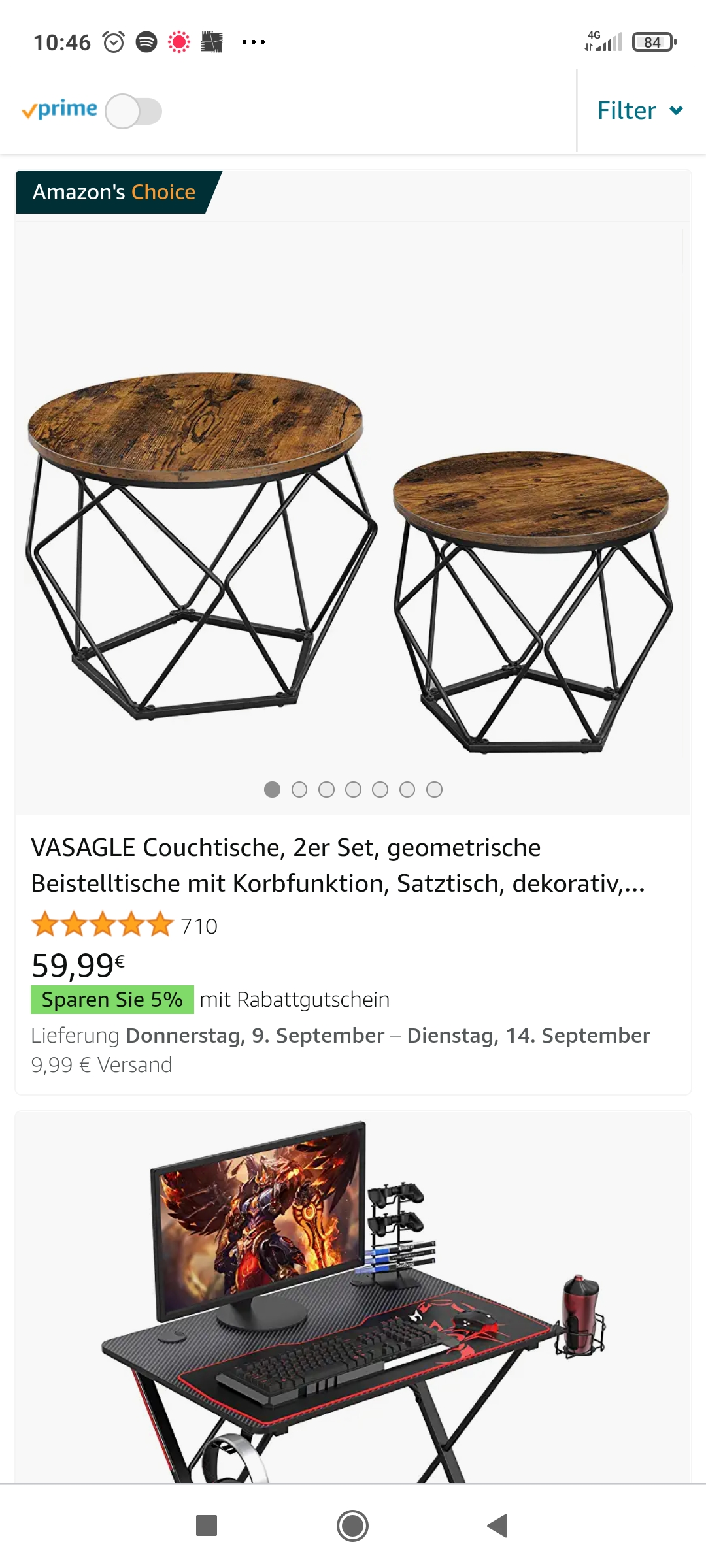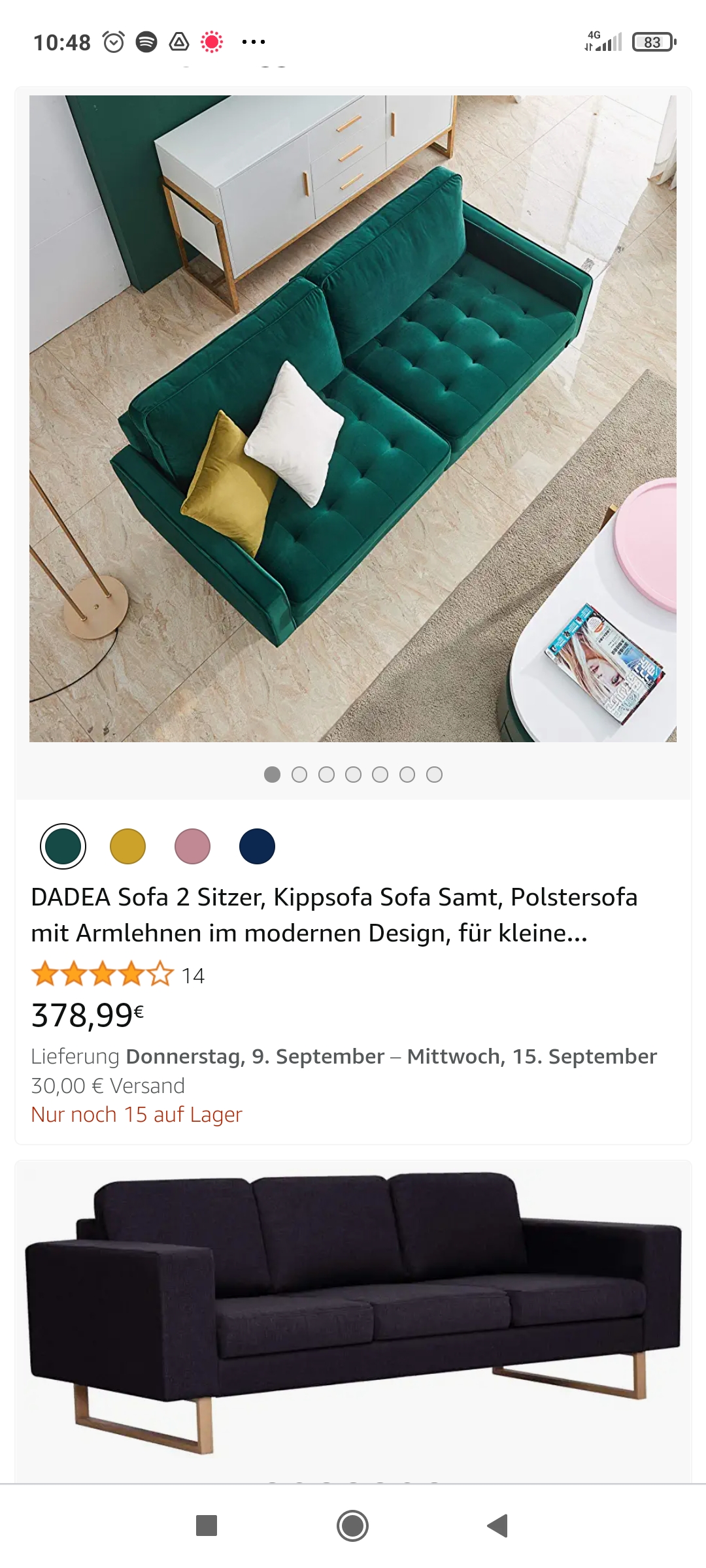 Also check out our Youtube video on the tool ZonGuru for more tips and tricks to index and optimize product listings:
Provide excellent eCommerce customer service
Be on top of customer messages in your Buyer-Seller Messaging Service overview. Respond to product inquiries to keep trust high at all times.
Use Amazon Product Inserts the right way
As noted before, it's against Amazon's policy to request positive feedback through product inserts. It is however legal to insert a neutral flyer that complies with Amazon's guidelines. Through product inserts you can:
Request feedback and reviews

Incentivize repeat purchases

Show and promote other products from your Amazon store

Provide important warranty/customer support information
Never specifically ask for positive feedback, offer discount codes, or try and move transactions away from Amazon.
Amazon Vine is a program designed by amazon to obtain unbiased reviews and feedback from selected reviewers (Vine Voices). Sellers enroll in the program and submit products to be reviewed by the Vine Voices. "Vine Voices" users are selected by Amazon based on their high "reviewer rank" and feedback that others consider helpful. As a seller, you cannot select the Vine Voices to send your products to. Your products get sent to random Vine Voices to get authentic, unbiased feedback.
Ask for reviews with Softwares
Within Amazon you have the button "Request a Review". Its biggest flaw however is that you have to click the button for one order at a time. As sales grow, this little but important task becomes time-consuming quickly.
Some of the best all-in-one Amazon FBA softwares for keyword research, competitor research, and listing monitoring also provide tools to help sellers with getting more reviews. One of our favorite tools for Amazon Sellers is Zonguru, check it out on this link or click on image below:
How to boost rankings without fake reviews
Should you use fake reviews to boost your products on Amazon? The answer is crystal clear: no. Avoid at all times.

There are many other ways to boost your ranking and get product reviews. You can do this through Amazon PPC Campaigns, Social Media Ads, and Product Page Optimization. If you're looking for professional help from an Amazon Recognized Agency, get in touch with us for a quick chat. Send an email to

[email protected]

or take a look at our Services for Amazon Sellers: PPC Campaigns Optimization, Rank Boost, Listing Optimization, Translations and more.

As