Update 20 April, 2020: Covid-19.
We saw it coming, but we didn't see it coming THAT bad when we first wrote this original post about
Amazon predictions for 2021
. Read here the most recent post about what
Amazon Sellers should do to keep their business alive and even stronger during the Coronavirus Pandemic
Update January 2021:
Amazon has became a
pay-to-play platform
where sellers have huge potential to show the full power of their brands.
Black hat is still present
but constantly evolving, while
Amazon is wiping off fake reviews and large sellers accounts that break the rules.
Social commerce (influencers, Amazon Live, TikTok) is winning the game. Chinese sellers amount to more than half of total sellers on Amazon.com. Learn how to take advantages on our
Predictions And Trends for Amazon FBA Sellers in 2021 unveiled by top experts in the industry.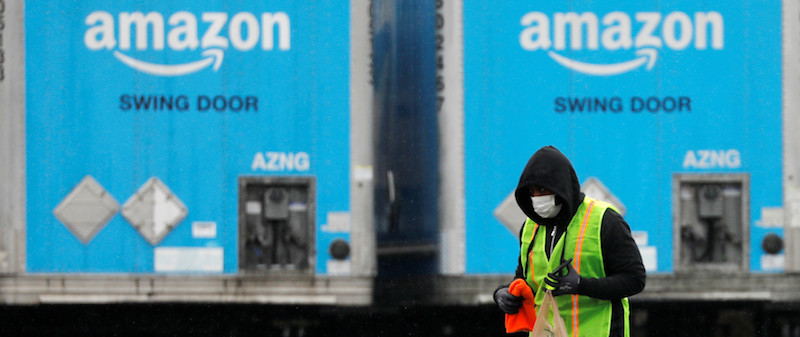 What are the
secret weapons
behind the success of Chinese e-commerce companies on Amazon, such as
Sunvalley, Aukey, and Anker?
How could the
made-in-China
reach such a great success in today's most competitive online marketplace? Is it just a matter of lower price? Is it because Chinese sellers are using some kind of black-hat technology or trick? Or maybe, it is the
made-in-China
that is actually changing? If you are asking yourself these questions and don't know where to find answers, trust me,
you're not the only one.
As a former expat who has lived in
Shenzhen, the Chinese capital of Tech & Electronic innovation 
for several years since 2014 working with major Amazon sellers such as Sunvalley, ATC, Aukey, etc., and then since 2017 as founder of
Growth Hack Consulting HK
, a Digital Marketing Agency that is helping a lot of Chinese and Western Sellers to make a better business on Amazon,
I have had these questions asked a lot of times.
Not only I am going to share with you my direct experience, pointing out the most important elements that differentiate Chinese companies from European & American companies when it comes to making business online, but I will add more
comments and secrets told by other western professionals who have been working in China with Chinese Amazon sellers – the Insiders.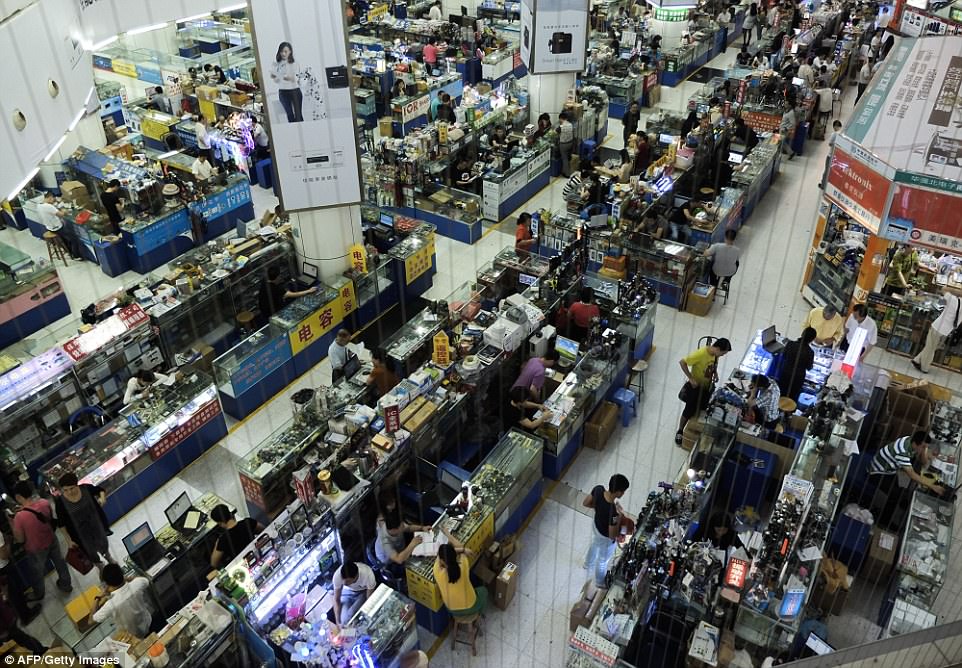 The very interesting and recent fact that has made clear the necessity to write this article, has been a meeting with one of my business partners in Berlin: supposed to have a quick talk in their HQ to discuss the sales strategy of their Amazon stores, we actually
ended up talking for more than 3 hours about Chinese e-commerce sellers and the secrets behind their success
. Later on, I was caught in reading again and again this article that brings out the reasons
why American companies struggle in China.
The short answer:
China is a fast-paced place with a lot to teach when it comes to e-commerce;
and we expats who are making business with Chinese entrepreneurs have a lot to tell about it. Do you want to know the most recent mind-blowing update (January 2020)? Well,
Chinese Sellers on Amazon.com have just outnumbered American Sellers. –
yes, we saw that coming. Alright, then read on if you want to know more about the Secrets behind the Success of Chinese sellers on Amazon:
Topic List
1. Constant Research and Competitor-Analysis
2. Product Selection Based on Performance Rather than Actual Branding
3. Highly Practical Culture in China
4. Flexible Structure and Internal Organisation
5. Very Early Entrepreneurship Mindset
6. Increasing (or Decreasing?) Presence of Skilled Foreigners in China
7. Supply and Generally Easier Access to Key-Resources
8. Black Hat Technology and Practices
9. "Creative" Product Launch Strategies
10. Extremely Competitive Culture
11. Constant Self-Improvement and Study
12. Conclusions
Next Research – "War is On: How to Fight Unfair Competition on Amazon"
1. Constant Research and Competitor-Analysis
The average sales manager in a Chinese e-commerce company spends a lot of time on product research: pricing, competitors search,
keywords research for listing optimization
, with a special attention (some would say "obsession") to their competitors. The research has got such a heavy weight on the daily tasks of the account managers, that their entire working day
can be summarized in a huge Excel spreadsheet.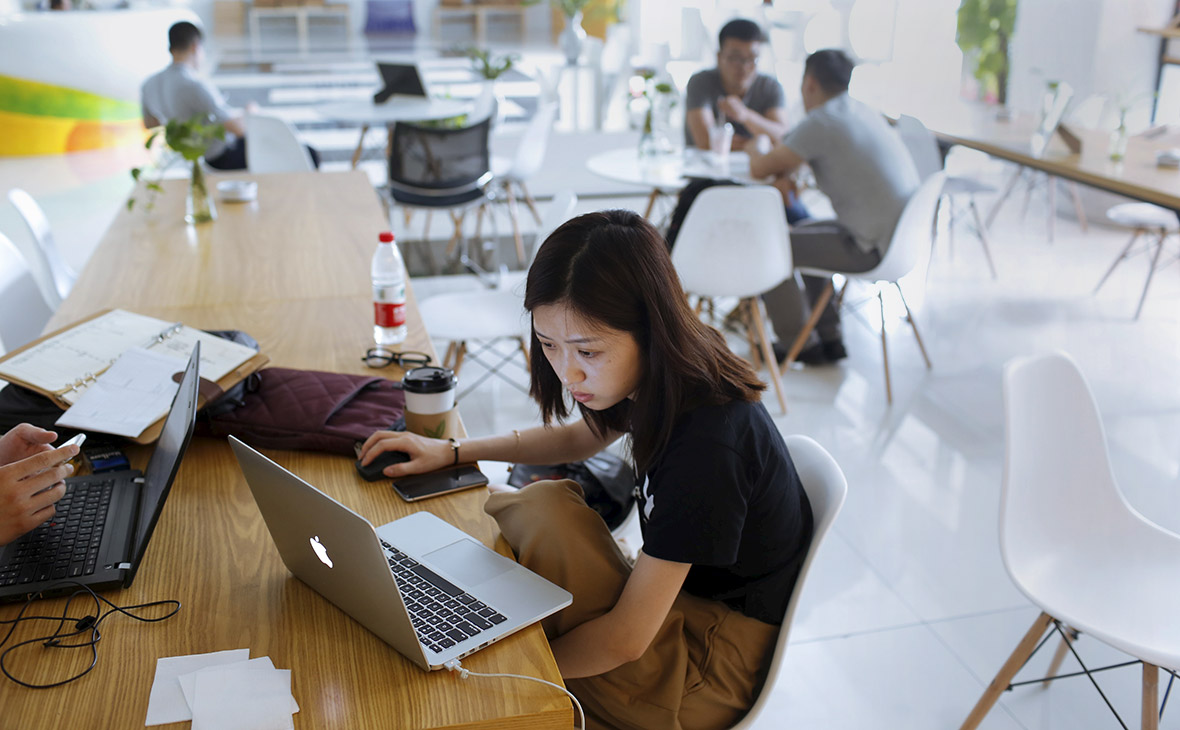 The research is driven by a true obsession with the top-performing competitors. I remember when I was working at RAVPower – top seller on Amazon for Powerbanks -, that the term of comparison was always how good Anker was ranking on this or on that particular product category. Saying it with
Noah Herschman
with whom I had the pleasure to work at
Marketplace Ignition
Asia:
"The Chinese in general are competitor-obsessed. In fact, if you want to get a Chinese company's attention, just tell them that you can help them best a competitor and they're all ears. They at this point have a lot of tools including Seller Labs, Merchant Words, Amazon Shark, etc. that deliver a lot of competitor data. […] The general reaction is to compete in a "red ocean" paradigm, rather than a blue ocean one.  If a competitor's product is a dollar cheaper, then they will lower theirs by $2.  If the competitor adds a new feature, they will match that feature straight away. Perhaps the more effective methodology would be to think out of the box and create a whole new product or at least a new feature set.  This rarely happens with Chinese manufacturers who sell on Amazon today.  However, this will probably be a shor-term phenomenon as China's technology industry is growing more and more robust and will soon rival creative hotbeds such as Silicon Valley and Israel's Silicon Wadi."
According to
John Rood
, co-founder of
Somos Agency in Shenzhen
, the whole research and competitor-analysis job of the sales manager
depends on the size of the organization.
For small sellers (less than 30 people) this is a generally done by individual sales managers, a separated country store that they are managing at least for 2-3 hours/day. For the big sellers, the research has got a
full time position for at least 2-3 people per country.
Back to top
2. Product Selection Based on Performance Rather than Actual Branding
"This research definitely effects the final product selection" continues
John
," otherwise they would stop paying their staff to do it. As soon as their research shows the slightest bit of promise, management will approve a budget to try a test round and see how things go.  They will find
whichever product category has the least competition, make a plan to buy inventory, ship and start selling, etc
.  They will then pitch this to the higher ups, who will either approve or deny the funding to try it." The main question here is:
did the big sellers like Anker, Sunvalley, Aukey start getting serious on selling power banks simply because it was one of the products that sold best, between the random thousands of products thrown at Amazon.com while waiting for the sales to show up at some point? Or did they have an actual plan and strategy to sell power banks back to 4/5 years ago?
"At that time (I had just started running the Amazon CE business)" – continues Noah Herschman, "Amazon was having a hard time getting name brands, so they would allow any brand to sell on the site – and they had a lot of customers who wanted to buy from Amazon, but were unable to find name brand products. And since then Amazon actually become more important to the customer than the brands themselves. Amazon's great content and review system was effective in overcoming a number of customer objections to buying off-branded products. What's really scary is now brands can become global just through the Amazon platform alone. The table below shows that Anker has become a top-Chinese brand just through selling on Amazon":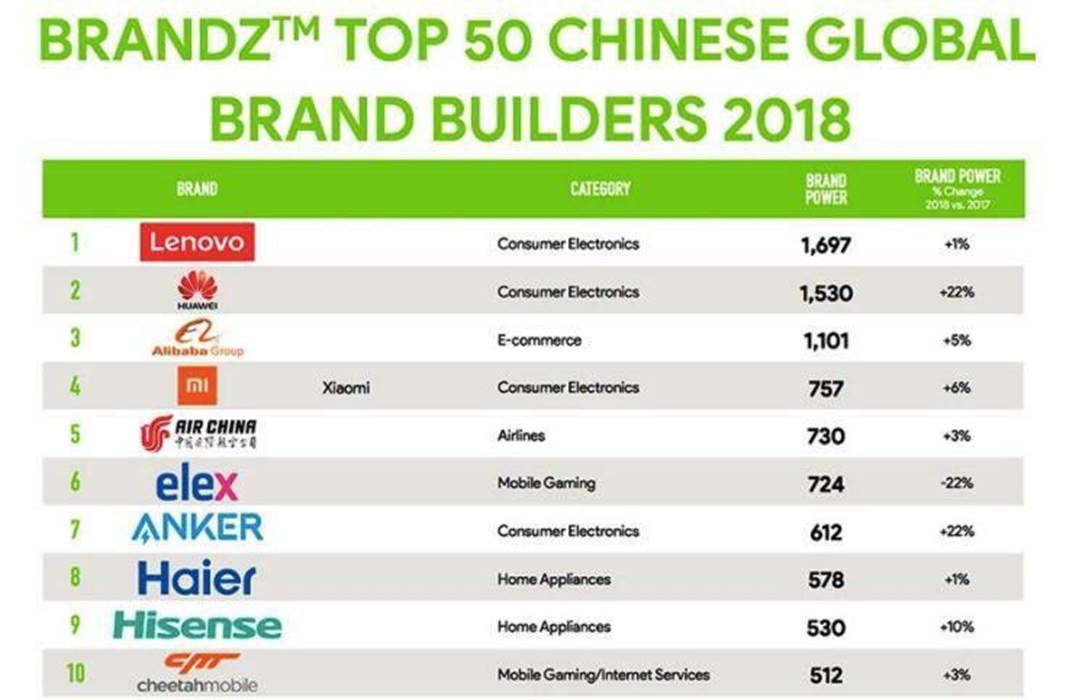 According to a former marketing manager at Sunvalley (name withheld),
what really matters is the final sale, not whether the product selection really makes sense with the brand,
in a "Western" way of seeing the brand. This is why a brand like
TaoTronics
once sold lamps, Bluetooth audio, selfie sticks, pet products, and more. It's why 
RAVPower briefly launched a swiss army knife despite it having nothing to do with the brand:
Portable Batteries
and knives are not really related, are they?
Chinese companies are generally in a position to easily test things out
for a few reasons (while having much less to lose than Western companies): 1. Because their brands have
fluid identities
2. Because of how
cheap
things are to manufacturer and 3. Because they have a degree of
flexibility
that American and European companies lack.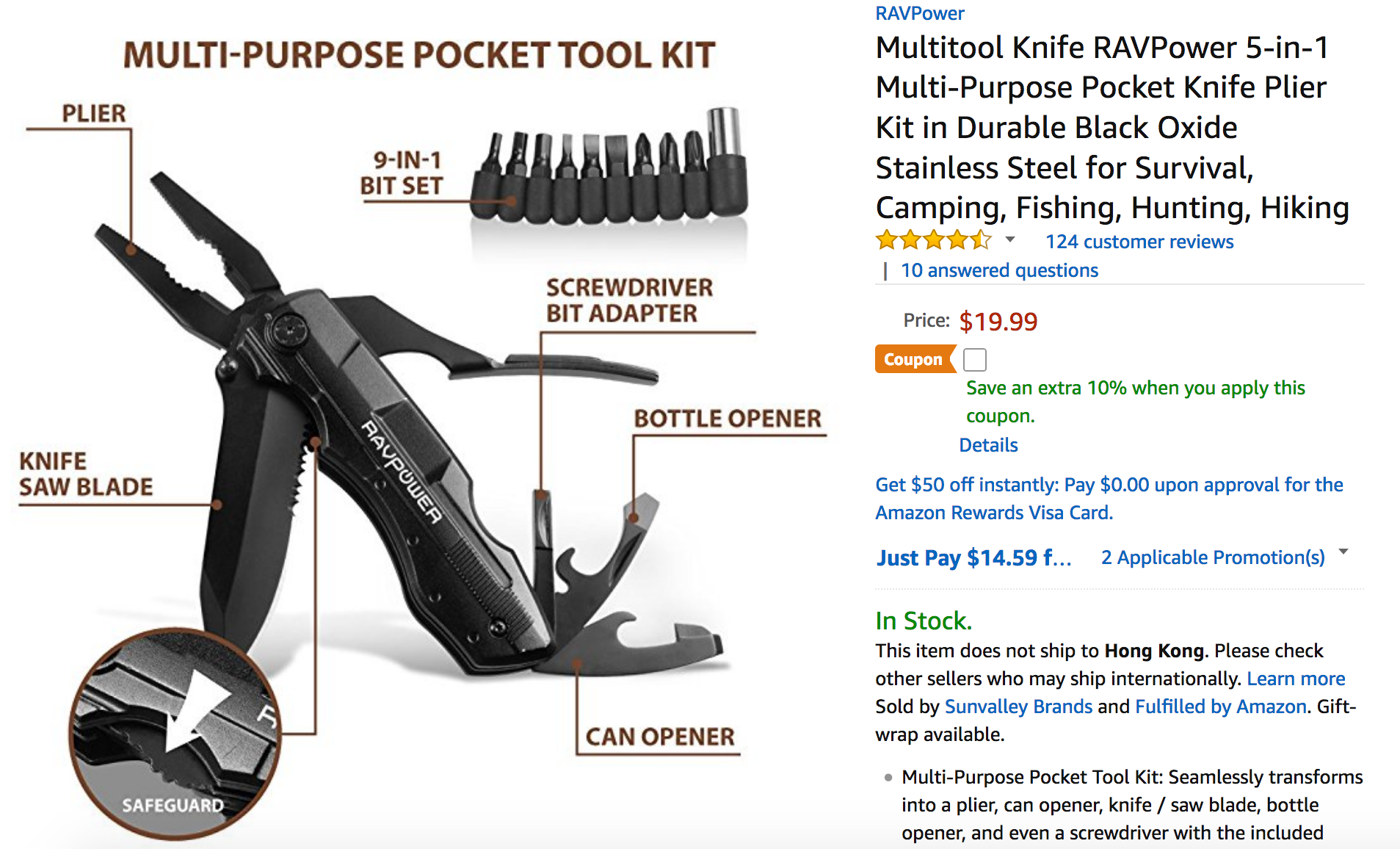 We will come back to these big advantages later, on the
paragraph about the easier access to several resources for Chinese companies
:
in today's extra-competitive and extra-fast-paced environment, speed is everything. 
If one of the
hundreds of products that they release gets popular
, there is no reason for them to not to source variations and other models. Not only does success in a product category means that that product is in demand if a company stops at just one product, there are plenty of copy-cat competitors who are waiting in the wings ready with their own product. You could actually argue that when a Chinese company floods the market with variations of a product,
it is done in an effort to curb would-be competition or stop the competitors from taking their sales.
As you can see, being a sales manager here implies a lot of strategic thinking.
Back to top

[mkd_button size="" type="gradient" hover_type="gradient" target="_self" icon_pack="" font_weight="" text="How did I make 409,888€ in 30 days with 13% ACoS?!" link="https://wearegrowthhack.com/contact-us/"]
3. Highly Practical Culture in China
Since the very beginning of my professional life in China, I've realized that the working culture is a lot different than the one in the West. The Culture that dominates here is more of a "trial and error approach", influenced by the very strong practical sense of the Chinese entrepreneurs and employees; said in other words:
a strong get-shit-done approach,
a lot different from the
plan > strategy > analysis > research
> approval
of Western companies, that just by looking at it makes you realize how slow it is in comparison. This approach is generally subject to a lot of
mistakes
and re-thinking along the way, but it makes everything much faster.
In today's online business with this very high competition, speed can be a big advantage to a flawless quality. 
By the time a Western company has researched the market, worked on a sales strategy, and made a marketing plan to support an upcoming product, a Chinese company will have either moved onto the next product or will be launching the follow up product to their original one. This means they can constantly flood the market with new products in a way that Western counterparts cannot.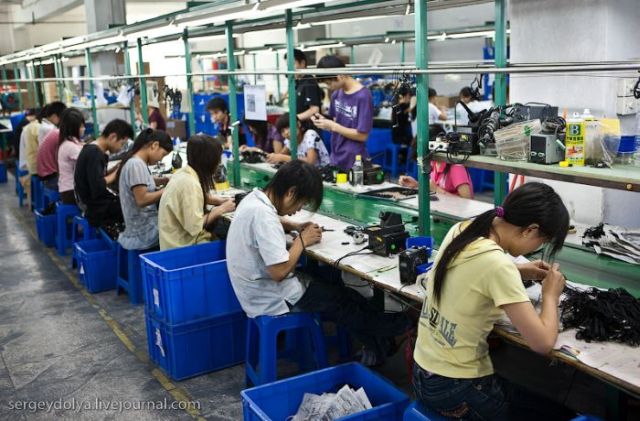 Ultimately, this doesn't mean that a Chinese company will always be successful,
and if they are, they will probably be successful now, not in months-years time
. Anyway they would probably not care much of the long-term investment, or not as much as a US-EU company would. Besides if it's not them, it will be their competitor because no one is waiting around.
This topic is strictly connected with the use of black-hat technology and strategies (mainly by small-medium sellers), that we will discuss later on.
Zack Franklin,
a former employee at
Valuelink
adds:
"This is absolutely a core divide between the west and the east. I met a seller a few weeks ago, her name was Apple and her journey to sell on Amazon was amazing. She went to an Amazon meetup, decided it was something she wanted to do, called up her friend who owns a factory, placed an order that day, and shipped her first order into Amazon a few days later. Within 2 weeks she was already selling on Amazon. Compare that to a western seller that wants to get started – they typically spend 6 months or more learning from podcasts and blogs before they even get started! In China, speed is everything. […]Sometimes, this ends up as a massive waste of resources, but it's much better than procrastination, and often the ideas can pivot into something worthwhile. Western companies have no idea what they're dealing with. Chinese companies learn something, apply it that instant".
Zack
continues by showcasing the example of Mobike-Ofo-Bluegogo bikesharing business: it started Shenzhen, and within a matter of months the companies went through price wars, massive competition, rapid expansion, and now even mergers and acquisitions, within a matter of months: "the entire business cycle would have taken years to play out in the west. When Chinese companies go abroad, they realize they're well equipped because they have to deal with such fierce competition within China".
Bikesharing
might not be the best example of a business model that is sustainable in the long term,
but has been a great idea indeed:
it grew super-fast, but something went out of control. It is also another good example of how the
Chinese practical culture
can be a good or bad element, most of the time it will be bad if combined with
arrogance of throwing money
in any short-term business, just for the sake of trying to getting rich fast: the
bike-sharing business is facing a hard time right now between the users worried of not getting the deposit back and the main players going bankrupt.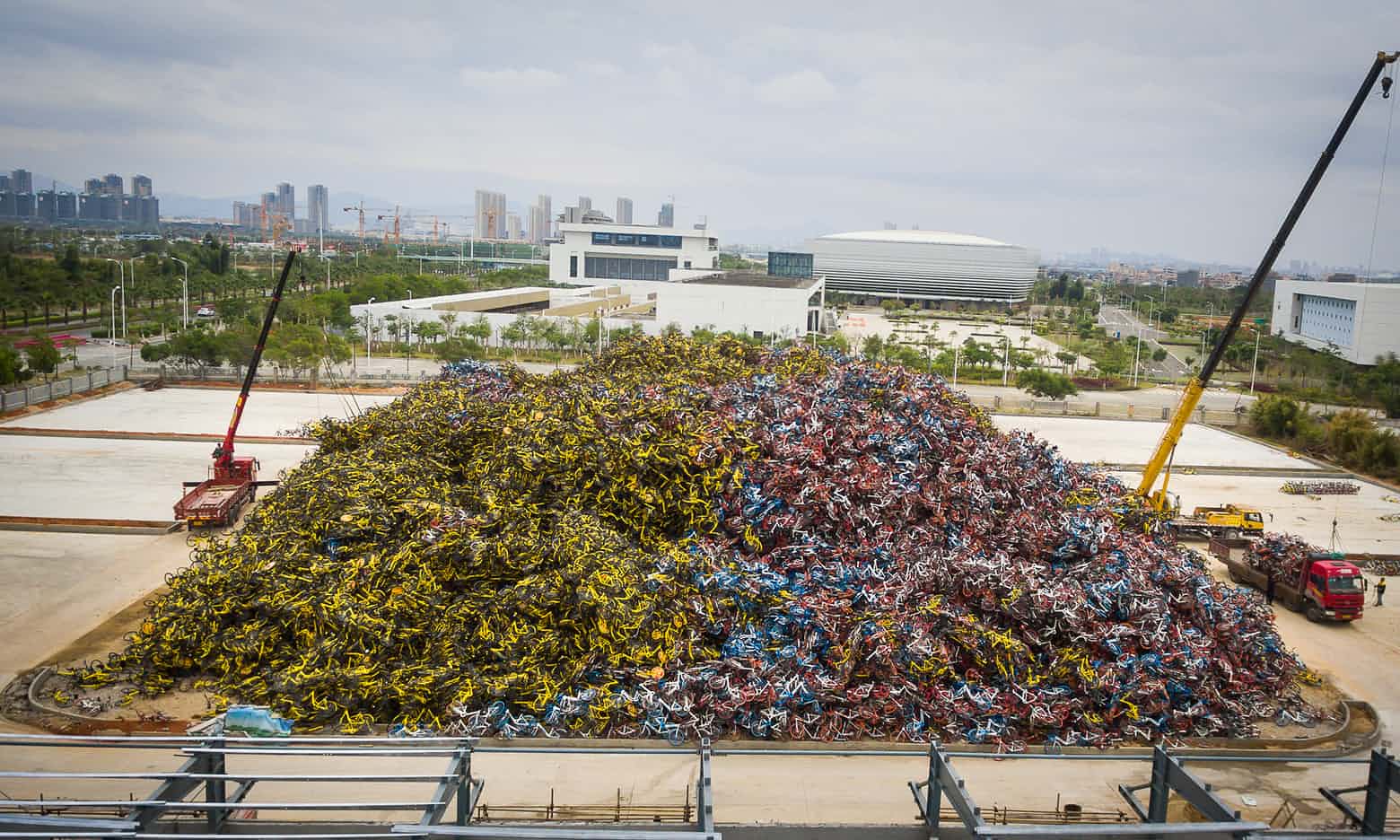 Back to top
Finding it very hard to grow your Amazon sales in 2020?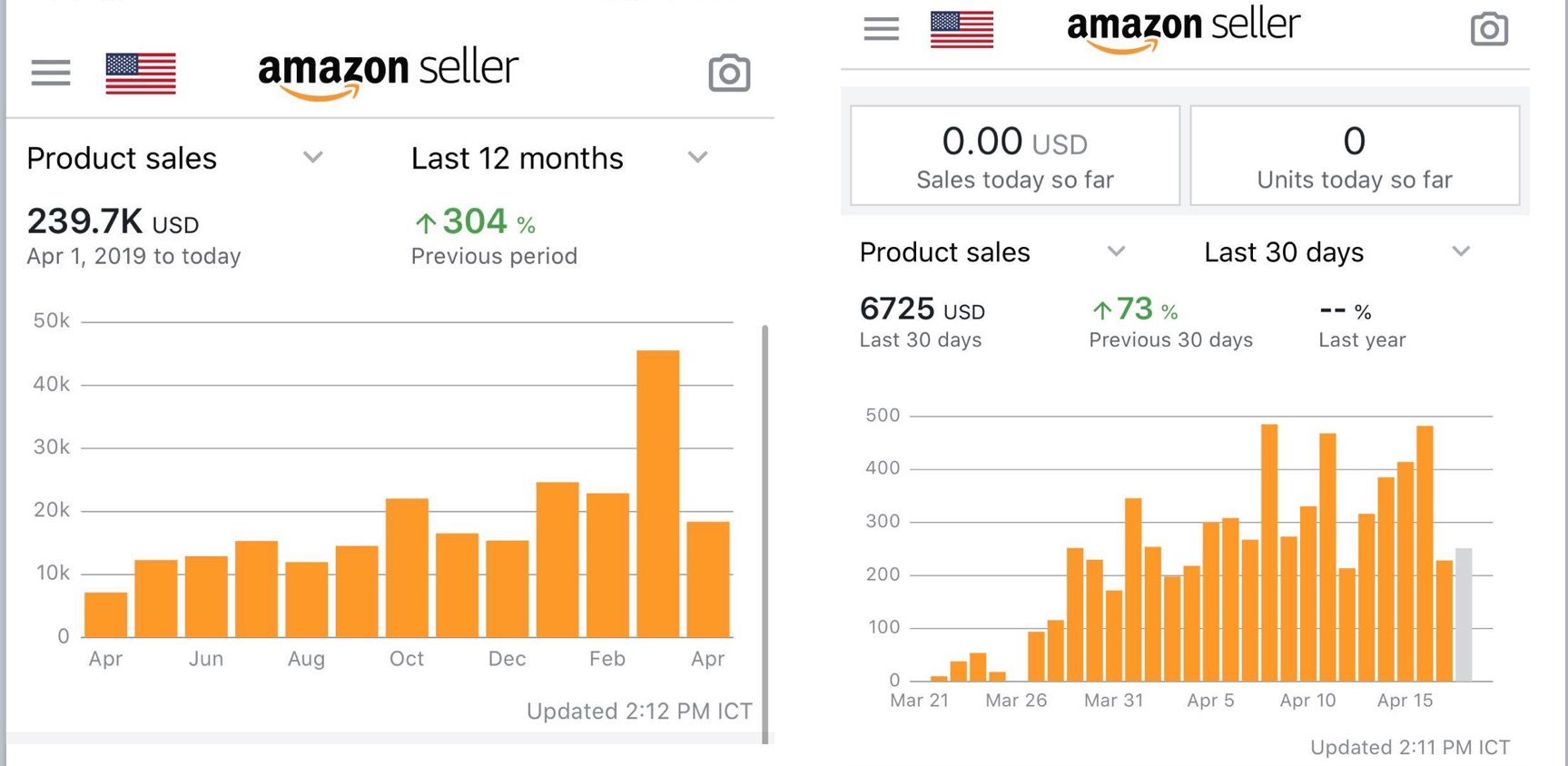 4. Flexible Structure and Internal Organisation
One more thing that influences the operational speed within Chinese companies is definitely their
flexible structure and less strict internal regulations when it comes to HR
(it is often discussed about the workers' rights compared to the western companies). When I had just joined Sunvalley for a few months, the company was following a
horizontal organization
of the human resources (division per countries/marketplaces), that had been changed later to a
vertical organization
(division per product lines and brands) as the company grew bigger and grew with different needs.
I remember receiving one email on a Tuesday afternoon at 5:30pm with the communication of new seats and literally changing my desk on a Wednesday morning.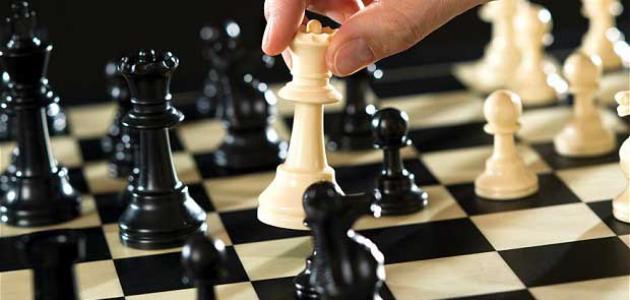 This, would be just
utopia
– or nightmare – in the West.
John Rood continues while talking about the internal division "one person is typically in charge of each store; for example, Sally will manage the US Amazon store and James will manage the Spain Amazon store. […]The requirements are really different for each company. In big companies, several people will assume responsibility for each Amazon store. Some will handle keyword research, some will focus on just writing product listings, etc. It all depends on the size of the company. As a general rule, bigger companies will break down employee roles in a more granular manner".
The organization of the jobs can be even more detailed as the company grows bigger and adds more product lines,
until reaching a division by product function/features
– Bluetooth, LED, Power Banks, etc. Within a team, one person will be in charge of a selection of products (regardless of brand), however, this person will typically only focus on one region. The team members will report to the team leader who reports to the sales manager, who oversees each of the brands. This sales manager is a singular figure who reports to upper management.
Back to top
5. Very Early Entrepreneurship Mindset
One more element that increases the differences between China and the West, is the incredibly early entrepreneurship culture in China, if compared to the mindset that prevails among young men and women in the USA and in the EU. It is absolutely normal for many junior sales manager to acquire valuable experience in the most appealing e-commerce companies and start up their own store on Amazon within 2 or 3 years only. This is also why, today
a well established Chinese company is as appealing as a Western company, or even better in the eyes of the fresh graduated students
. In a big Chinese company there is much more to learn, and less to worry about for leaving only after a few months-years time (yes,
turnover is very high in China
). Add to this, the
insanely large quantity of available equity investment
(both from private and public sources), that makes it even
easier for a spinoff to survive and potentially be successful in the market.
The creation of a spinoff business actually starts to happen while employees are still employed at their original organization
: they will leave the company once their own side business becomes more profitable. There are so many things that can be sold and there are dozens of markets, so a former employee (or a few working together) does little to harm a major brand. Employees in the system learn very quickly that they cannot compete against a bigger organization due to the scale of their operations and to the lower funds. Smaller seller teams that operate their own stores, try to do so in smaller niches –
making the subcategories more and more crowded.
They also pray that a big company doesn't enter their niche as they cannot match them on price or their ability to drive customers to their listing.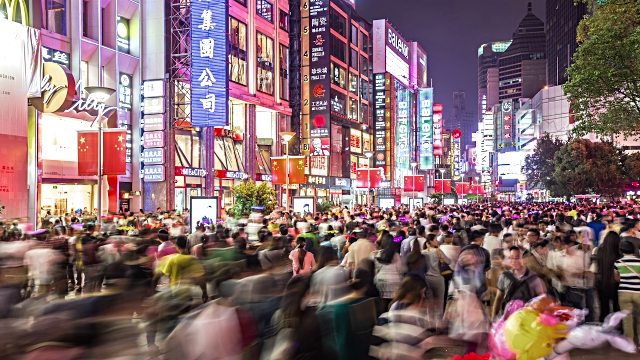 And as we said earlier in this post, the
extremely practical culture
is constantly pushing for "innovative" ideas, that might just be an innovative way to sell exactly the same product, under a different name.
Better trying to get rich and fail than constantly be working for somebody else, right?
It could work, but it could also not work
. I have seen a few businesses come out of the side and become the main business for some of my former colleagues, only to become again a side business and to eventually be dropped and forgotten.
Noah Herschman explains this practice on a deeper level: "The issue that I see with Chinese companies and employment – especially in Southern China – is that the bosses expect the majority of their employees will learn the secrets and best practices of the company and leave to start their own Amazon Seller company. This is why companies are very careful in what information they share with their employees, and also refuse to pay employees a very high wage – because they feel that there is no incentive to try and keep employees since it is an eventuality that they will leave and compete. However, the most successful sellers I have seen are ones that have a bit more of Western approach: they trust their top managers and incentivize them either through profit sharing and/or stock ownership." He adds later that "there is a huge value to having an early start on Amazon because search and sales history builds up over time so the longer the product is listed on Amazon, the better chances it has to rise up in search ranking.  So it is better to try and stay with a company for a longer period of time because – unless you have some brand new category to compete in – it is hard to start at the bottom of competitive categories; you usually lose money for quite some time."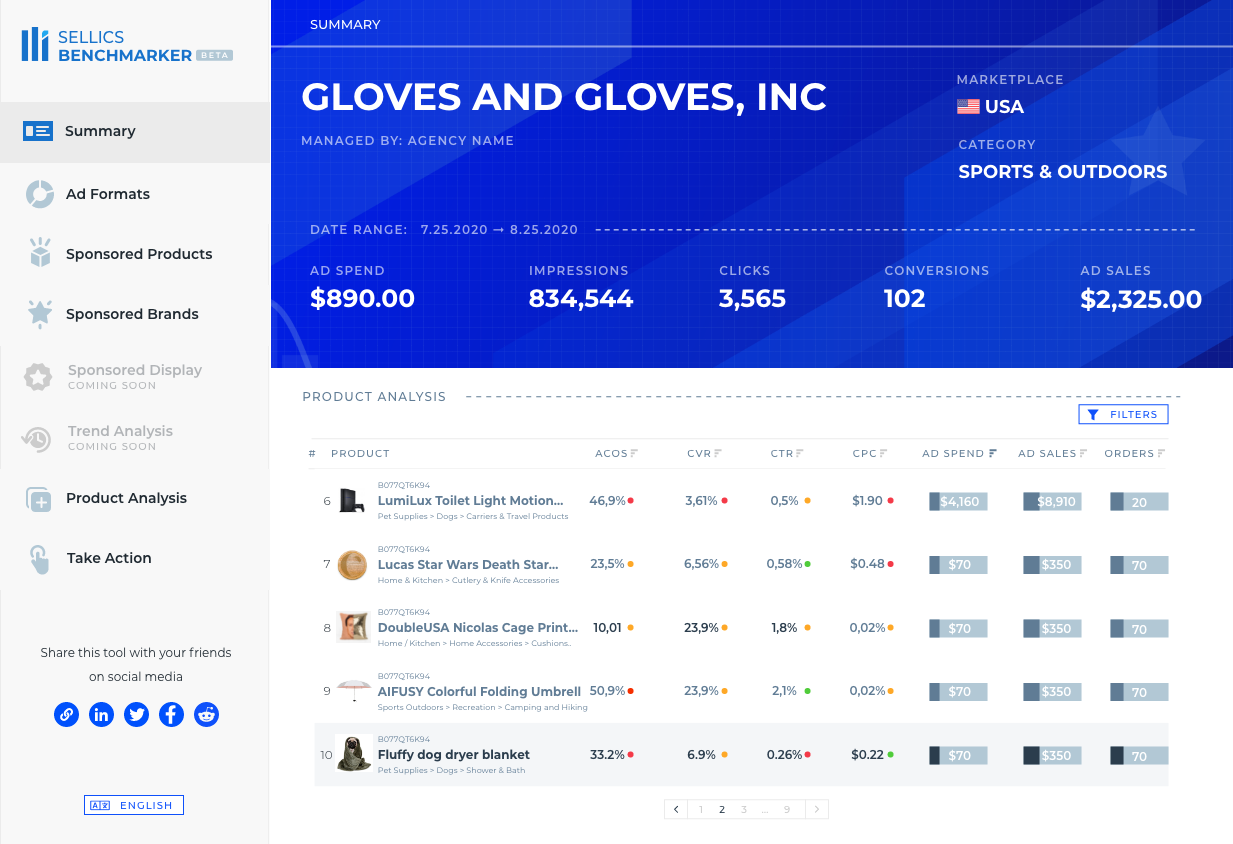 Back to top
6. Increasing (or Decreasing?) Presence of Skilled Foreigners in China
In the past 5 years, cities like
Shenzhen, Hangzhou, Chengdu, Guangzhou
and others that were almost unknown to the West compared to
Beijing
and
Shanghai
, became
very appealing for skilled expats, offering competitive salaries while offering constantly improving living conditions and super efficient infrastructures:
Shenzhen is right after Shanghai in the Chinese average salaries list
, while the average
cost of living is definitely lower.
Skilled foreigners would help Chinese companies with all the jobs that non-native workers cannot perform best, such as content creation, marketing, social media and in the higher levels also with strategy and relationships with
KOLs
.
"This is something that should keep American sellers up at night." says Zack Franklin, "Chinese sellers have every advantage – from cheaper supply, better relationships, a huge community, less to pay in taxes, venture capital, but now they can also hire skilled foreigners to manage marketing."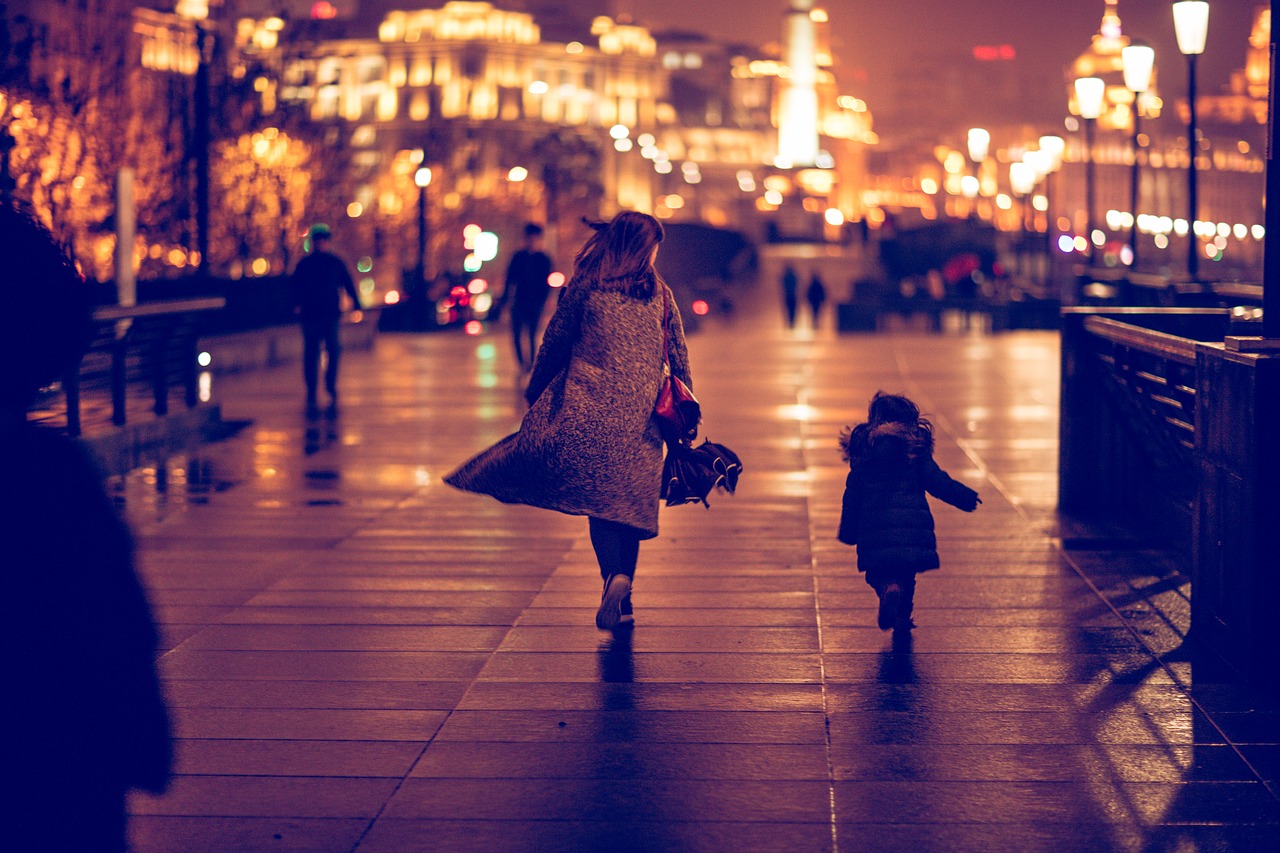 But something is changing.
The opinions regarding this matter are not perfectly matching. Also, not necessarily all the new sellers can afford –
or are willing
– to pay the salary of a skilled expat with several years of experience.
Unfortunately, still some "Chinese companies have very little idea how to attract and keep quality foreign talent, and cultural differences aren't making it any easier. Many large sellers we've talked to in the last 6 months have proudly stated: Oh yes, we are in the process of hiring our own in-house team; although we have come back many months later to find that the situation has not changed.  This is probably due to the fact that a lot of these companies are located far-out areas of Shenzhen like Longhua, Bantian, Longgang and Bao'an, where quality international talent are unlikely to relocate." continues John Rood. "Although most foreigners were previously chosen based on their native language, the requirements for international talent have definitely increased dramatically everywhere.  You can't get by in marketing just being a native English speaker anymore. Being a native English speaker doesn't make you a great copywriter."
And Chinese companies are realizing this.
Four years ago it was enough to speak the language to be hired as marketing manager for a specific country in a Chinese company.
My former colleague in charge of PR and Marketing for Italy at Sunvalley had never done a similar job before. This would pretty much not happen anymore, at least not in the case of major Amazon sellers as Sunvalley is now. So on the one side we see the
foreigners working in China as in a unique, expensive and very flexible position
given their English/other languages ability and skills so there is no one set rule for them. On the other side, there is a general realization among expats that
they will never make it to an upper management/directorial role in the bigger companies.
Some main e-commerce sellers would rather give a high management position to a Chinese national, to a returnee from overseas or to an American Born Chinese. However for other companies, especially smaller ones, expats are as important as hardly affordable e.g. they can help set up operations in other countries, provide professionalism to all communications with customers/press.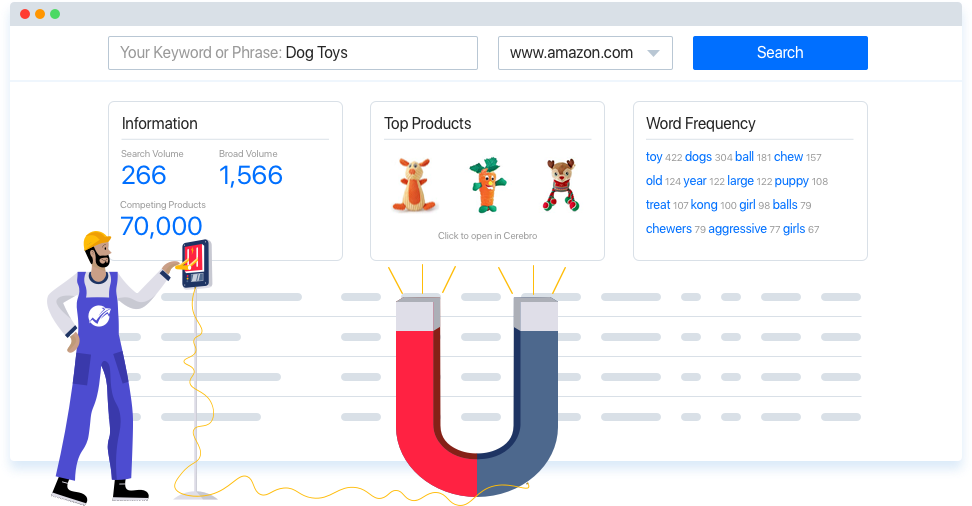 Noah Herschman
still doesn't agree with saying that foreigners are fundamental to the present development of Chinese's e-commerce company, at least not as much as it used to be until a few years ago:
"Chinese companies have less and less use for expats. Firstly, there is a real sense of Chinese nationalist pride – so if there is a position that can be filled either by a Chinese national or an expat, the position almost always goes to the Chinese national. I remember that head hunters used to contact me for positions that I was eminently qualified for – and they would say: You're perfect for the job.  Um… Do you know any Chinese candidates you could recommend? The recent advent of the Chinese Points system is a testament to this. China has always had somewhat of a merit-based immigration system, but the point system has cemented it. There are three tiers: * Grade A – This grade applies mainly to foreign high-end talents in specific industries as well as in higher education. Grade A expats are supported by the government to stay and be successful in China * Grade B –  This category concerns most of the professionals, which are currently holding a Chinese work permit. Grade B expats are controlled by the government so that the number does not increase too much * Grade C – This category applies to all, who do not qualify for either Grade A or B. Grade C expats will probably have a harder and harder time getting their visas renewed.
Although the specific criteria will be decided by local governments, at least six criteria will be important: 1. Chinese language proficiency 2. University Degree from top international or Chinese university 3. Age 4. Salary 5. Work experience 6. Location in China (Tier 3 cities will get higher points than a Tier 1 Megapolis)
So here's the hard question: If you do not have a lot of weight in all or most of these, what value can you bring to a Chinese seller? Even though you may be an English speaker, most of the Chinese sellers' content style is more "Keyword-ese" than English.  They are usually very good at optimizing titles and descriptions to maximize search results over a number of critical keywords. That does not require native English. Also Chinese companies are more and more interested in hiring "returnees" – Chinese nationals who went to university or have worked abroad.
In terms of pure e-commerce capability, IMHO – the Chinese sellers are simply the best.  China has the highest e-commerce sales in the world – 5x larger than the US in 2020 – see graphic: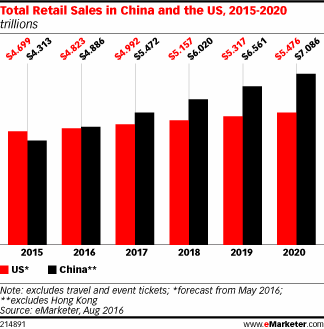 So why would a Chinese company want to hire a foreigner to help with e-commerce, if the Chinese are already the best in the world? Answer: they wouldn't. And they are fast becoming the largest and most successful sellers on the Amazon platform, killing small American Businesses.
I think Noah Herschman perfectly explained how this trend is changing.
Back to top
7. Supply and Generally Easier Access to Key-Resources
As we have seen already in this post, Chinese companies – in particular companies located in Shenzhen and around – start often in
pole-position 
because of the access to a lot of resources:
fast supply, huge capital to invest from the government and private funds,
and I would mention also that it doesn't hurt to actually be close enough to your supplier, being able to do a quick quality check without having to fly over into another continent.
Being close to your supplier
not only in terms of space but also in terms of
culture
, also means
having better prices than who is not, for obvious reasons.
As for the highly practical culture, speed here is what makes the difference. "The key advantage here is not only cost, but the speed and personal relationships that come from being in the same city on the supply side" continues Zack Franklin. "I would argue it's an even stronger advantage than being close to your customers! Sellers here are able to take a quick taxi ride to the factory to check on production, but solo sellers located in the west have to hire specialized inspection and QA companies. When your supplier can remember your face or even get dinner with you, your relationship will be much stronger, and you will definitely get priority or better prices."
"In Shenzhen, [..] (there are) parks only for Chinese Amazon sellers. The government backs them and provides quite a bit of funding. They're very close to the entire supply chain. What for you is a three week process is for them an afternoon. That's going to affect your speed to market which is everything in this business. So Chinese Amazon sellers have more support on every level: from the government, from the local community of Amazon sellers, from all these different spaces and business cooperatives. It's really hard for Americans to compete when they don't even know that this is going on." he continues in an interview for Smart China Sourcing.
Noah Herschman
adds to this:
"The other thing to consider is that there is an unhealthy amount of capital available for Chinese startups.  There will be something like $50B venture capital invested in Chinese startups in 2018.  I have heard that so far a total of $1T has been invested over the past 10 years by government and private investors in Chinese high tech. While this helps drive innovation to be sure, it has at least one detrimental effect: it prolongs the Darwinian effect of weeding out the weak performers. In other words, many companies are so overcapitalized that they can lose money for an unnatural period. Example: JD.com has lost huge money for 14 years on a row – see just the past 5 years:

But you can see that they are growing faster than their e-commerce competitors:

So investors keep pouring money into JD because they continue to grow market share – so the investors are hoping that one day, they will be in a strong enough position where they can raise prices and/or lower operating costs and turn a profit. When I was at Amazon China in 2008, JD (then called 360Buy), had the same revenue as Amazon.cn. Now they are 30x bigger: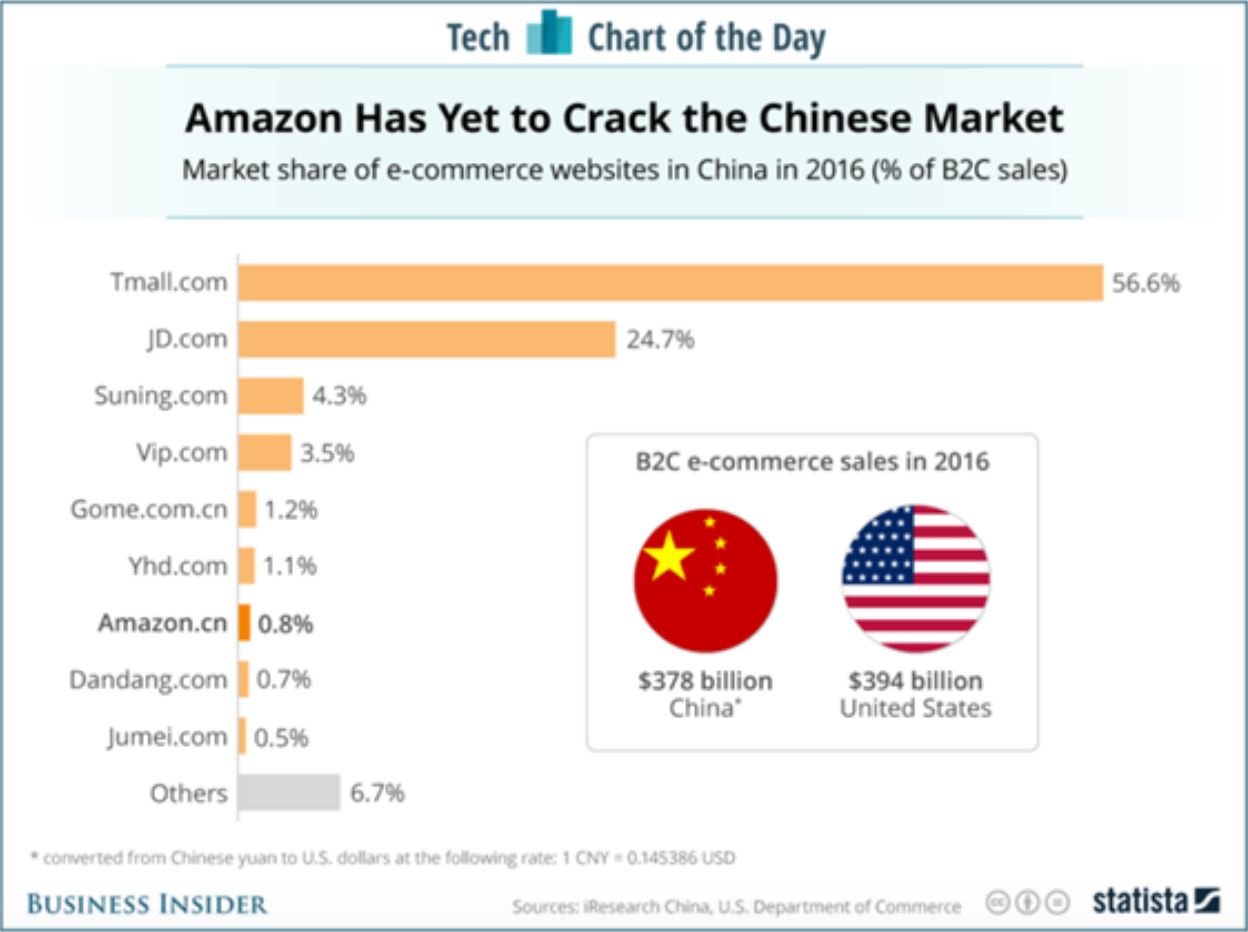 So, the bad news here for the US and EU sellers who have to actually make profit from operations is that the "over-funded"
Chinese sellers can afford to lose more money and for a longer period
in order to grow their share of the platform, then any of you can possibly handle. In other words, it is going to be harder for Western medium-small sellers (but even for large sellers) to sustain their business on Amazon given the
crazy amount of resources available to Chinese sellers.
You can see
how challenging it is to source from China when you're not in China, even for a Chinese national
who has been doing business in the States, as Jerry Gan, founder of Valuelink and CEO of AMZ Tracker (
interview from GlobalFromAsia TV
): My suggestion: come to see how this world works here, you will be impressed and eventually learn something new.
It wouldn't hurt to open a branch in China or in Hong Kong
; it is quite common for any Chinese company that operates on Amazon to
open a few branches in the States and in Europe
once they start getting serious with this business, as it helps with VAT, warehousing, localized marketing, etc.
Back to top
8. Black Hat Technology and Practices
Here we are. Black. Hat. Technology. How many times did you hear about that? When we say this 3-word combination do you think of some nerd looking guys playing in the back-end with some strange
HTML codes from various seller/buyer accounts,
or maybe of a
click farm with tons of people making fake orders
somewhere in the world? Well, the truth is actually not too far from this kind of imagination. But what is scary, is that
black hat can be operated pretty much from anywhere, also just by a single person
and in most of the cases it is hard to identify. This easiness within the black hat practices, makes it the
most wanted and the most sought-after knowledge
of many small Chinese sellers.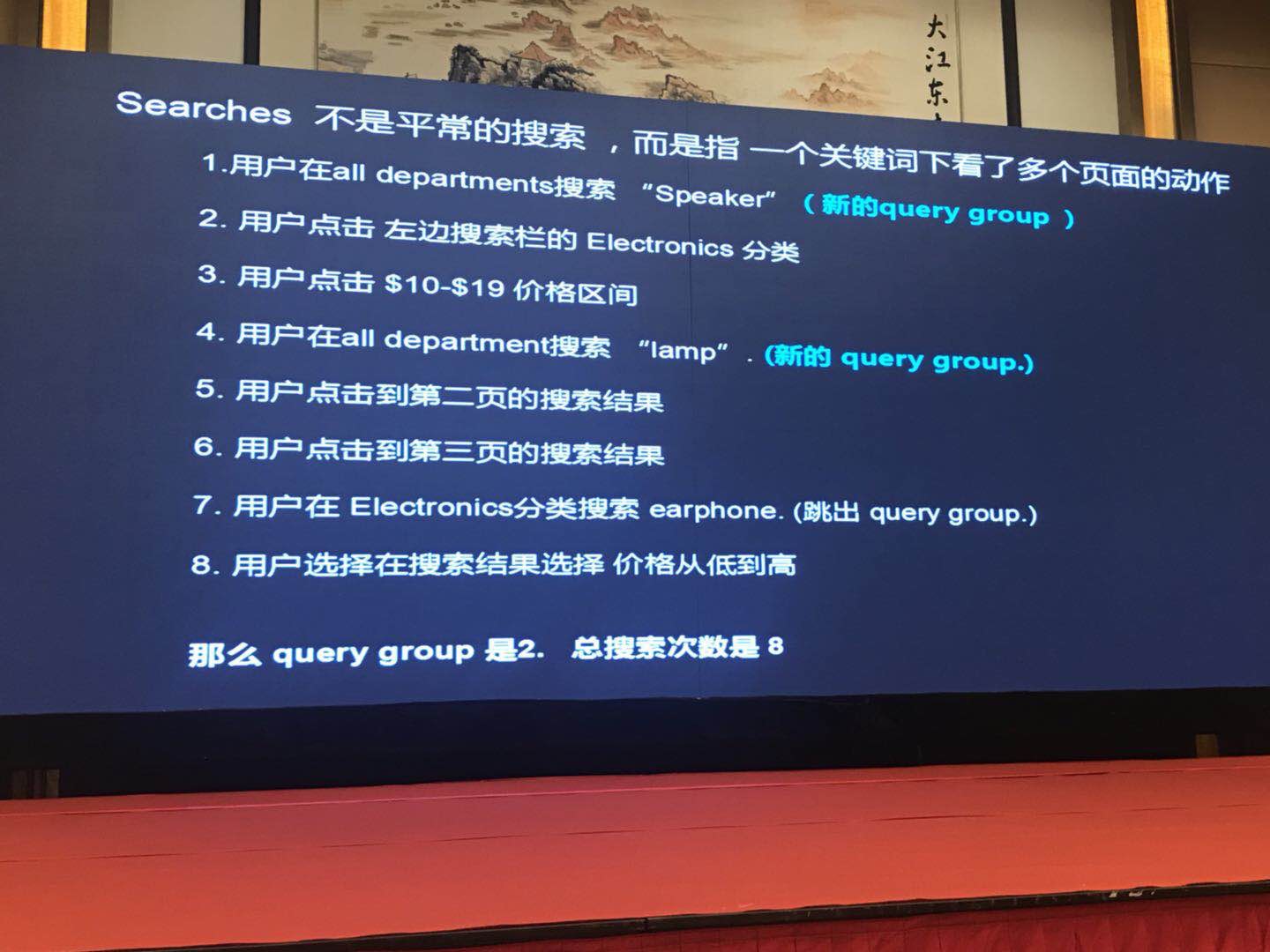 What is black hat?
Black hat is any kind of action that goes against Amazon Seller's terms and conditions
. Now, this could easily get tricky because as we know, Amazon is constantly changing the terms and conditions, so any seller that does not implement their strategy will risk in account suspension for something as easy as to ask for reviews in exchange of discounts – it actually happened to one of the companies that I've been working with, this company had more than 300 employees. One thing that won't make you happier is the
increasing presence of Black Hat Technology & Strategy Intensive Workshops
, held by e-commerce
self-claimed-gurus
and sold at a very high price to small groups of Amazon sellers around China. These classes are normally held in one or two days and the price fits in a range between
$2000 and $4000 per person
. To give you a comparison, the price for a traditional white-hat Amazon marketing class would be around 25%-50% of that. One of my connections in Shenzhen, who had a service from a company which the main purpose is to sell reviews on Amazon, says that "everybody is doing it; you are stupid if you don't buy reviews nowadays. But be careful not to get caught by Amazon or they will shut down your account(s)". I've asked how the
fake reviews
work and it can be pretty much summarized in this way: the reviews are made by
real Amazon.com buyers
who actually buy the product, receive the product, and eventually keep the product. The buyers also get a reward (usually around $5) for having bought a product that they will eventually get refunded for! The "fake review agency" pays the buyers the full price of the product + the $5 commission (they normally are in touch with thousands of buyers, most of them are Chinese nationals living in America) and
gets paid by the client the same amount + extra commission – generally from 5 to 12 extra dollars.
The review is
real
and
verified
. There's no item return. How to spot a real-fake review? Well, some listings will pass
from zero to hero
in a matter of days, most of the reviews have a "Chinglish" tone, and there are very few negative reviews. Anything here sounds weird? One of my friends in Shenzhen has been selling on Amazon for a lot of years, and being an
American Born Chinese,
he fits perfectly into both the Western and the Chinese worlds – like many others in China. The position (and his amazing Chinese skills) gave him an
incredible knowledge of the black hat practices and methods.
He wants to keep his name secret for now, but you can find him on WeChat with the user ID "professorofamazon":
"One of the most pronounced Black Hat methods of Chinese seller in use right now is SD (Shua Dan) also known as brushing. When a customer purchases on a site like Amazon/eBay or Walmart, a few months or weeks later they start to receive small envelopes addressed to them. They contain junket items they never ordered, worth mere pennies. The Chinese seller has completed what people in the industry calls brushing "fake purchase" using someone else information. He builds his sales and can even leave his own review if set up properly. This is illegal to do in China but there is very little recourse and risk when they apply these tactics overseas. This is mostly done to give more prominence to high-volume sellers with good track records but anyone can benefit from it.
This work is not for the faint of heart. Lots of work, maintenance and patience goes into setting up a successful (and undetectable) brushing scheme. For starters, having a stable of buyer accounts with vastly different ages, profiles (everything from shipping address, payment methods, IP addresses and buyer buying habits), and operational behavior is daunting for the average player. A lack of doing so makes you stick out easily to Amazon. Even harder is sustainability, this type of work takes dedication and patience. Once again, you can't go into this fast and hard. Slow and steady always wins the race. Most sellers don't have the patience to run this successfully. They want their 50 new reviews now! Or by the end of the week!
For these types of devious sellers and competitors, the question being how effective or long lasting are the expected results. Or otherwise stated, what are the desired results: to tie up a customers' inventory? suspend individual competitors listings? keeping the competitor seller occupied with bad reviews? Get the seller kicked off of Amazon? Up-vote or Down-vote reviews or feedback that helps them or hurts the competition?
Brushing is just the tip of the iceberg, this is just part of seller review fraud. Other undesirable methods include: Review hijacking, Manipulating FBA ratings (clicks, wish lists, etc…), Copyright Claim Fraud, Tricks for winning the buy box (some legit others blackhat), ASIN Piggybacking, PPC click fraud, Custom URL queries, Vendor powered Coupons, and leaving negative feedback/reviews from fake purchases on your competitors listings."
We will talk more about black hat strategies in China, I'll probably write one article only about this practices. But for now I want to analyze deeply this matter, talking about the
culture
and how it affects the use of such practices:
could we argue that Western companies have a more "ethic" way of working when it comes to fair competition in a free market compared to the Chinese companies?
"What is respected in the West – which is hard work and playing by the rules – is not respected as much here in China. There are just too many people and too much competition" Says Noah Herschman. "The guys who are most revered are the ones who can find the shortcuts. There is very little patience in China. They see their friends and neighbors getting rich and they want to get rich as well. Many of the most successful sellers are able to find a better way to get things done by bending the rules a bit – almost never are they outright breaking policy, but they are excellent at playing within the grey areas."
"It is not as much an ethics thing as a culture thing." continues Noah, who has written a series of Linkedin articles on the same topic: "You have to understand why Chinese people behave the way they do. In summary: imagine if you grew up in a country of 1.3 Billion people – if you just play by the rules, you'd get nowhere. There is a Chinese phrase called Zou Jie Jing (走捷径) – which means to take the shortcut. In general, people are admired, not just for their hard work (in China everyone works hard); but their ability to work SMART – and working smart often means finding the road yet untaken. And as long as it doesn't hurt anyone, it is OK to be creative/innovative (which can also mean not playing exactly by the rules)."
I know a number of Chinese sellers who were taking all kinds of Jie Jings, always telling themselves that they were too smart to get caught and could always stay one step ahead of the "Amazon police".  The faulty logic here is them assuming that these Amazon Police are actual human beings. They're not of course – they are Machine Learning Algorithms. So even if it is true that Chinese people are smarter than everyone else – you can't tell me that ANY human is smarter than an algorithm – it simply isn't true. And this goes double for an ML Algorithm – because they learn from their mistakes; hence you can really use the phrase: fool me once shame on you; fool me twice shame on me. These algorithms rarely get fooled by the same Jie Jing twice.
One more thing that needs to be clarified here: generally it would be
the less experienced sellers to make a heavy use black hat tactics
, and they would make sure to operate the business from
various accounts
so that in case one gets suspended, they can sell the same products from a secondary account. Growing their experience and resources (together with the main account value and with the company's organization), the black hat tricks will be less and less of use.
Short answer
:
the
big sellers as Anker, Sunvalley, Aukey etc., are not making use of black hat and shortcuts
simply because they don't need it or because the benefit of a little more sales is much smaller than the potential risk of having the main account shut down compromising the whole business built in years and years.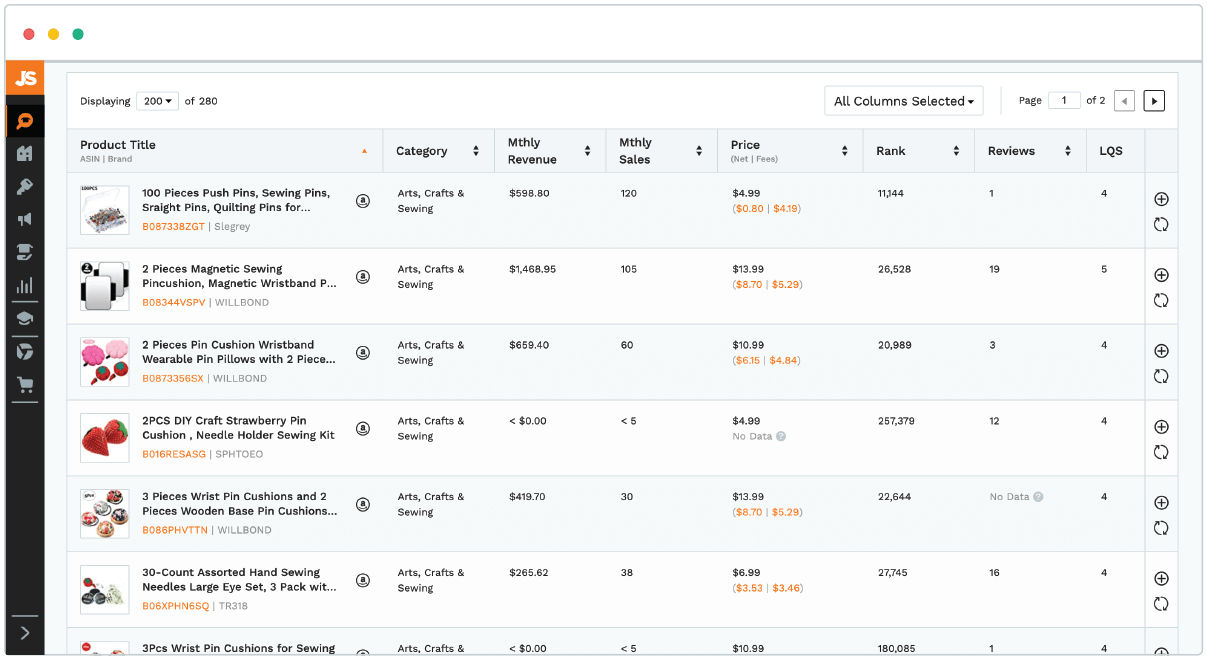 Back to top
9. "Creative" Product Launch Strategies
During the product launch phase, the prices of any listings on Amazon are always marked considerably high and then slashed to their actual sales price. This is done to give the
illusion
that the customer is getting a great product at a
massive reduction.
Of course, this is not the case. When I was at Sunvalley we worked on a Kickstarter campaign for the
VAVA VOOM Bluetooth Speaker
. The campaign didn't go as expected, as there was
no planned reason to actually use Kickstarter
to launch the product, however regardless of whether the first project got funded or not,
the speaker would still appear on the market and make money later on.
It appears that Kickstarter and
crowdfunding campaigns are becoming a viable way for Chinese e-commerce companies to launch a brand
(or even
re-brand
an existing name)
or a new entire product line.
After all, a company can leverage the attention a Kickstarter campaign, get to reach a new audience and tap into the media, and even get crowd-funded for doing that!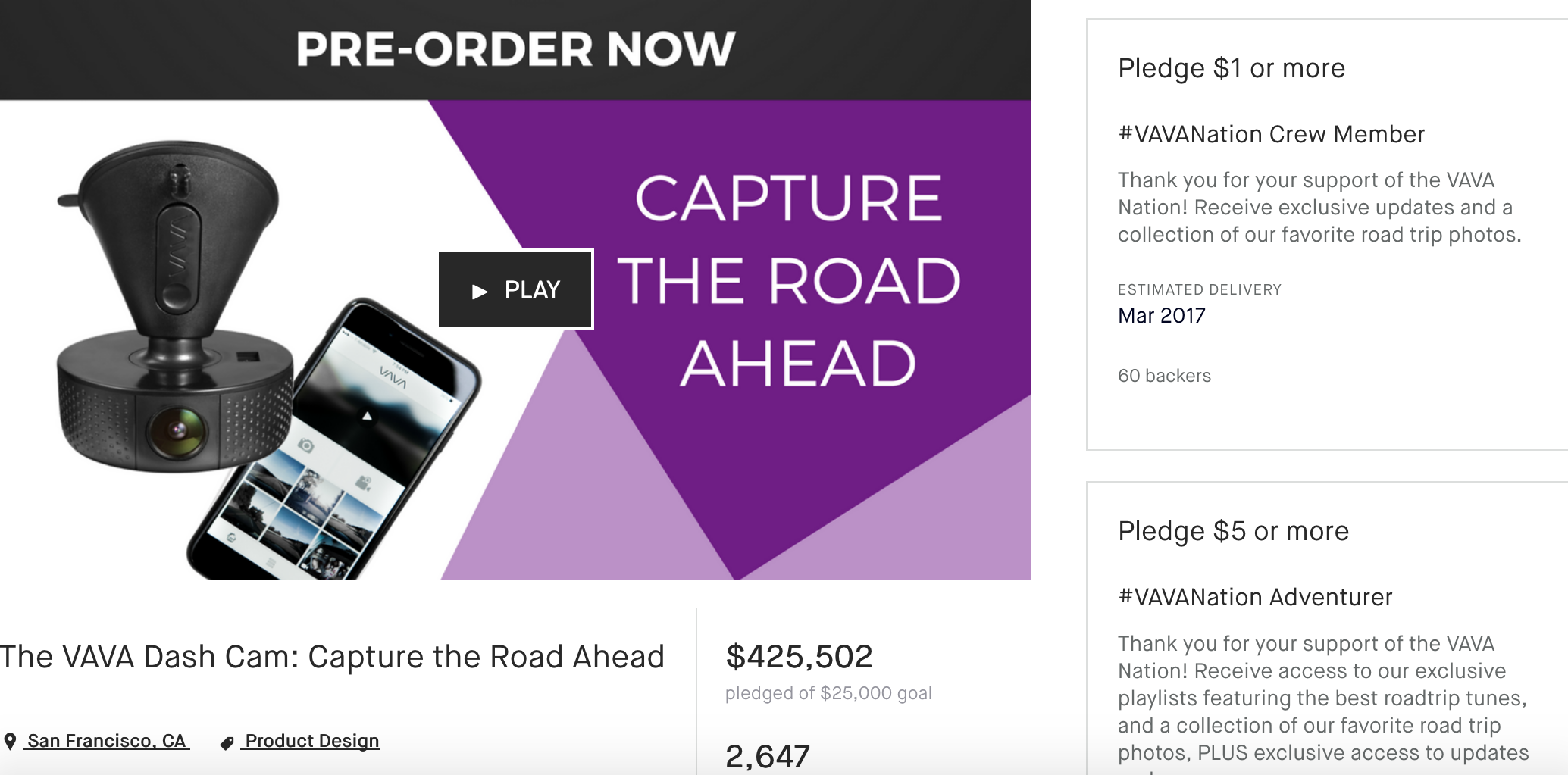 Sunvalley had later on a
massive Kickstarter success with their VAVA Car Dash Camera
, as did Oceanwings/Anker with their Zolo brand's Liberty+ wireless headphones. At least in the case of Liberty+, the product isn't particularly original. Sunvalley's VAVA brand has a pair of wireless earphones that also come in their own charging case just like the Liberty. Of course it's not the exact same as the Liberty, but
the basic design and function is the same.
So why would a company launch on a crowdfunding platform the exact same project that their competitor has launched a few days or weeks before?
The very idea of copying something that was already there before seems to go
against the whole crowd-funding spirit that should encourage innovation and original projects.
Well, the answer is: not every potential customer has seen the competitor's campaign, and it actually is true. Another reason is: the
crowdfunding success is largely based on the community
, one brand might have a better or not success than its rival in launching the same product depending on how well they do with their community or on how long they've been in the market (how recognized they are). Plus, does Kickstarter and other crowdfunding platforms really care? This is a far different approach from the Western way: "copying" a project is nothing to be ashamed of in China. We should ask ourselves one thing. Both VAVA and Zolo Liberty+ belong to larger companies, so do they really need to be crowdfunded to be brought to life? Probably not.
However, as a strategy to launch a new brand or product line, it's an excellent idea
. Expect more Chinese eCommerce brands turning to Western crowd-funding platforms.
Back to top
10. Extremely Competitive Culture
When you live in China, and in cities like Shenzhen, you soon realize that all
individuals breathe in an extremely competitive environment and culture
. Since the early school times, kids are raised with the idea of having to be top performer as there are too many in the schools. As a foreigner here, I had the impression that everything and everyone is literally replaceable, thus,
you have to be extremely competitive to be recognized as valuable.
There is a famous book by Amy Chua – suggested to me by a fellow expat in China -,
Battle Hymn of the Tiger Mother,
a Chinese-American parent, which gives an insider look into this world of
raising your child to be the best, in comparison to the Western standards.
It is brutal. And worth a read.
As a "Tiger mother" herself, she assumed the absolute right to dictate her children's activities and demand rigorous academic standards of them at all times, ridiculing them if necessary to spur them on to greater efforts. Her children were never allowed to attend a sleepover, have a playdate, watch TV or choose their own extracurricular activities. They were also expected to be top in every subject (except gym and drama) and never get anything other than A-grades – because, Chua explains, Chinese parents believe it is their responsibility to ensure their children's academic achievement above everything else. – The Guardian.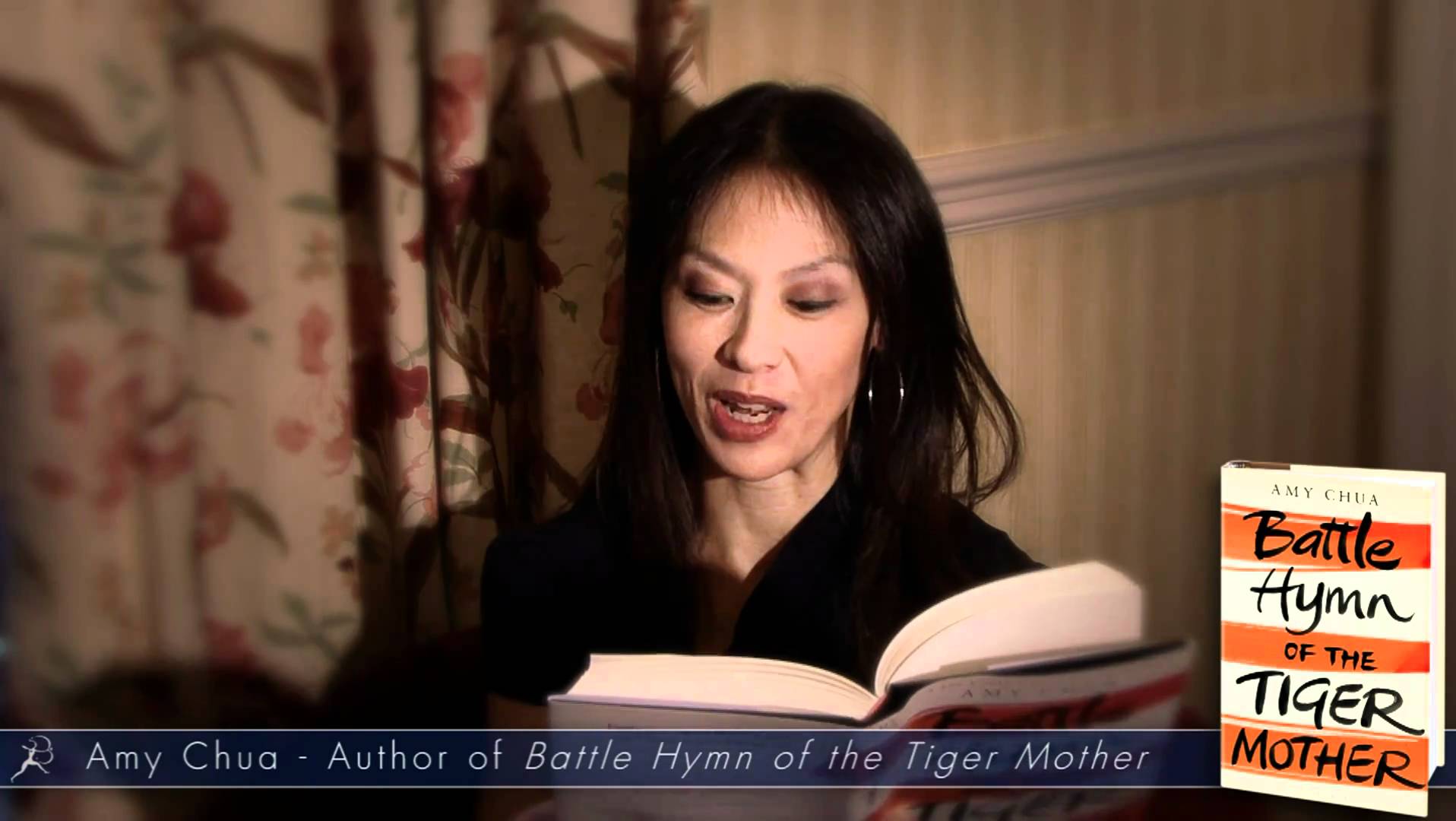 After school, the motivation isn't to be a performer. The motivation is to be rich
. As obvious as this may be, what motivates Chinese workers and entrepreneurs is just
money
! Pure and simple. If anything, the competitive workers will leave a company they started a few years or just months ago, to start their own business.
Why work hard for someone else when you can work hard for yourself and get rich?
Back to top
11. Constant Self-Improvement and Study
What does the
typical week of a European or American account manager
at any e-commerce company look like? It would probably look like this: work from 9 am to 6 pm from Monday to Friday, and having the entire weekend off – time to relax. The
typical week of a Chinese account manager
at any e-commerce company instead, looks pretty much like this: work 9 a to 8 or 9pm from Monday to Friday and very often on Saturdays as well. Yes, it is common to
work on a Saturday
for most of the companies in China,
the maximum working hours by law per week are 44
, and it is absolutely legal to ask the employees to work on a weekend. Normally, during the weekend a good account manager would consider attending some
workshop sessions for 4 hours up to 2 days straight of intensive training
– in this last case it's like you have no days off from your work on Amazon – often paying a lot of money from their own pockets. This happens because of the
very early entrepreneurship mindset among Chinese workers
that we have discussed above. The workshops are normally held around the hottest topics/elements that bring the most value to your products rank on Amazon:
keyword search, PPC campaigns optimization, listing optimization, how to use Facebook and other social media, how to get more reviews, etc.
This kind of training sessions (
white hat
) are normally paid $30 to $70 per person. The
black hat
sessions instead can get much more expensive: a 2-day course of black hat can touch a price of around $3.000 per person.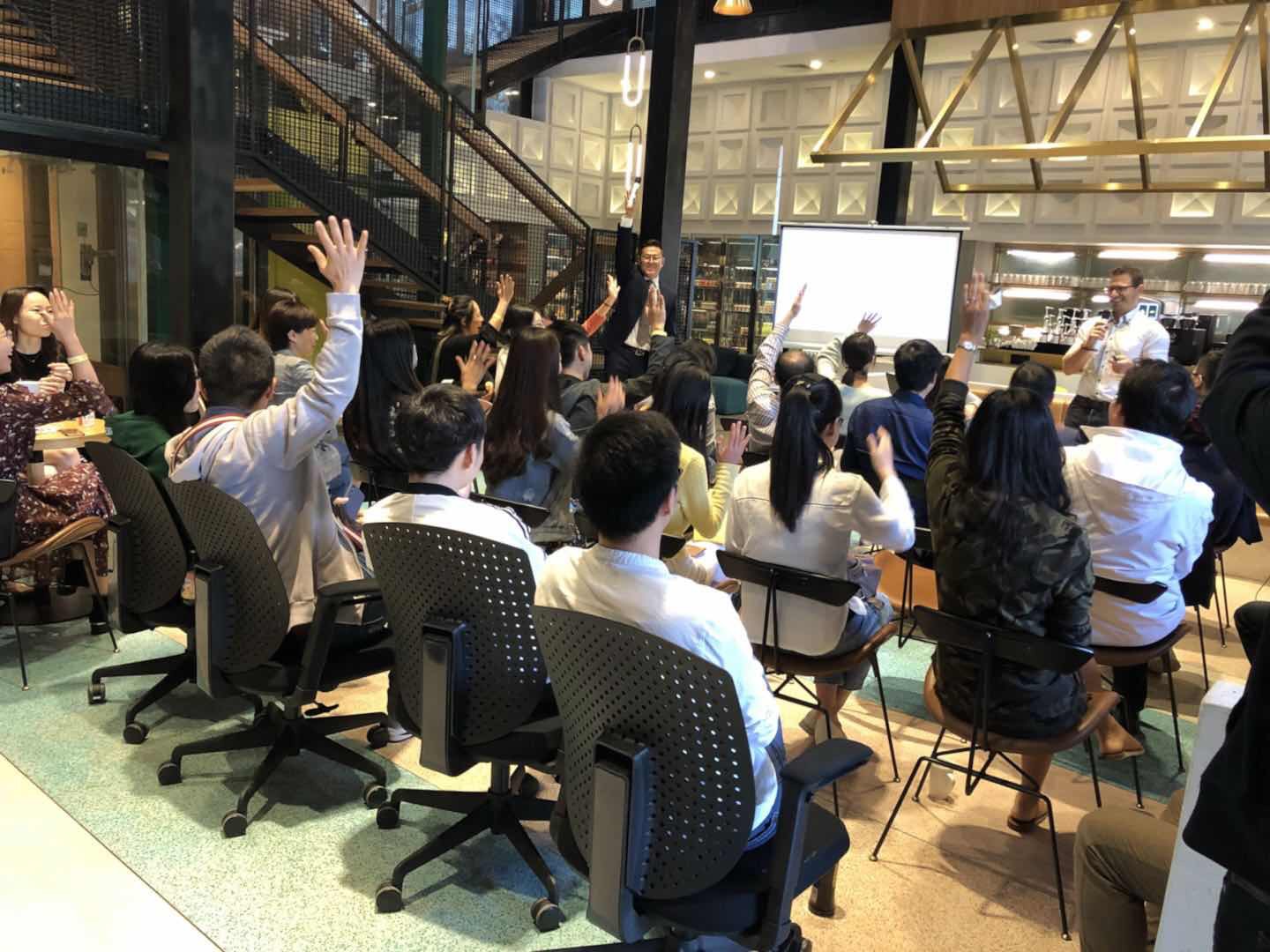 Back to top
12. Conclusions
What am I trying to show here, despite what is "good" or what is "bad" at the readers eyes, both Chinese and Western, is the very
high commitment
of the workers in China, who would give almost anything (at least a lot of their time and personal resources) to be
successful
in what they do – no matter if it means to take shortcuts not allowed by the system. We have listed above a lot of
elements, both cultural and practical, that will influence actions and choices of Chinese workers;
and as we have seen, there are huge differences when we compare the two working styles of Chinese and Americans/Europeans. I'm not saying that one method is better than the other one: the
two different approaches will look towards different strategies and objectives;
but we have also figured that the bigger sellers will use a more "Western" approach to the market in order to be successful in the long term. The whole scope of this article is to be informative and to bring out the differences, and I hope it can help many Western sellers to get a better idea of how the Chinese e-commerce/Amazon sellers can be so good at selling in these countries. It would be good to consider also the
most recent news,
as
Trump imposing heavy import tariffs against China.
Or will
Trump directly go against Amazon?
A very recent user on
Quora.com says about the potential damage for the Amazon FBA business:
Imposing an import tax would be a really dumb move that would change the US & global economy for the worse, for a long time. Globalization can't be reversed just by the US alone. This move would ultimately turn us into an isolationist state and we'd have far bigger problems than not being able to sell on Amazon profitably.
Well, in my very honest opinion,
digital isolation is what Chinese people have been forced into since the protectionist moves against Google, Facebook and other Western web services.
This isolation had the multiple effects of
protecting
from competitors capital investment,
creating an internal exclusively-Chinese market
to develop only for Chinese companies (and it's a huge market where always more western companies want to invest every year) and
protecting the data
from potential misuse of American companies – see what just happened with the
scandal of Cambridge Analytica and Facebook.
If you are on top of a country with more than 1.3 billion individuals, you wouldn't like any other country to mess with the personal data of your people.
Back to top
——
It took me a lot of time to write this article and I am committed to re-edit whenever I will have some new information to add, so feel
free to contact me via email at [email protected] if you have anything to say about this topic,
or simply leave a comment with your experience and knowledge on the matter. Thanks to everyone who has read this article until the end and special thanks to the people who have spent some of their precious time in replying my questions, including those who have chosen to keep their name withheld. Read the newest research (November 2018) "
War is On: How to Fight Unfair Competition on Amazon
"