Latest update: May 20, 2019 – Suspensions related to Brushing Orders Activity black hat suspect.
A lot of Amazon sellers have experienced recently
listings or even account suspension after running a product launch, giveaway or deal –
with apparently no reason. It is now confirmed that these recent suspensions have been made by Amazon for the latest update on Sales Velocity. Let's see
what does it mean for you as a seller and how to avoid to get suspended
at this point while still be able to operate your product launch or promotion.
What is Amazon Sales Velocity?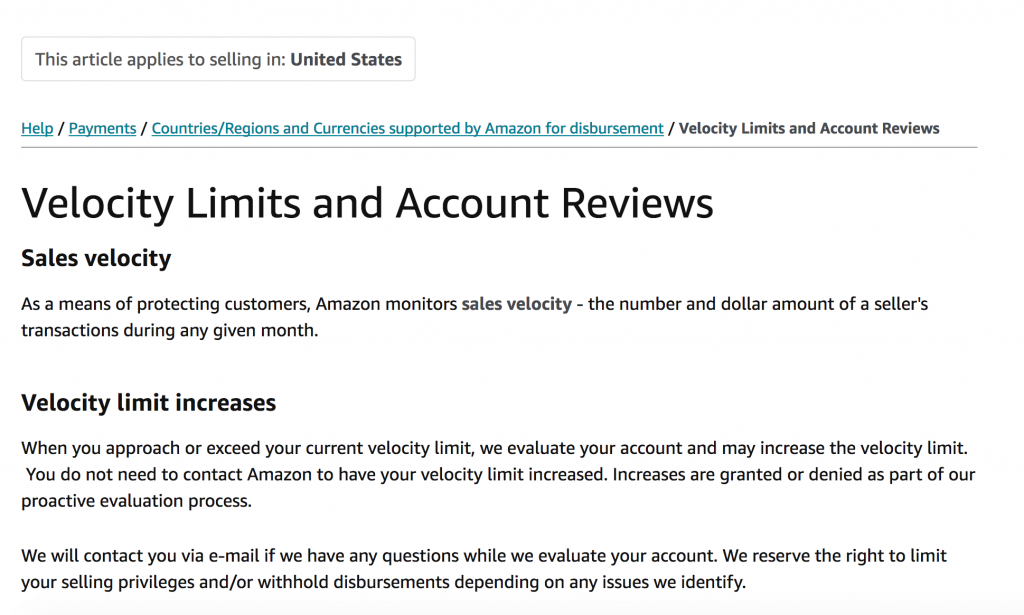 In short, the new Sales Velocity Limit introduced by Amazon is a way of protecting both customers and sellers. Amazon is able to monitor the monthly dollar amount and transactions of a seller, allowing them to assign a sales velocity to each account. The sales velocity (link to seller central here, must be logged in to access), also known as "selling limits" or "velocity limits" are applied to seller accounts at the time of registration.
All sellers begin with the same limit. These limits are based on a 28-day "rolling cycle". This means that only transactions from the previous 28 days count towards a seller's current velocity.
What happens if you've reached your velocity limit?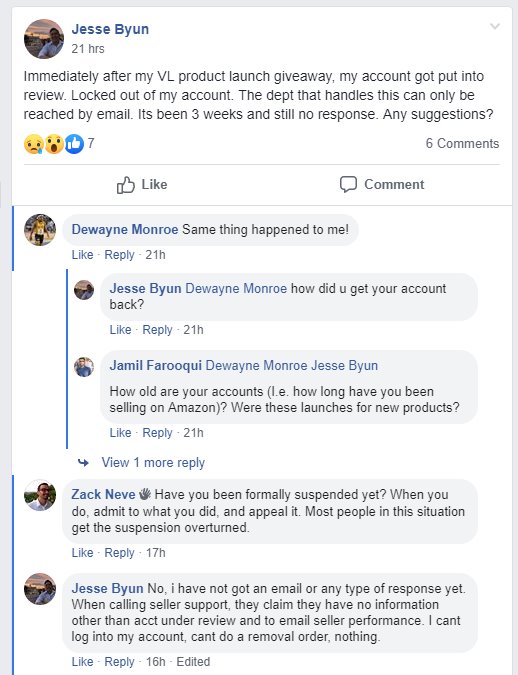 If you've hit the ground running and your store off to a great start, you run the risk of hitting your "selling limit". Should this happen, your account will then be reviewed by Amazon's Seller Evaluation Team.
The Seller Evaluation Team is put in place in order to combat black hat ranking techniques and those manipulating Amazon's algorithm, as we have seen in the past months a huge flourishing of these illicit tactics spreading all over the globe between Amazon sellers.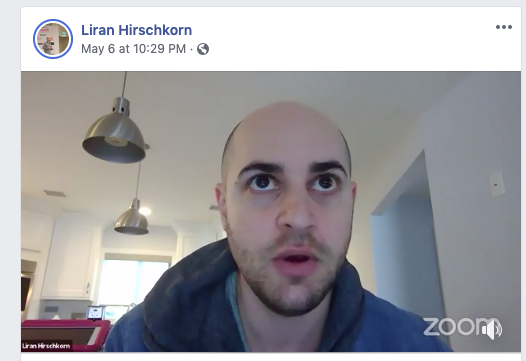 Liran Hirschkorn, e-commerce entrepreneur and founder of AmazingFreedom.com, has found that the majority of accounts being affected by Amazon's Velocity Limits are new ones. In a recent talk with fellow e-commerce expert founder of SellerSessions.com, Danny McMillian, he says: "it seems to me that this is affecting more newer accounts, which makes sense now, If a new account starts off and they're doing $50 dollars a day in sales and suddenly they're doing $500 dollars a day in sales, that's going to trigger that velocity review. And then Amazon sees just 90% off promos and they see that this account is doing some sort of manipulation, there's a manual review that is triggering the suspension, the Velocity Limit. This would answer the question of why some people are getting suspended and why some people are not."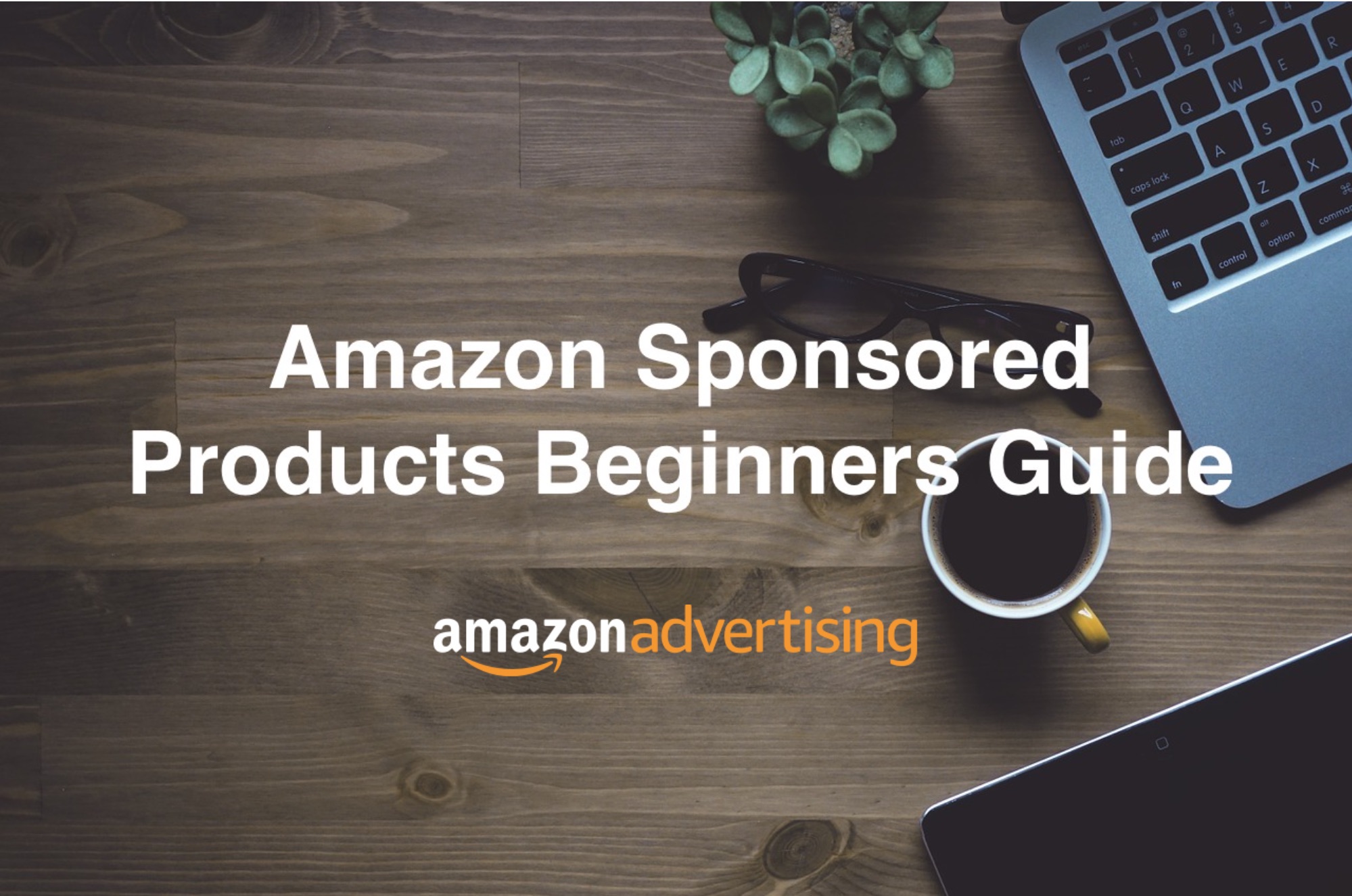 As a lot of sellers recently were getting suspended after running heavy promotions on their products, it seemed to be related to deals and high discount rates. But, instead…
He goes on to explain, "it's probably not necessarily the percentage off on the discount codes or the fact that they're using any sort of URL. It's probably just an account that was doing $100 dollars a day and is now doing $1000 dollars a day…it's a newer account that's coming up for review".
Account Reviews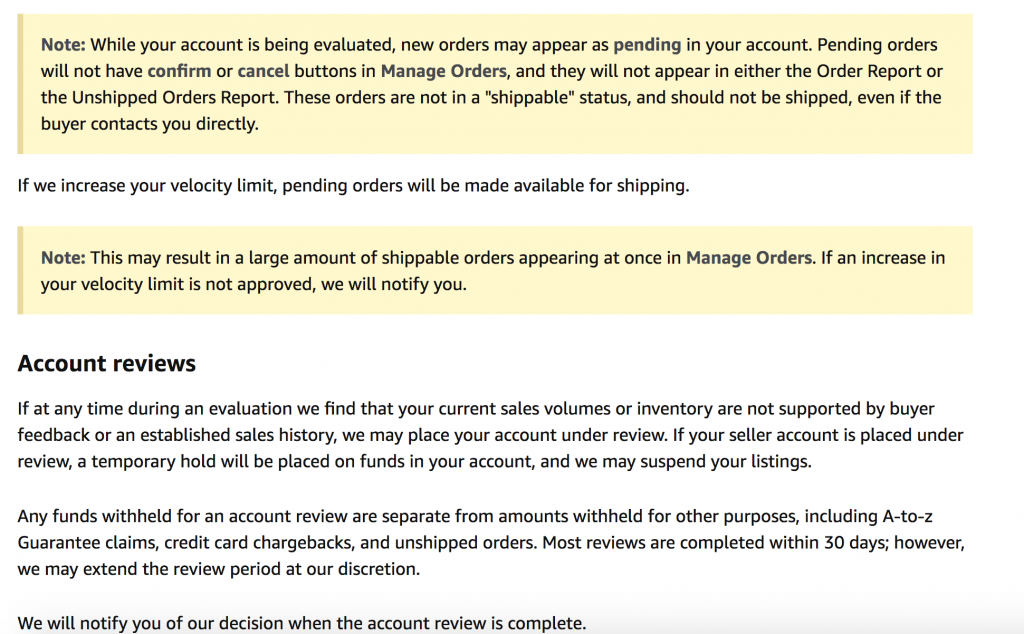 According to Amazon, accounts that are placed under review typically don't have the buyer feedback or sales history to support their current sales volumes. If your account has been placed under review, there will be a temporary hold on all funds within the account.  Your listings may also be suspended temporarily.
This hold on funds is separate from the amounts allocated for other purposes such as credit card chargebacks, A-to-z guarantee claims, unshipped orders and etc. While the majority of manual reviews are completed within a month, the length of the review period is at Amazon's discretion.
How can I expedite an account review?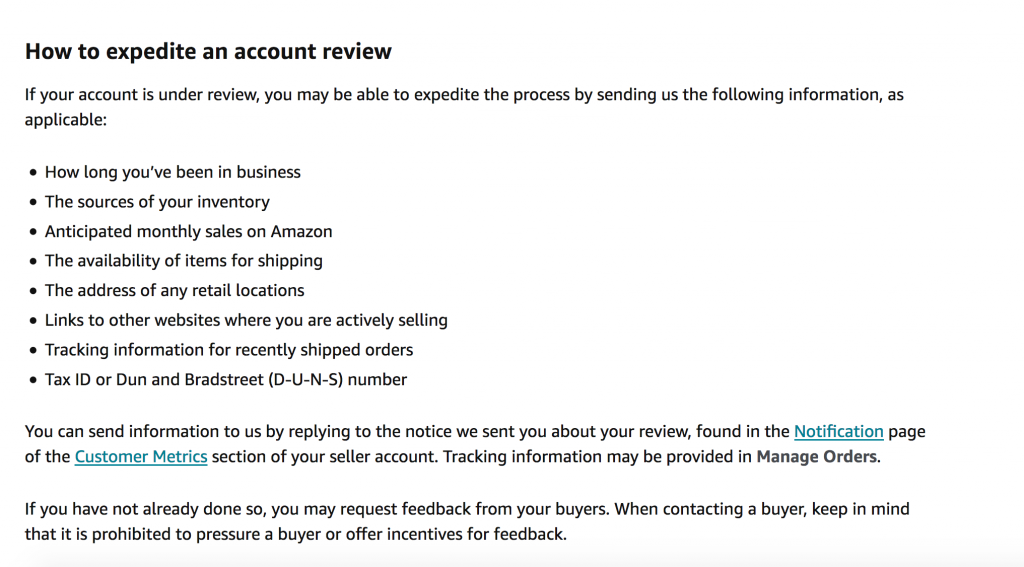 If you've been suspended and are doing everything "by the book", then you shouldn't have anything to worry about. In order to speed up the review process, it's recommended that you show Amazon all your whole flows and inserts. This includes information such as how long you've been in business, where you source your inventory, your anticipated monthly sales, the availability of goods for shipping, the address(es) of any retail locations, tracking information for recently shipped orders, links to other sites you sell on, and a Tax ID/Bradstreet number.
Account Suspension related to possible "Brush Orders" Black Hat suspects?
Paragraph written by editor – Davide Nicolucci. Some do not agree with associating the recent suspensions of many sellers accounts directly with the sellers' Velocity Limit, as the velocity limit has been among Amazon's rules for a while. On a recent talk with
The Professor of Amazon's
Founder, I found the suspensions might instead be linked to Amazon association to "Order Brushing". What is Brushing?
Brushing or Shua Dan is a well spread black hat tactic used by various sellers
in the e-commerce world and on Amazon.com as well, of course:
"One of the most pronounced Black Hat methods of Chinese seller in use right now is SD (Shua Dan) also known as brushing. When a customer purchases on a site like Amazon/eBay or Walmart, a few months or weeks later they start to receive small envelopes addressed to them. They contain junket items they never ordered, worth mere pennies. The Chinese seller has completed what people in the industry calls brushing "fake purchase" using someone else information. He builds his sales and can even leave his own review if set up properly. This is illegal to do in China but there is very little recourse and risk when they apply these tactics overseas. This is mostly done to give more prominence to high-volume sellers with good track records but anyone can benefit from it."
Why would brushing be associated to launches and account suspensions or to velocity limit?
Easy: some launch services
might
be using the
sames buyer account
(with same name, address, credit card info) for giveaways, rebates, discount, even sales. When Amazon's algorithm – that is being constantly tightened – finds many recurrent buyers it's going to be triggered. The buyer's account will be flagged as a "bad quality" account. This would explain the sudden suspension of many new sellers with no consistent sales history, that after using a
launch service with giveaways / discounts,
would suddently find their account under review. Will it escalate in the future? Who knows, probably yes, better stick to low-profile actions if you're new to this game. If you're interested in knowing more about this topic, I suggest you register to the
Webinar with Seller Labs below
, where we will be unveiling the best ways to protect yourself against black hat competitors.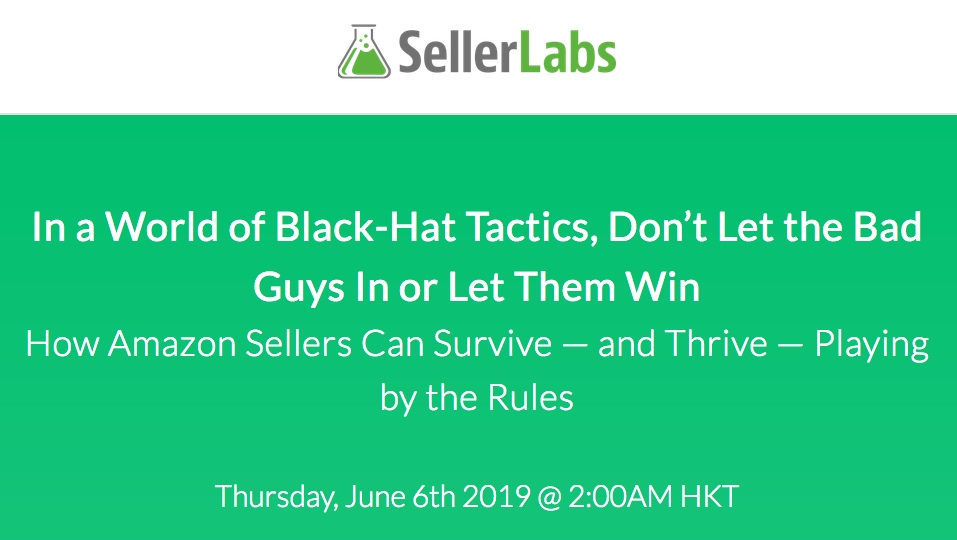 What kind of Promotions are Still allowed?
Any kind of promotion is still valid and no particular action on WHAT you do will affect your account. The problem is on HOW FAST you will get sales, ranking, reviews etc. So do not try to trick the system with easy quick wins or it might be the last action you're able to do on Amazon. We deeply suggest to do a great use of
PPC (Amazon Sponsored Products) Advertising
as this is most likely not going to trigger any suspension algorithm and will as well help to rank better and increase your overall/organic sales.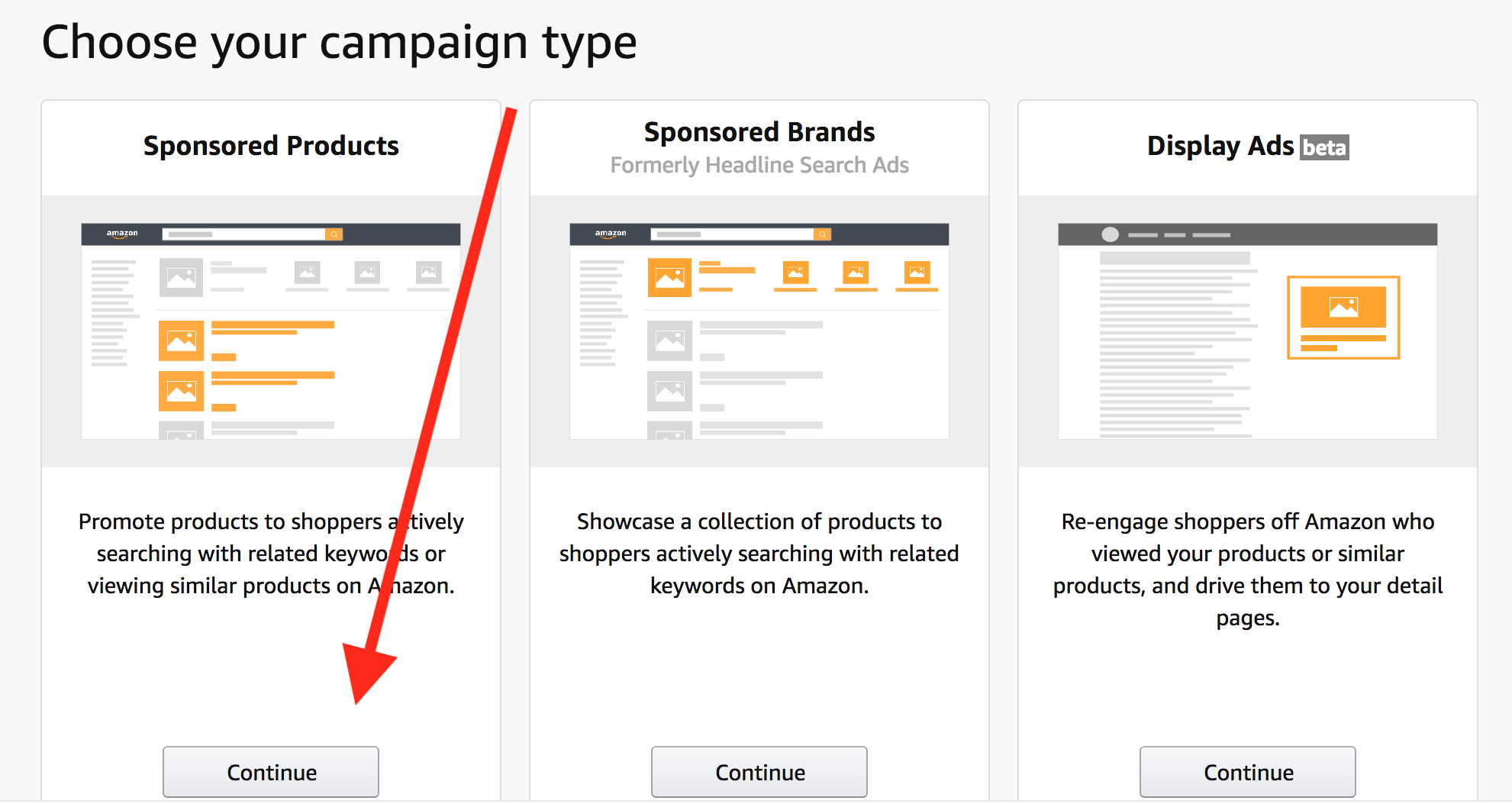 To conclude….
It's important to remember that Amazon puts reviews such as the Velocity Limit in place to protect both the seller and the customer and avoid use of unfair competition on their platform. If you're an established seller on Amazon and suddenly a store that's been open for a month is using black hat tactics to rank unnaturally and potentially cutting into your share of sales, it's not only unfair but also goes against Amazon's policies. If you're a new seller and have found your account suspended for review, simply follow the above steps and you should be back up and running in no time.