Combining it all together we have identified 7 key trends and predictions for Amazon FBA Sellers in 2022.
7 Key Trends of Amazon FBA in 2022
Trend #1 Amazon Advertising is getting more expensive in 2022 Trend #2 External Traffic for Amazon (Rank, Sales, Conversion Rate) Trend #3 Amazon is becoming a social shopping platform Trend #4 Amazon will provide more native tools for sellers Trend #5 Supply chain issues will continue in 2022 Trend #6 Selling on Amazon in 2022 is going to be different (FBA Aggregators and less sellers) Trend #7 The growth of Amazon (how long will it keep growing?) #8 Revision of previous year's trends and predictions (2021) #9 How to Make Money on Amazon in 2022! Before we begin, this is going to be a really interesting blog post so
stick to the end to find out how you can make money on Amazon in 2022
or jump to the trend that catches your eye. If you follow us then you know we give a lot of information for free. We never ask for anything in return and love doing this. Since we started this blog in 2017 we have been giving free advice to the Amazon sellers out there. Yes, it has been that long. The trends and predictions for the next year are always the most viewed topics on our blog. You can find other years here (
Amazon FBA Trends & Predictions 2021
,
Amazon Sellers Trend & Predictions 2020
). Now let's see what Amazon has for us in 2022.
Trend #1: Amazon Advertising is getting more expensive in 2022
We definitely expected this and to industry insiders this was nothing new.
We have been forecasting the Amazon advertising's cost growing trend since 2018
when we started doing this research into Amazon trends for the coming year. There is nothing particularly surprising here, as we know that
Amazon has been a pay-to-play platform for a very long time now
. Back in 2014 when we first started you could literally just source some products from China, slap your label – or not even put your brand name on them -, and just let them organically get sales through the algorithm, trusting that people will do the rest. You could get some nice sales back then but fewer sales too because Amazon wasn't as big as it is now.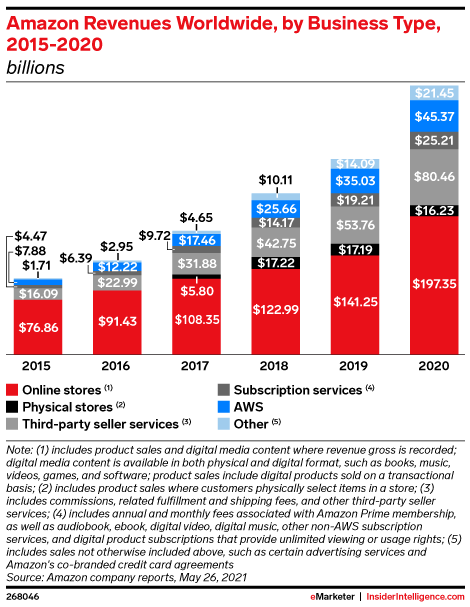 Contrast that with where we are today and we can see that it is getting more expensive and it is getting more competitive
, so it does make sense for the advertising to also be more expensive. You might be wondering how it is going to be more expensive and why? What are people saying regarding Amazon advertising getting more and more expensive?
Amazon Advertising Trends & CPC in 2022 (Report)
To have a better understanding you need to see the
Amazon Advertising Q4 2021 CPC Report by Pacvue
. We can see that generally the CPC spend is going up.
The CPC has been increasing by 14.3% year-over-year for sponsored products and 7.5% for sponsored brands.
That's really big. We definitely suggest you guys go and take a look at this report as it shows all the trends when it comes to the conversion rate, click-through rate, CPC, ROAS, the return on investment, and all this stuff that you, as an Amazon seller, must know to succeed.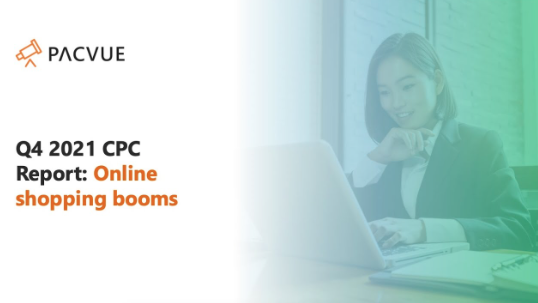 Keep in mind that this is aggregated data by Pacvue so this is not absolute data from Amazon.
This means that you should still read this report but take it with a little grain of salt because this data is coming from sellers that are using their software. It doesn't actually provide a whole vision of the entire Amazon ecosystem. We can assume that the sellers that are part of this report are already doing well or are big sellers, especially if they can afford a PPC software.
Nevertheless if you're already performing well on Amazon you better take a look and use the report as a benchmark to compare yourself.
The average click-through rate for Amazon SP (Sponsored Product ads) is between 0.30 to 0.35%
. We can also see that the CPC keeps growing. Of course it makes sense that from Q1 to Q4 it's going to be more expensive because you have the holiday season with more competition and you also have more products. So the trend is Amazon advertising getting more and more expensive year after year. Also with bigger players getting into the marketplace (eg:
Amazon FBA Aggregators
) we have to consider that there will be a lot of large sellers that can afford to spend a lot of money to dominate their category.
More competitors result in higher bidding, which will drive up the cost per click
. Aggregators and large sellers also have a large amount of money that they can spend so if you are a small seller, you're probably going to have some difficulties competing with those aggregators. This is something we will cover a bit later.

Something that stood out from
this report by Pacvue
is that the actual cost per acquisition is going up and the ROAS – the return on ad spend – is going down. This is the actual proof that Amazon is getting more expensive and competitive. You really have to
focus on your niche and you have to focus on understanding what your customer wants
because you really don't want to waste a lot of money here. It's very important that you
use the right advertising because it's going to be more expensive
. Depending on how much budget you want to invest you should be able to make the right choices when it comes to targeting the right audiences, the right keywords, and also using the right kind of advertising.
How about Amazon Video Ads in 2022?!
One thing to note is that the return on investment for sponsored brands is actually not better than the return on investment for sponsored product ads. This is quite interesting just because video ads are considered the best performing ads on Amazon, as per several reports by different agencies. So the question here is what is going on? Most likely sellers still don't use as much video advertising when it comes to sponsored brand ads. This is actually a good thing because this means that
if you focus more and more on doing video ads, you're going to probably have better results than your competitors
. So video ads are something you should leverage. One more thing that we would like to show is the new
product features for 2022 for Amazon brands report. This report comes directly from Amazon.
What kind of new features are we going to have in 2022 for Amazon Sellers? Well we are going to have more
in-line store shopping experiences
. In other words, virtual stores will be more and more present. This isn't just our prediction. We can see that Amazon is trying to drive the attention more into the Amazon store, which is acting like your brand's website.
If you don't have a store yet make it happen and really work on your store as it's going to be very important.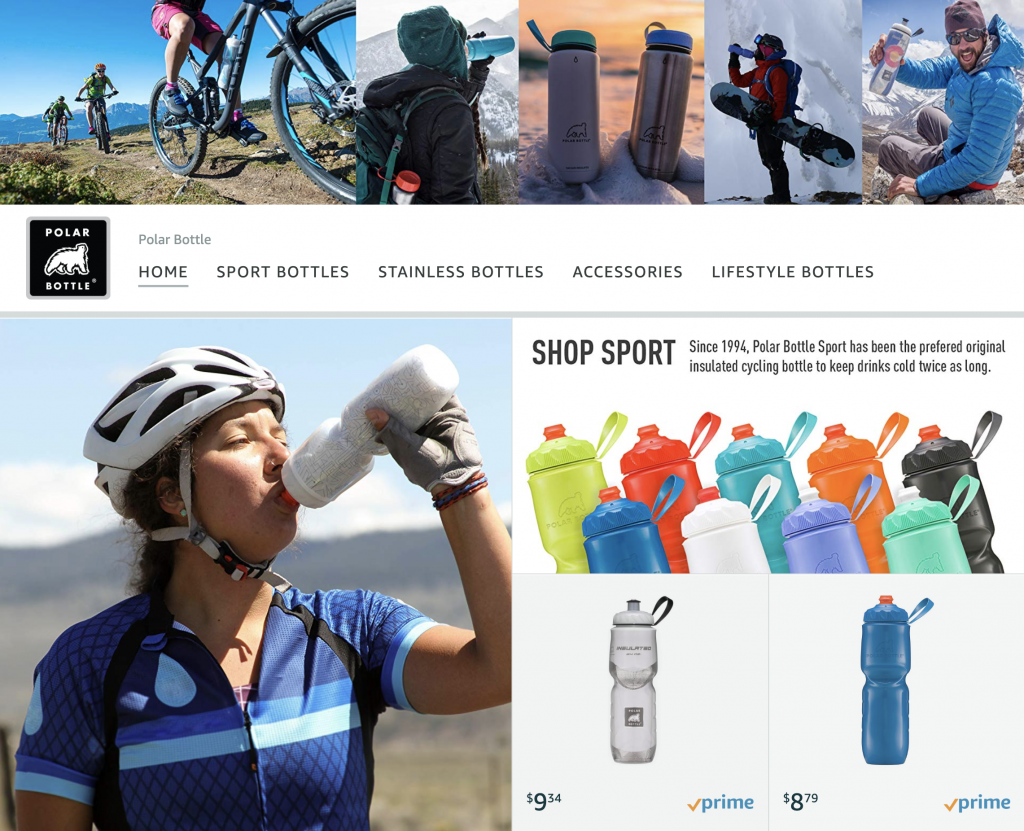 This storefront has auto-generated spots like a 'store spot' which function like ads for your product. As we will see later, this emphasis on the store is why Amazon is becoming more and more of a social platform. We think the entire online shopping experience in general is becoming more and more social. Also there will be more and more brand metrics available. We already see how Amazon Attribution is becoming very important. We predict that Amazon is going to provide more brand metrics
. Two key advertising elements that must be used is first getting your store ready because it's going to be a lot more important and use video ads.
Amazon Advertising 2022 Experts Predictions
Now let's see what some of the other experts are saying when it comes to advertising on Amazon. In
this trends and predictions for 2022 article by Tinuiti
it states that Amazon is getting more and more expensive, advertising getting more costly, CPC is going up and sellers are experiencing big inventory struggles.
Doing the right inventory management is going to be key this year
as we will see later on. When there is less stock and because costs are higher, it means that not only do you have a higher competition but you also have problems bringing your products to FBA. That is really a situation where you don't want to be as a seller, so what do they recommend you do if you experience this?
Dylan Verburgt of Tinuiti
says that brands can minimize their market share loss from out of stock products and combat rising costs if they:
"Double down on advertising that is designed to build brand awareness and preferences. When everyone else is pulling out of the market you can gain a higher share of voice by making bold moves. Additionally brands that can level up the products they do have in stock through advertising can mitigate any loss in revenue." 
We agree here but to a certain extent. This doubling down on advertising is just going to make the game harder and harder. Also, who are we giving this advice to? Are we talking to someone who's already a seven or eight or nine figure seller or are we talking to a seller who just started? Are we talking to a family business that doesn't really have the money to double down on advertising because their business model is completely different? Once again,
smaller sellers are going to have serious issues in competing with the big ones. Key will be differentiation and doing the right marketing.
So how can you actually compete with the very large sellers? We know that advertising is going to be more and more expensive so I would personally say do not just put all of your money into advertising on Amazon.
To make a profit on Amazon in 2022 you should first choose the right niche where you know you can make the difference without spending too much on advertising.
Eg: use micro-influencers. These days you're competing with the big guys, especially when we're talking about large sellers and aggregators. Aggregators are changing this game and we will see later what is going on with that.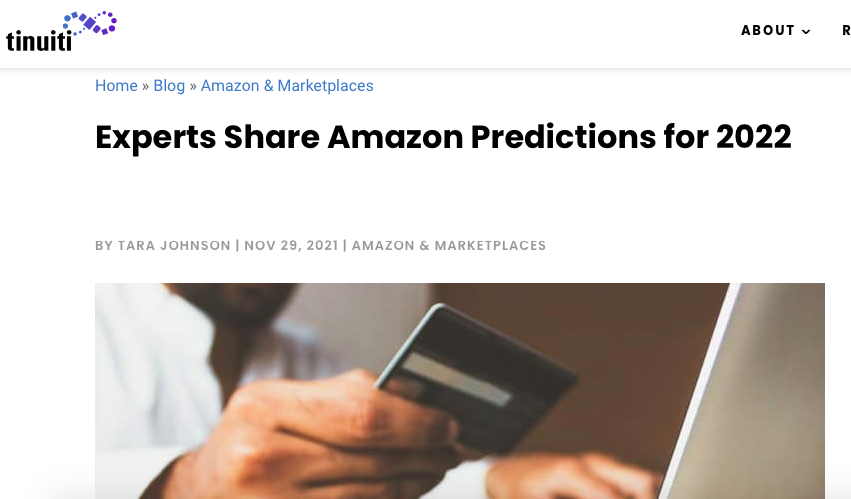 We also see in the article that
"Amazon is likely to invest in store capabilities."
Yes, we definitely agree with this. 2022 is going to be a year where it is
very important to have your storefront ready to attract customers, drive their journey and experience to your products, retain them, and give them a good feeling about your brand.
So the store is going to be very important this year. We wouldn't be surprised to see Amazon not only providing more metrics but also more features for your storefront, including more opportunities to interact with customers to make the shopping experience more social. This might mean adding different tabs, different shopping opportunities, or anything that helps further monetize your store because this is where Amazon is going this year.
More Voice Ads on Amazon in 2022?
What we are also seeing, and this article by
Tinuiti
confirms this, is
an increase in the adoption of voice-activated advertising
. This looks like it's going to be a trend. In the article they say,
"About one in four adults in the US now owns a smart speaker."
That's really interesting as there is a large pool of users to actually push ads to.
"According to reports Voice Shopping is estimated to hit $40+ billion across the U.S. and U.K. by 2022."
so we are likely to see more capabilities to push voice advertising, whether it's through a smart speaker, Alexia, whatever, you name it.
The important thing that you should remember when it comes to voice advertising is that you don't have a lot of time to get a user's attention.
How many results do you really think a voice ad can currently give you? It's not going to be 10 or 20. No, it's probably going to be one or two or three.  So you really have to be on top of the Amazon search.
If we're going to see a lot of voice activated advertising this year then it is going to be a game where only a few will be winners and the early players will have a very big competitive advantage because they are already there.
Whenever you see the opportunity to-do voice advertising just give it a try.
We've actually been talking about this for years. Our friend
Daniel Fernandez first introduced the idea that voice advertising would become more and more popular nearly two or three years ago.
Amazon audio ads are already a thing. On the
Signalytics blog,
they made this
comprehensive post about Amazon audio ads
where they show you not only what Amazon audio ads are but who should make use of Amazon ads and how you can set up your first ad campaign. So the only thing that we see here that might be time consuming for you, as a seller is that you have to first get in touch with an Amazon ad consultant and likely get approved. In other words,
this is not going to be something that can be set up very fast.
It does make sense at this point that you would have a limited number of players who can fully use this. Also in that Signalytics blog post it says that
over 48 million people are listening to Amazon music right now
. This is where Amazon audio ads are being placed and we're not even considering here the use of smart speakers in homes. So this is something to closely follow in 2022 as it is only going to gain more and more importance.
Trend #2 External Traffic for Amazon in 2022 (Rank, Sales, Conversion Rate)
So the next prediction that we have for Amazon FBA in 2022 relates to external traffic. External traffic is still continuing to gain more and more importance on Amazon and this is happening for a few reasons. First of all,
in case you didn't know it yet, Amazon loves external traffic.
This is completely normal and is absolutely understandable. At the moment,
more than half of all Amazon product searches in the US are happening on Amazon itself.
But this is not enough because Amazon wants to have the totality of the traffic, so what's the best way for Amazon to get new users? Simple. To get more traffic using external sources. This means bringing users from other websites, from other influencers, and from other networks directly to Amazon.
So how can you leverage external traffic?
Well there are a lot of ways of bringing external traffic to your Amazon listing and store. Amazon is encouraging you to use
Amazon Attribution
. This is something that you should definitely do because you want to track where external traffic is coming from.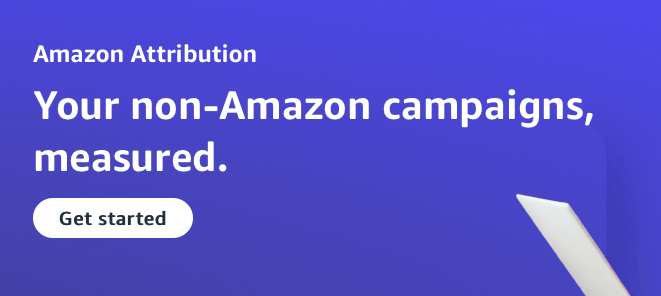 We're going to break down here some of the best ways of bringing external traffic to your Amazon listing in 2022 to benefit your Amazon sales and rank.
The first is definitely influencer marketing. Influencer marketing has been here for many years. We've been talking about influencer marketing since 2017 on stage and conferences. In terms of actually utilizing influencer marketing, we've been doing influencer marketing for Amazon sellers and for Amazon products since 2014. It's always been one of the best ways to drive direct traffic that converts so it's bringing already highly targeted traffic to your Amazon listing. This traffic is also good to increase your rank because we all know that to increase your rank you need not only an SEO-optimized listing when it comes to the front-end and back-end but also a good conversion rate. That means you need to have a lot of sessions. So influencer marketing is definitely the way to go. We always say that even
before you start selling products on Amazon you should know who your customer audience is
. It's very important for you to identify your customer avatar first before selling products to them because you want to know who they are.
You don't want to waste your money and their attention by providing a product that is not interesting to them
. Once you have identified your customer avatar you will automatically know who the best influencers are and what kind of needs they are talking to. When you are providing the best product to the right niche, that's when you can make a successful business not only on Amazon but pretty much everywhere. You can find influencers on any kind of social media. Some of you might already know this but we can confirm that the hottest thing right now is Tik-Tok. We've been talking about Tik-Tok a lot. You can see our case study discussing
TikTok Marketing for Amazon sellers
. Let's also not forget about Instagram. Instagram continues to be a popular platform for influencers with both Reels and Stories. You can add links too. Those two platforms are very good to find influencers. Try to target micro influencers that have a specific niche they're talking to.
Remember that after you identify your consumers' niche then you will identify your influencers. Try to establish communication with them and try to show why your product is solving their specific needs and problems. 
Another important point is that
TikTok is making products hot on Amazon and other marketplaces
. We now have famous TikTok trends where products that people probably don't need are becoming trendy and then become hot sellers on Amazon. They literally sell like hot cakes. We had the case with "TikTok leggings". Once again, we've talked about this over on our YouTube page where we talked with
Gracey Ryback of Amazon Cheats on TikTok
.She's an expert when it comes to social media and TikTok influencer marketing. Together we talked about a lot of different products that gained traction on Amazon because of TikTok.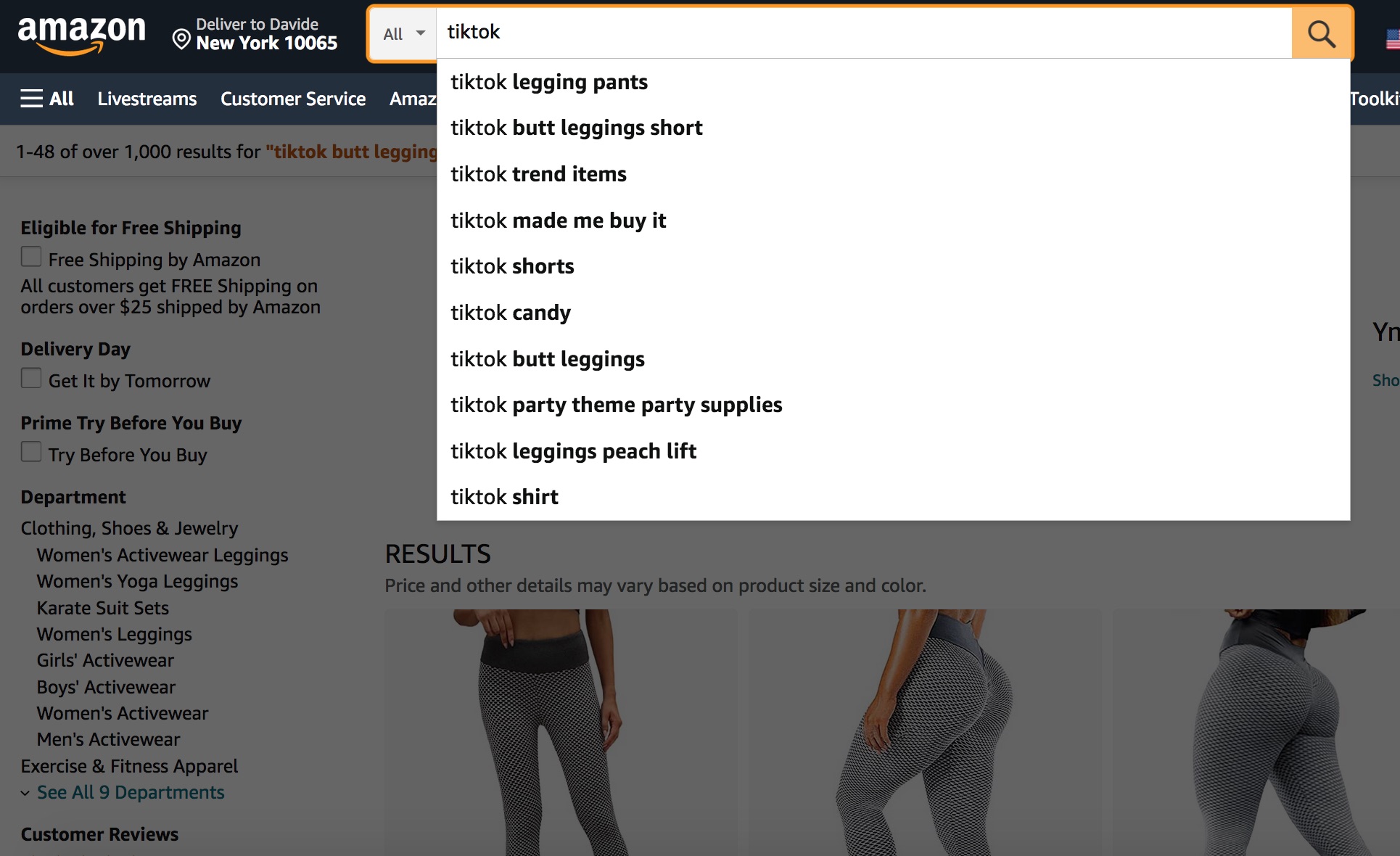 One thing you don't want to miss is Facebook Ads. You might say that Facebook is not widely used anymore or point out that you can no longer use Amazon Super URLs. However,
we believe that when a platform gets less and less crowded it is the perfect moment for you to jump back into it because you have fewer competitors
. Why would you want to miss it? Another is coupon code websites such as Deal News, Slick Deals, Hit To Save, etc. They are some of the main deal websites in the US but you also have a lot in Europe too so definitely go and take a look at them.
Coupon code websites are very good for your Amazon listing and your Amazon rank because they push a lot of traffic that converts into sales.
Keep in mind not to give a very high discount because it will not effectively help you to rank higher. Also remember to
use Amazon Attribution to see where traffic is coming from and which traffic source is giving the best conversion
. We are also seeing how Amazon Attribution is getting more and more important and is becoming better. Amazon is giving more metrics to brands so definitely don't sleep on that.
Trend #3 Amazon is becoming a social shopping platform
So the next trend that everyone across the industry is noticing and that is definitely happening in 2022 is Amazon becoming more of a social shopping platform. We have a lot of new elements coming into Amazon confirming this. First we have seen
Amazon Live
getting more and more important. This is something we covered in
our prediction article last year
and it's only becoming more and more relevant. Amazon Live has been around for a little bit more than a year now and it's becoming something that sellers should take into consideration. The interesting thing about Amazon Live is that this time Amazon didn't create the concept of live selling on an ecommerce platform. This has been a thing in Asian marketplaces for the last five years. In fact it was started in China on marketplaces such as Taobao, Tmall and others. So this time it's Amazon bringing into the West a trend that's been in Asia for quite a while now. We previously discussed on our YouTube channel about how
social shopping and ecommerce is evolving in Southeast Asia
so definitely check it out because we talk about a lot of interesting things in that video. In addition to Amazon Live, we also have Amazon influencers, Amazon Post, voice shopping, and as mentioned before, voice ads.
Users are going to be interacting with Amazon storefronts a lot more in the future.
Amazon wants their brand and also brands on their platform to be more active in establishing a direct relationship with users, so Amazon is giving a lot of tools to brands to do the right marketing on their platform. Also let's not forget that gaming and social gaming is starting to gain more and more importance for Amazon. Twitch, now owned by Amazon, is an interactive livestreaming platform where you have a lot of influencers sharing their experiences. Amazon has recognized that livestreaming is growing and is taking advantage of this with their platform. It is not entirely understood right now whether Twitch has potential outside of gamers, as gamers typically don't like advertising. However,
if you're selling products for gamers then you have the perfect platform to advertise your products
. We believe that Twitch is going to grow in popularity and its users will span across many different categories, not only gaming.
We believe that there's going to be a bright future for Twitch, especially because when Amazon wants to really develop one of their products, you can be sure that they will do so.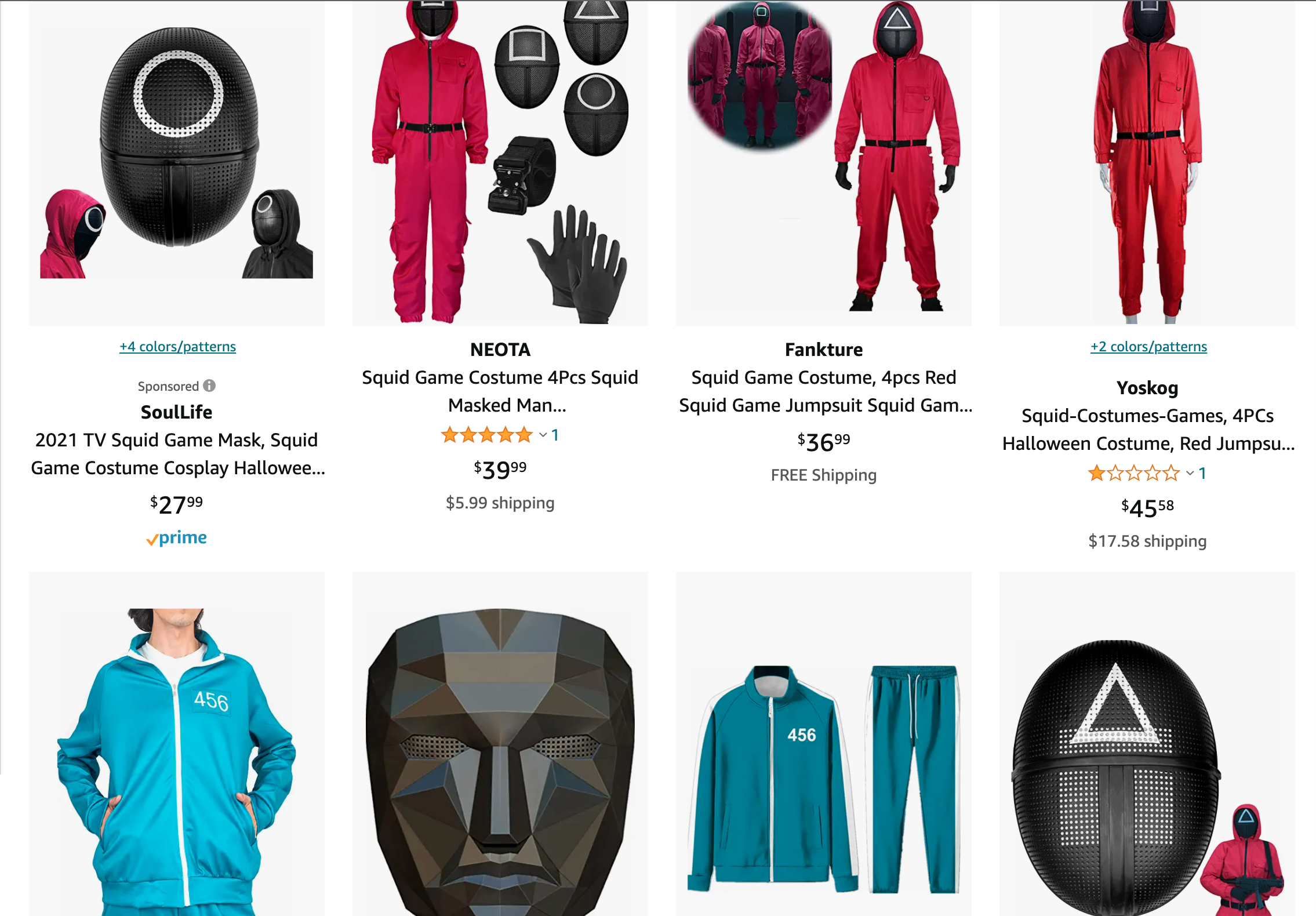 An example of Amazon being an actual mirror of society was in October 2021. The number one most searched term on Amazon then was 'squid game costume' because people were looking for a Halloween costume inspired by the hit Netflix show Squid Game. So this is a perfect example, once again, of online shopping being a reflection of what society wants. So whether it's famous on Tik-Tok, seen on Netflix, hot on social media, or just because your main influencer is talking about it,
it is very important to understand what is trending and provide what people are looking for through your Amazon store.
Trend #4 Amazon will provide more native tools for sellers
One very interesting prediction that we are already seeing is Amazon increasing their native tools. We want to quote this
2022 trends prediction from Jungle Scout
that says that Amazon is going to create more tools for brand owners and provide more metrics and analytics (of course you have to be part of Amazon's Brand Registry to take advantage of it.) The
Jungle Scout
article says,
"Amazon will add a profit and loss dashboard to the Seller Central. Sellers and brands can currently view their daily, weekly, monthly, and yearly sales payment reports. However there is no way to view your actual profit and loss within Seller Central."
We are not sure whether Amazon wants to give full capabilities to sellers to view their entire profit because it would just make selling on Amazon too easy, so we don't quite agree with this prediction. On the other hand, we do agree with the fact that Amazon is creating more and more native tools for sellers. The next prediction by
Jungle Scout
is that Amazon will add more Amazon store features. We definitely agree with this and this is the direction Amazon is going towards. We think that Amazon will give sellers everything that they need within Seller Central because
Amazon wants to keep everything under their control.
Amazon has always been trying to get rid of the middlemen.
This has been happening since 2015 when they started making it harder for service providers. We're seeing now how ranking services have pretty much been destroyed along with anything that doesn't belong to Amazon. Anything that drives a lot of traffic or users, Amazon will eventually put it into their basket. Often what Amazon provides is even better because the data is coming directly from Amazon itself. Let's look at the
Product Opportunity Explorer
as an example of this trend. Now this is an amazing tool that is available on Amazon so you can see trends and keywords for your products. Even better, you can also see your competitors. So Amazon is now offering the same type of service you could get from a third-party tool. Remember this didn't exist on Amazon before. So by adding this capability, Amazon is taking a big part of the market away from third parties softwares such as
Helium 10 and ZonGuru
that provide product opportunities for sellers.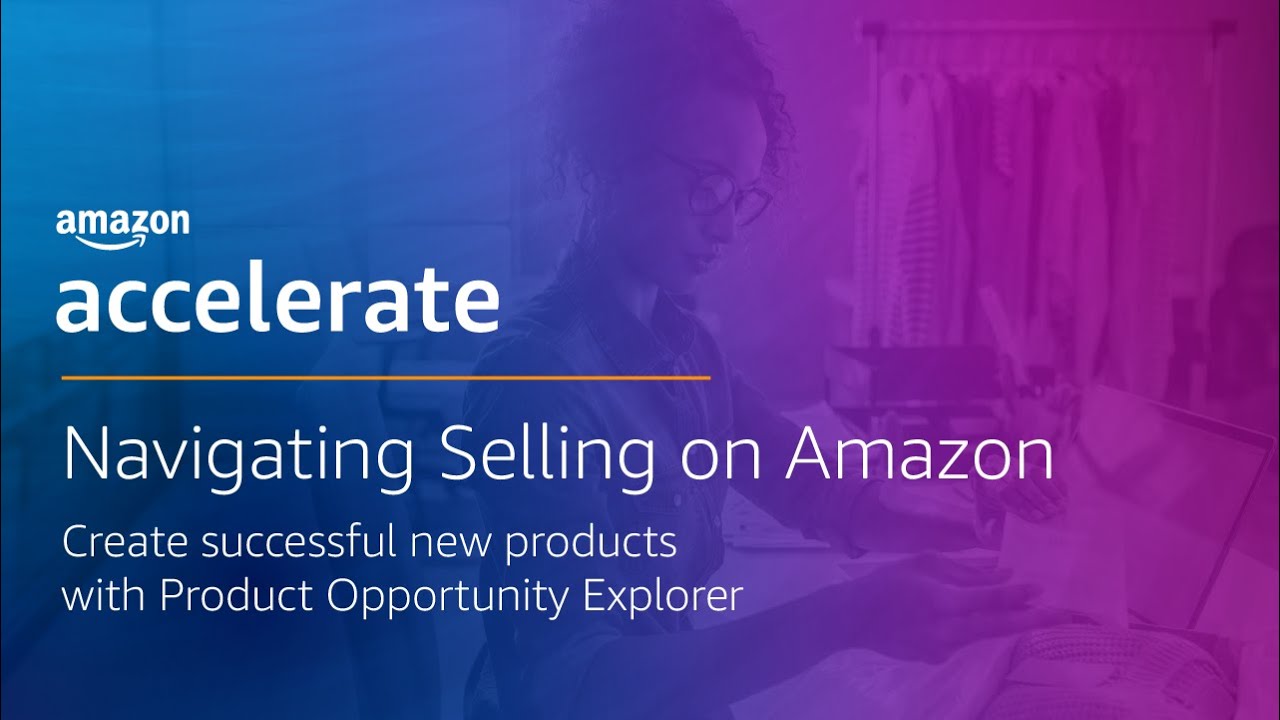 While still in a beta version, the
Product Opportunity Explorer
is eventually going to be optimized and better implemented by Amazon. We can see that this tool already provides a lot of information. You can search products, you can search by keywords, you can get a lot of data such as search volume, search volume growth, click share etc.
Amazon is making it really hard for third-party service providers. We believe that in the near future Amazon is going to provide sellers everything that they need within Seller Central. 
Trend #5 Supply chain issues will continue in 2022
Not quite a prediction, it's more a realization that the supply chain is not going to get drastically better on Amazon. However, we believe it will slowly get better, probably to where we were before. In this
predictions list for 2022 by Sellzone
they believe that supply chain challenges will remain until the middle of 2022. We agree with what
Robyn Johnson
, who is profiled in the article, is saying: in the early part of 2022 we will still have a lot of the same supply chain issues that we had in 2020. We don't think that this is going to get much better, at least not before then.
So what can you do to manage the actual problems of the supply chain in 2022?
Steven Pope
says,
"95% of sellers will raise their prices twice in 2022. That's how bad inflation is right now."
We personally don't think that the vast majority of sellers are going to double their prices this year. We actually agree with other experts that say that prices on Amazon are always to the low side because that's just the nature of the marketplace. We don't think that supply chain issues are going to drive up the prices too much in 2022. Moreover,
increasing your price is not the best strategy when it comes to ranking your products on Amazon
. Let's not forget there is a huge competition on Amazon. We know that Amazon has been weeding out a lot of Chinese sellers but there are still millions of other sellers on Amazon. Better advice here is to plan your inventory management correctly. We suggest you take a look at our video with
Sellerplex
on
skyrocketing shipping costs
. Definitely check it out to learn some important tips. One more article everyone needs to look at is
Amazon predictions for 2022 by Profit Wales
. They actually interview a few experts here and they show how we can be more positive regarding supply chain issues. We like what
Jack Howard
is saying as he is taking an optimistic approach. We definitely agree.
Sellers are getting smarter with their inventory management.
They're learning and adapting, they're following the rules imposed by Amazon, they're better planning their inventory, and they're learning how to make better use of advertising. In even better news,
we see a light at the end of the tunnel when it comes to global logistics and shipments
. In case you didn't know,
Amazon is going to help you to ship your products directly from China to FBA
. In
this article by EcomCrew
they explain how you can get started with global logistics by Amazon. Amazon helping sellers directly ship from China to FBA is a continuation of Amazon's desire to internalize everything. It is Amazon wanting to take control of the whole aspect of being an Amazon seller from the beginning to the end. You can take a look at this document from Amazon itself that explains how you can
take advantage of their Amazon Global Logistic program
and ship your products directly from your supplier in China to FBA in the United States.
Something that we see happening in 2022 is that the biggest sellers and the smartest sellers will have FBA along with FBN. This is something you cannot ignore.
If you have some issues with Fulfillment by Amazon then it's going to be very important to be able to ship your products by yourself and use the right 3PL.
We see that 3PLs are gaining a lot of market share and will continue to do big business in both the United States and in Europe. Supply chains are a very complicated issue. As we've stated numerous times, you really need to be on top of your inventory management, especially in 2022.
We have seen so many sellers failing in 2020 and 2021 just because they didn't have the right inventory management or they didn't have the right supply chain solution in their hands.
Many just couldn't ship products to FBA. If you don't have any products in stock, you have nothing to sell. That's a place you really don't want to be. We are now seeing new sourcing markets such as India, Vietnam, Mexico and even domestic sourcing. Having the right supplier close to you is going to give you a lot of benefits.
Amazon is no longer the place where people expect to find exclusively products made in China
. This can be good for you. Imagine how valuable it would be to have a nice label entirely made in the United States or from somewhere in Europe like Italy, Germany, or another country.
Having a local supplier who can provide high quality goods is going to be more and more valuable, especially when it comes to branding.
We can see how Amazon prefers better quality goods instead of a large quantity of cheap goods on their marketplace. Ww like what
Fernando Campos
is saying in the
Profit Wales prediction article
that supply chain challenges will remain until mid 2022. We definitely agree with this.
So what can you do to mitigate your problems? Fernando suggests you can increase your prices as your stocks drop.
That would give you a buffer in case you're out of stock during or after holidays.
Some other good advice is to refine your inventory management.
This includes scheduling orders and being proactive about stock levels.
Another is monitoring competitors.
If you see that your competitors are driving their prices up then it typically indicates that they are running out of stock. That's actually some very good advice.
We think that monitoring competitors is something that not enough sellers are doing because they are too busy focusing on what they're doing instead of looking at what the others are doing.
This is something that we learned the hard way when working in China because the main job of a brand manager or an account manager for Chinese Amazon companies is to monitor their competitors. So you need to be checking your competitors' prices, keywords, what they're using for SEO, how they're optimizing their listings, how they're optimizing their images, etc. Always try to keep an eye on your competitors.
Trend #6 Selling on Amazon in 2022 is different (the rise of FBA Aggregators and a decrease in sellers)
In case you haven't noticed it, the whole Amazon game is changing with the introduction of aggregators. Aggregators are totally disrupting selling on Amazon. There is a huge market cap of Amazon FBA aggregators and this is bringing into Amazon a huge investment weight that is definitely changing the rules of the games for every seller. The way that we see it is that
the big fishes are eating the smaller fishes. It's been like that for a while.
As we previously said, it's like this for service providers and agencies with tools where now Amazon is creating their own to drive off the competition. We're in a world where risk is much higher but so is the reward. We want to quote a
very interesting video by Ryan Daniel Moran
where he says that there will be fewer sellers and therefore Amazon would be less competitive. We don't actually agree with the fact that Amazon would be less competitive but we agree with many other things that he is predicting. The video starts by saying that there's going to be a massive suspension of a lot of Amazon sellers because of fake reviews, super URLs, and rank manipulation. We definitely agree with that but we're not so sure that another wave of massive suspensions will happen in 2022. We know that Amazon doesn't like when sellers manipulate the rank or reviews. We already had a big wave of suspension in the middle of 2021 and that was quite bad for sellers, particularly in China.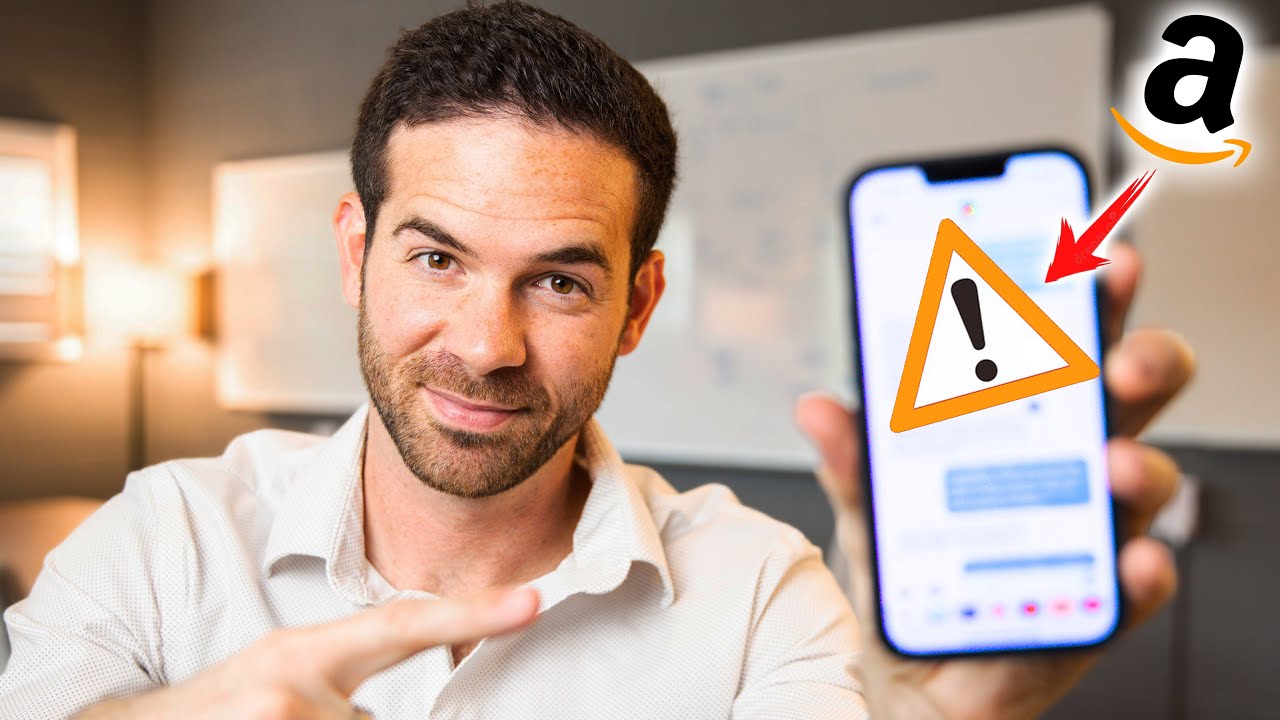 Ryan is also predicting that the supply chain issues will end in 2022.
Maybe not in terms of the timeline but we do agree with the fact that the supply chain issues will improve at some point. He also says that when you have too much inventory the price will go down. So on one side we see a lot of experts predicting that the price will go up in 2022 and we have other experts predicting that the price will go down. For us, we think that
the price will continue to be the same because Amazon is such a vast marketplace. It is unlikely that the price will be so volatile because you have a lot of sellers and a lot of demand.
So we don't think that it's going to be that volatile when it comes to price and jump two times higher or drop extremely low because of supply chain issues. There will always be another option and there will always be another seller. We're not going to have another issue like with toilet paper or facemasks. Amazon learned their lesson there. So a brief recap, after people started buying lots of facemasks, Amazon began putting limitations on both who can sell masks and what the maximum price that masks can be sold for. Another thing that we agree with Ryan on is that a lot of small sellers that would have been eaten by bigger fish will find new ways to differentiate their business. So if they are unable to continue selling on Amazon then they will look into different marketplaces. That definitely makes sense. Perhaps they will look into different kinds of businesses, for example they will look into cryptocurrencies or NFTs. This is something we definitely agree with. We think being an Amazon entrepreneur today or even since the very beginning of Amazon is a very tough job.
If you've been able to start your Amazon business or even be successful for one or two years, you really have what it takes to start a different business anywhere
. When we're talking about starting businesses, selling your business, exiting, or being invited by the big fish we're talking about aggregators. The number of aggregators continues to grow, just check out
this list from Marketplace Pulse
to see how many Aggregators are buying and selling Amazon businesses right now. This is a huge market gap. We're talking about a market that at the moment has grown larger than 15 billion US dollars. That's insane. Experts are predicting that there will be a massive blood bath given how many aggregators there are. This trend is just too hot; there is simply too much money on the table. Aggregators who are not able to make it will be weeded out or other aggregators will acquire them.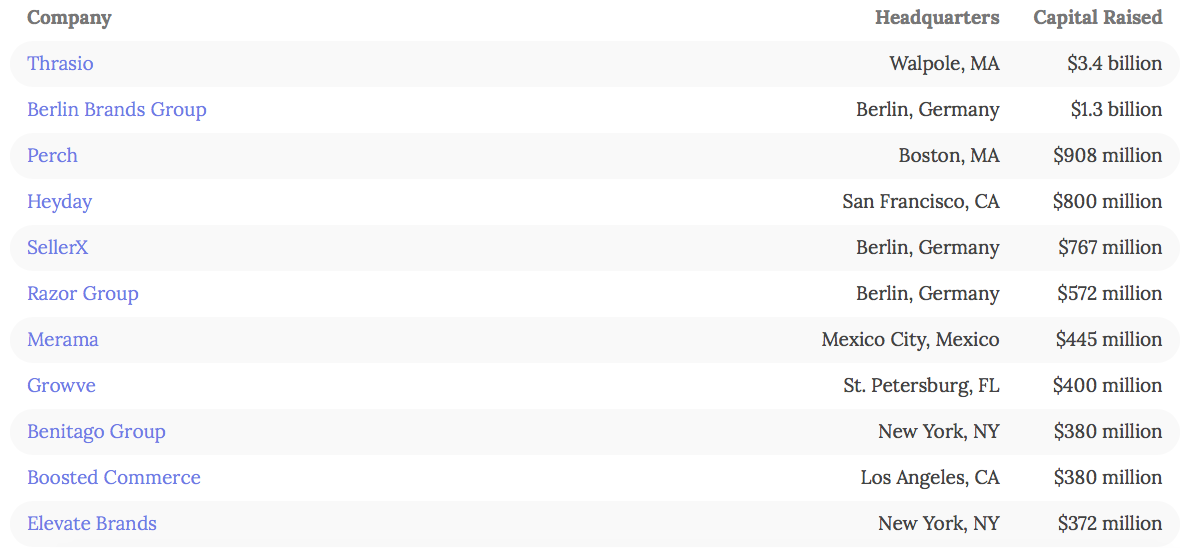 Coming back to what Ryan was saying, doing
the right branding and the right communication is key to succeed on Amazon and we definitely agree with this.
This is the 101 of selling anything online or offline. You need to have the right communication and the right message for your customers. Whether you are an independent seller, a large seller, or even an aggregator,
having the right communication is the key to winning customers. 
A trend that we definitely like and find very interesting is that there are a lot of new sellers entering Amazon with the express idea of selling their business within two or three years. This is a different game now. We see how aggregators are bringing up the evaluation of businesses.
If you're an Amazon seller you have a huge opportunity in 2022 because if you're doing very well you're going to make a lot of money by exiting your business and selling to the right aggregator.
By the way, watch this space as we're going to publish a landing page where we list all the aggregators and all the benefits of selling. We are interviewing a lot of aggregators right now so if you're interested in them just follow our channels because you will see a lot of good information in 2022. Not only are we seeing new Amazon entrepreneurs starting a business with the idea of selling it but also, surprisingly, new aggregators who are starting with the express purpose of exiting this business and selling their aggregator to a much larger company or to a much larger aggregator. We are clearly in the middle of a new era of ecommerce and online businesses where there is a lot of money involved. We are seeing an evolution of consumers using their mobile phones to buy anything and everything online.
This is totally transforming customers' consumption habits. In turn this fuels not only Amazon but also the whole ecommerce industry, causing it to grow.
The Covid-19 pandemic definitely gave a big boost to ecommerce and it brought the industry to where we are right now which is over its expected growth. This, however, brings us to the next part of our predictions and trends for 2022.
Trend #7 The growth of Amazon (how long will it keep growing?)
How long is Amazon going to grow? This is definitely a very interesting question that we should be asking ourselves.  We have seen Amazon growing and growing since pretty much the beginning. The biggest boom we had was when Amazon started to democratize to third party sellers. Jeff Bezos himself said in 2019 that
third-party sellers made up most of the Amazon marketplace
. So growth is definitely going up. In
Marketplace Pulse's year in review 2021
we see how the percentage of ecommerce sales in the US has been going up and actually exceeding forecasted expectations, especially in 2020 and 2021.

The COVID-19 pandemic definitely gave a huge boost to ecommerce sales across every marketplace but the growth trend is going down again to what was expected before the pandemic. What is worth noting is the difference between Amazon's total ecommerce sales and other marketplaces such as Shopify, Etsy, and eBay. We're also surprised to see that Walmart was not featured in their report.
Walmart is definitely the biggest competitor to Amazon when it comes to ecommerce. They are currently offering the best tools for sellers too.
It's the marketplace that Amazon should look into when they want to see who has the capability to compete with them. Walmart is going to provide a comprehensive seller central that can actually be compared to Amazon.
The good thing about Walmart is that despite placing second, it has less competition right now so it's very appealing for new sellers.
If you're interested in learning how you can sell on Walmart, check our most viewed video on
how you can start selling on the Walmart marketplace
and how you can take advantage of the comprehensive tools and features that Walmart gives you as a seller. Returning to
Marketplace Pulse's year in review 2021
, Amazon is getting back on track to what was expected so the trend is going down. However, this is not happening for Shopify or Etsy where we can see this huge gap between the expectation and the actual revenue in the marketplace. Why is this happening?
We're seeing that Amazon is slowing down a little bit and we think that this is happening for a few reasons.
One important factor is that supply chain issues play a very big role as to why this is happening to Amazon and not for Etsy and even Shopify. We know that Etsy is more for local manufacturers, whereas something like Shopify is not using any fulfillment by the marketplace; sellers must do it themselves. As a result, supply chain issues are more likely to impact Amazon compared to other marketplaces given the nature of their business. Another factor is the
massive suspensions by Amazon to Chinese sellers that happened in 2021.
This most likely has played a big part in slowing down Amazon's revenue. When customers can no longer find their favorite seller's products on Amazon, they will go and look for the same product in another marketplace. However, we don't believe this is something that is truly worrying Amazon that much. One more thing that we want to point out from the same article is that
"As big as the Amazon marketplace has gotten, Shopify has grown faster. Shopify was the size of 45% of the Amazon marketplace. It was just 25% two years ago in 2018
." You can see that this growth represents a BIG opportunity for sellers venturing into other marketplaces, but perhaps also a reason behind the slower growth of Amazon. This makes sense because we are in a free market so if there is another marketplace that can provide good opportunities for sellers, especially those that have been banned on Amazon or that find it too competitive, this is where you will find growth in 2022.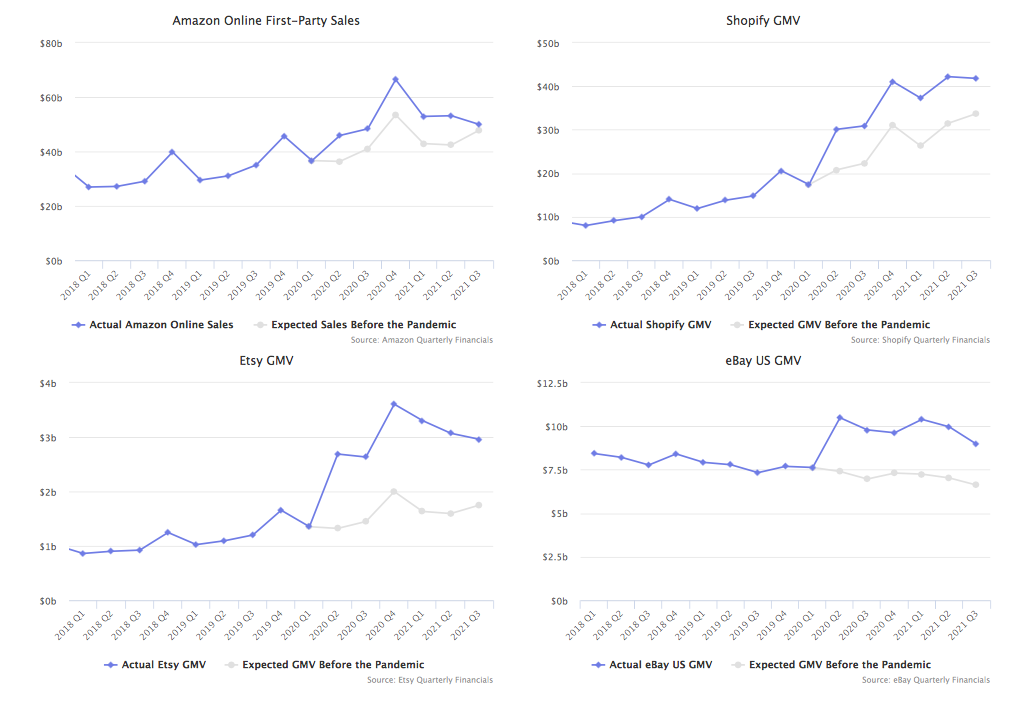 Do we actually think that Amazon is going to stop growing? No, we don't think it's going to stop growing. We still see Amazon growing a lot with all the new features and with advertising getting more and more expensive. We see Amazon definitely getting more profitable.
We see smarter sellers. We see larger sellers approaching Amazon. We see a lot of aggregators entering the space. We see a lot of new opportunities for sellers to start businesses and then sell the business
. We see aggregators taking care of these businesses, making them even larger, and turning them into real brands
.
We definitely see the whole ecommerce industry growing and that there is a big opportunity for new players and for existing players like Walmart, Shopify, Etsy, and even eBay. So we don't really see Amazon slowing down as a whole or even losing their large ecommerce market share.
#8 Recap of Last Year's Predictions for Amazon FBA Sellers
If you previously followed us then you will be curious
what trends we predicted for 2021
, which of those trends came true, and how last year's trends are going to evolve in the coming year. The first thing that we predicted for Amazon FBA was of course about Amazon advertising. That's actually quite easy to predict because Amazon is just constantly expanding and increasing in price.
We predicted improvements to their platform and new features. That definitely happened.
We said the CPC was going up – yes. We predicted that Amazon Attribution would become more and more important – yes. And we predicted that Amazon DSP advertising would become more present and more important – definitely yes. A prediction was made by
Will Tjernlund
that new categories and ad placements will emerge. This, however, did not happen in 2021. That said, we think that this prediction may come true this year or possibly next. At the time, Will said that
"Amazon will allow non-Amazon products to advertise within Amazon's ecosystem: Examples would be a monthly workout plan for people who bought weights or car insurance ads to people who searched for tire repair kits."
This still makes a lot of sense just because Amazon wants to be more and more present everywhere and they're still trying to expand their presence as an omnichannel and omnipresent advertising platform. We can see that our prediction for ranking products in 2021 is still happening in 2022. We previously saw that Amazon is giving less and less weight to methods that allow you to "manipulate" your ranking and this is even truer now. You're not allowed to manipulate at all
. What you must do now is good branding and ensure that your listing has great content.
Very true still today what
Brian Johnson
said more than a year ago, as it is now more important than ever:
be more customer-centric. Explain to your end user why your product is good for them and why your product is solving their problems.
You need to talk with the right audience. All the signs last year pointed towards external traffic gaining more importance. This is something that definitely happened and will continue to happen in 2022.  A year ago we were talking about Amazon Live and Tik-Tok, and both those things grew in importance for sellers. We are seeing now the influence of social media on Amazon and Amazon becoming more and more of a social platform. Social shopping is definitely the direction where Amazon is going in 2022. We predicted new features and branding tools for Amazon sellers. This is definitely something that started and will continue into this year. These days you must do the right branding, use your storefronts, use Amazon videos, Amazon Live, influencers, and engage with your shoppers.
These tools that Amazon makes available for sellers are the best way to increase your conversion rate, customer affection, and your customer retention.
Another prediction was that there would be
more creative assets.
Yes this happened, but not as much as we thought. We bet that there will be more creative assets for Amazon sellers this year than last year. In fact, we are already making heavier use of experiments on Amazon like A/B testing.  However, when experimenting on Amazon you can feel that something is missing so we definitely predict that Amazon will improve these features. We've already said that Amazon wants to have a lot of native tools within Seller Central and believe that managing experiments is going to be very important. Some of the experiments that we have done have increased our sales by 100% so this is something really interesting. We will definitely do some more content about Amazon experiments in the future – that's another 2022 prediction. We predicted there would be a
lot of changes to Seller Central and inventories.
That definitely happened. As for black hat tactics, we said at the beginning of last year that black hat is still here but it's mutating. What we actually saw was Amazon going really hard against black hat tactics.  To some extent black hat is still there but it's definitely not as present as we even thought it would be. Amazon is really cracking down on sellers who are using any kind of blackhat or review manipulation or ranking manipulation.
In case we haven't said it enough, do not try to break Amazon's policies, their terms and conditions, or try to manipulate your rank because it's just going to give you a lot of trouble.
Sellers who haven't been suspended yet will probably be suspended if they keep breaking the rules. We definitely made a good prediction about
Walmart catching up to Amazon in 2021
. 2021 was the year that sellers, who were frustrated with selling on Amazon, really began to embrace Walmart. We believe that 2022 is going to continue this trend, and we're likely to see some new marketplaces opening up. Even more so, we believe that there's probably going to be some new players in the industry. Why not? Ecommerce is growing and as we previously saw, Amazon isn't really growing as much as some of the other marketplaces. So there is a big opportunity for new marketplaces to emerge in 2022. One prediction we made is that new Amazon marketplaces would emerge in 2021. In fact we have seen a lot of new marketplaces coming up, that's something we already touch on. Also, we previously said that Amazon was going to increase their foothold in Asia. Even though it didn't quite happen, we still think that for 2022, Amazon could expand in Asia. Maybe Amazon wants to play it a little bit conservative because they recognize that competition in Asia is really strong – Amazon already gave up their marketplace in China. We don't fully know how Amazon can compete against Lazada and all the other marketplaces that are very active and have highly penetrated Asia. We'll have to see. Finally, our prediction about Amazon aggregators was right on the money. Literally. As covered, there's a huge market to sell your business and there will be an even larger market this year and in coming years.
#9 Conclusion: How to Make Money on Amazon in 2022
Now with all these trends and predictions, you must be wondering how you can leverage them to actually make money on Amazon in 2022. This is very easy. As we have said throughout this article, and as all research and expert opinions point to,

you have to treat your Amazon business as a real business.

We're talking about branding, we're talking about communicating in the right way with the right customer, we're talking about NOT using Amazon as a platform where you slap your products and wait for the sales to happen, which will not help you at all. Instead we're talking about using Amazon as a branding platform and as a space for your brand to show its value to customers. You need to engage with your customers if you want to make money on Amazon in 2022. That means there is no more space for cheating, there is no more space for breaking the rules, there is no more space for cheap products, and there is no more space for not planning your inventory.

You must adopt an entrepreneurial mindset.

You have to scale your brand, you have to scale your team, and you have to be ready to treat this as a real business. One thing that we want to make sure that is understood is that you can't really start selling on Amazon in 2022 with a very low budget. This is what we're advocates of. We never believed in being truly successful on Amazon if you start with a low budget. This was very hard for us to believe back in 2018 when there were over a million new sellers in a single year, most of them coming from China. In 2022 nothing has changed.

You might have fewer competitors coming from China or coming from whatever, and less of those combative competitors that are breaking the rules but the game is still getting harder because every player now is following the rules.

That means that you have to adapt, you have to follow the rules yourself because this is where Amazon is moving. No more black hat tactics, no more short cuts. You must give customers what they want and show the value of the product. The brands that have been doing good since 2011, 2012, 2013, and 2014 are still going to do good on Amazon but so will new brands that adopt this brand focused and customer-centric approach. And especially this year Amazon is giving you a lot of tools within Seller Central and within the Amazon selling platform that you can use. Now you're able to experiment with a lot of things. You're able to get a lot of metrics that we didn't have in 2013 and 2014. The Amazon advertising platform is much more complicated and more evolved. Now you have a lot of native tools. You can look for product niches and opportunities, you have a lot of analytics, and you have a lot of metrics. We didn't have that seven years ago

. All this together, we would say that selling on Amazon is easier today in 2022 if you know what you're doing, if you're willing to treat it as a real business, if you're willing to give the best value to your customers, and if you're willing to invest your power, your energy, your effort, and your time. 

That's all our predictions and trends for 2022. We hope you enjoyed this article. It's a bit different this year where we didn't publish our conversations with players in the industry but we think we packed a lot of information here anyway and provided a lot of value and ideas. So take the time to read through this again and really let it sink in or

check out our video on the subject

and leave a comment if you like! If you have any feedback feel free to leave a comment or reach out to us directly. We look forward to seeing what 2022 holds for everyone.

Are you selling on Amazon and you wonder what are the trends and predictions for Amazon FBA Sellers in 2022?! It's that time of year! It's finally time to unveil what is going to be hot in this year and how Amazon sellers can take full advantage of the new trends. Every year we interview the best experts in the industry to find out what we can expect from Amazon, this year, not being able to interview them one by one, we have decided to revise all the expectations and predictions from the web. We have been doing our due diligence and our research though, including going over lots of prediction articles and videos, as well as speaking to colleagues and peers in the industry.