If you're trying to figure out how much your Amazon FBA Brand / Business is worth, read this guest blog post by Flippa.com.
There's no doubt that Amazon is one of the fastest growing U.S. retailers in the world.  A recent
report
by
Statista
shows that
73% of Amazon.com sellers in the U.S. utilize FBA.
If you're an Amazon FBA business owner, chances are you're curious about the worth of your business. Perhaps you're not entirely ready to sell, but it's important to aim to scale your business into an asset with resale value. In this article, we'll discuss
how the industry's top Intelligent Valuation Engine comes into play when assessing the value of your Amazon FBA business
and reveal how you can get direct access to the right buyers and Amazon FBA aggregators via Flippa's new
Direct Connect
service.
Understanding Seller's Discretionary Earnings
Most Amazon business valuations are based on an expression of profitability known as seller's discretionary earnings (SDE).
There is a wide range of
online business valuation methods
, however, the most widely accepted method in the online business acquisition space has been a valuation based on a multiple of earnings. To find the SDE of your business, simply find the difference between revenue and expenses over a specific period of time, which usually dates back to the
past trailing 12 months
. Any taxes and other non-essential expenses are not factored into SDE. The trailing twelve month (TTM) period usually excludes one-time expenses, income-taxes, and compensation.

(Read Website as Amazon Business)
Calculating the value of your business can be done using the following formula: The net profit can be calculated as
Net Profit = Total Revenue – Total Expenses.
The multiple is the number of years that the cash flow is worth. Buyers interested in purchasing an online business sometimes view a company's multiple as the number of years they can expect to gain back the money they used to purchase an asset. For example, a SaaS business is up for sale for $5,000 with a multiple of 2. Assuming that revenue remains consistent, the buyer can expect to earn back her money in 2 years. There are many factors that determine a multiple, the biggest driver being risk, such as market fluctuations, sourcing, supply chain disruptions, competitive activity, key personnel turnover, and more.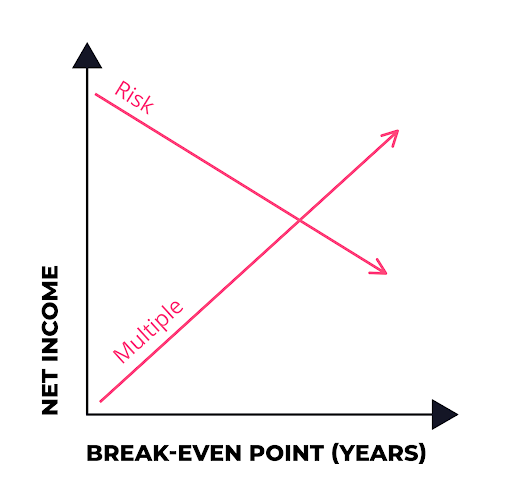 As we can see by the graph, the less risky the investment, the higher the multiple, and vice versa
. Because everyone's perception of risk is different, you may end up with different valuations from professional appraisals. You can use our FREE
Profit and Loss Statement template
to calculate the net profit of your e-commerce business on an SDE basis.
Growth Opportunities of your Amazon FBA Brand
Growth opportunities are a crucial consideration when performing valuations. For example, consider an Amazon FBA store that earns $200,000 in revenue in its first year of operations and sells at a 2x multiple before doubling its net income the following year. As a result, the new buyer breaks even during the first year of ownership, as they recovered 100% of the entire $400,000, during which, the Amazon FBA store also doubled in value.

Of course, it's important to note that just because a business is growing or has ample growth potential, growth opportunities need to be valued on a scale.
Whether done through a broker or company, there are multiple avenues to obtain an online business valuation.
So you're probably wondering, which one should you choose?
Introducing Flippa's Intelligent Valuation Engine, exclusively designed for your Amazon FBA business
As a thriving Amazon business owner, no doubt you want the best valuation tool for your business. Assuming you've put in years of hard work to scale your online business, it's only fair that you get a thorough, complete accurate assessment of your business. The Intelligent Valuation tool is created by
Flippa
, the #1 marketplace to buy and sell digital assets like websites, SaaS businesses, apps, ecommerce stores, and more. It will provide you with many insights and shed light on how your business is performing, areas that can be improved, and how your hard work has paid off. It's trusted. It's accurate. It's created by the industry's #1 marketplace to buy and sell digital assets. This top-performing
Intelligent Valuation Engine
is backed by over 10 years of transaction data which is cross-referenced with information you supply about your business to generate the world's most accurate valuation.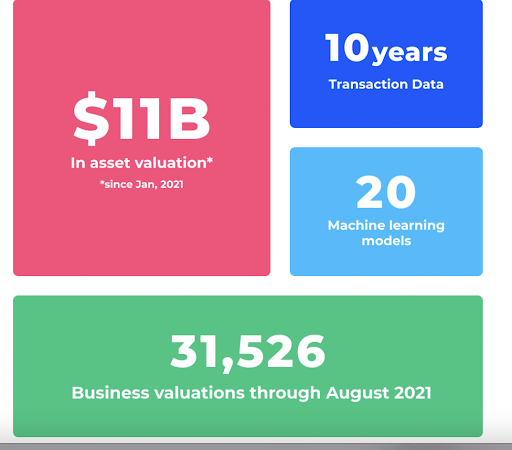 It takes into account over 40 different data points like business model, age, domain authority, growth rate, competition, niche, and more. This assessment will provide you with an indication of what potential buyers are willing to pay for your business.
Having a strong valuation of your Amazon business is important as it provides a reliable guide to your selling journey.
So, what does top-performing valuation tool consist of? Having started with 20 models, Flippa's valuation engine now operates through 5 models, called
Light Gradient Boosting Machine
", "
Gradient Boosting Regressor
", "
Random Forest
", "
Extra Tree
" and "
Linear Regression
". You can think of these top-performing as the "superpowers" that fuels the assessment of a business. It finds the relationship between input variables ( i.e. asset age, profit, asset type, and growth rate) with the output variable, the sale price, to predict the final selling price of your Amazon business. The best thing about it all is that it's completely free. There's even an integrated
chat bot
readily available to assist you.
Ready to sell your Amazon FBA business?
Selling a business is hard, so we make it easy. If you're ready to take it to the next level,  Flippa's

Direct Connect

offers premium matchmaking services to institutional buyers, Mergers and Acquisitions (M&A), aggregators, investors and high-value individuals buyers (including investment firms), private equity, and aggregators. It serves as a tipping point for potential sellers since we can find real buyers

to match with your business

. We'll help you with your pitch and all necessary tools to complete your deal. Once a deal is finalized, we'll connect you with relevant legal representatives and if necessary, provide you with escrow service, completely free of charge. Congratulations on your valuation journey! Finding the worth of your business and planning for a successful exit has never been easier.

Are you an Amazon FBA Seller and thinking to get a nice exit from your business? Or are you simply curious to see how much your Amazon Brand is currently worth?