Are you looking for the best ways to increase your Amazon products sessions and conversion rate with external traffic in 2023? Then read on, this blog post is for you!
In one of our previous blog posts, we covered Amazon's newly launched Brand Referral Bonus – a method for sellers to take advantage of advertising their products elsewhere online and linking back to their Amazon listings. Brand Referral Bonus is a great way to save money on Amazon fees. To follow that up, this blog post is going to go into detail on how to drive external traffic to amazon. For those of you who are new to external links, advertising and traffic, this is a great place to get familiar and learn about some of the external platforms that can benefit you. Let's get started!
What is External Traffic for Amazon Sellers?
Simply put, in the case of Amazon, external traffic is any traffic (visitors, links, audience, reach) that comes from anywhere that isn't from within Amazon's marketplace: no organic search results, no PPC Ads, no similar/related listings etc. External traffic could come from sources like an email, a social media platform like Twitter or Instagram, your own website/store, search engines like Google and Bing, video hosts like YouTube or TikTok, other websites, even links embedded in PDFs or other documents.
External traffic sources can be free or paid. For example, traffic from search engines like Google are free. Traffic from sponsored links on Google, display advertisements on other websites and targeted ads on Facebook are examples of paid sources.
What's So Good About External Traffic for your Amazon Listings?
It all boils down to growth. Any e-commerce business, whether you're selling a product or a service, running a blog or affiliate website, relies on external traffic for growth. Through getting top search results on Google or through paid advertising, you'll get more people going where you want them to go, in this case, your Amazon listings. The more traffic you have, the higher the chances of you selling your product. But that's not all. External traffic is considered organic traffic. And organic traffic is always better than paid traffic to help boost your ranking on Amazon.
1. Using Pinterest for Amazon Listing Traffic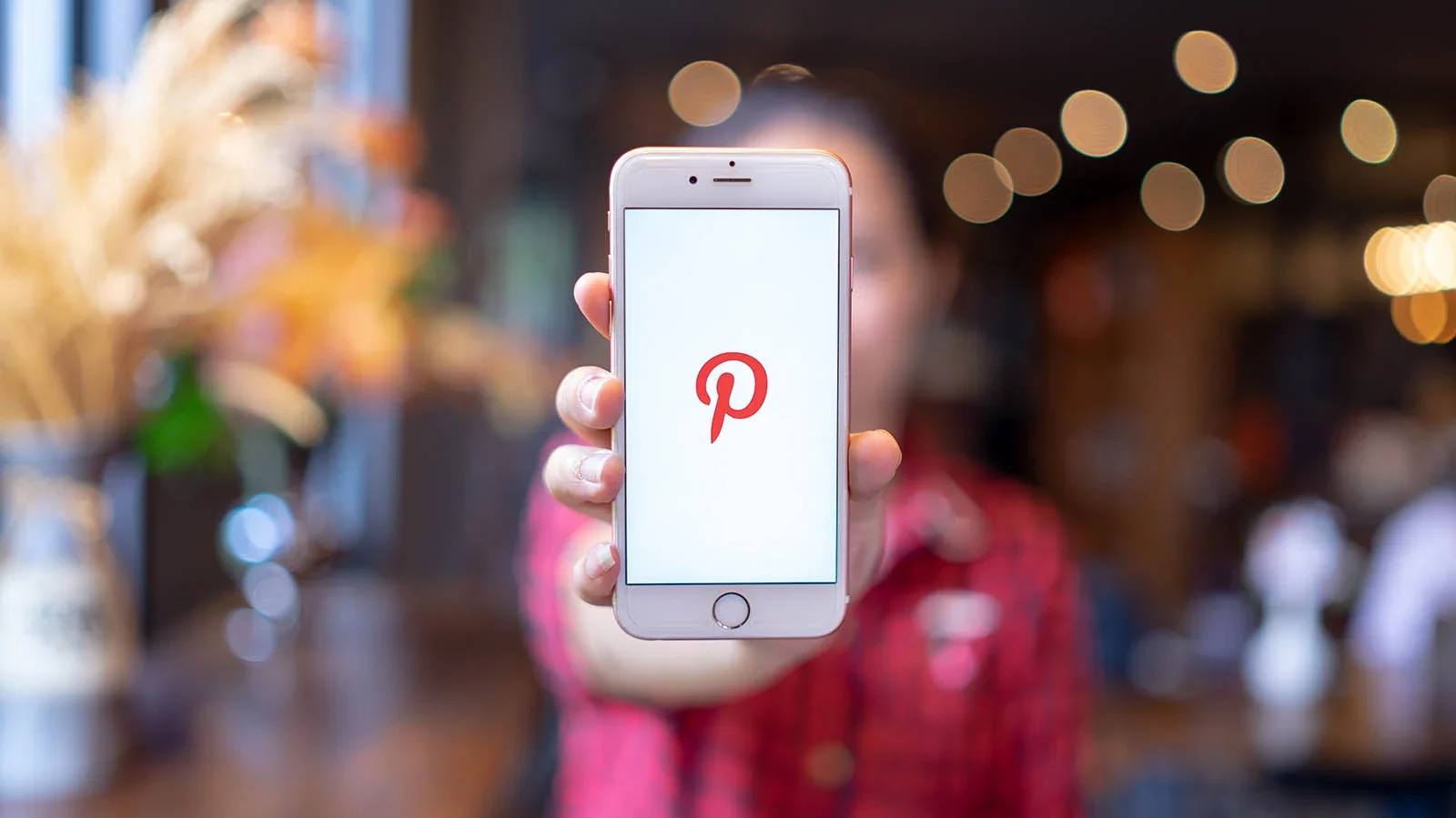 If you don't know what Pinterest is, in a nutshell, it's like a scrapbooking and idea generating platform. Users curate their interests and collect content they are interested in. It's image-based and covers a wide range of topics from DIY, how-tos, travel, fitness, recipes and more. With 450 million active users, it's a great place to get external traffic, particularly with women as they make up two-thirds of the platform.
Marketing on Pinterest
To get started with utilizing Pinterest for external traffic, you first have to learn a little bit of marketing on Pinterest. That starts with creating a profile that represents your brand. You should make it personal and as real as possible. Don't take 30 seconds to create a profile and then walk away. Once your profile is created you need to start creating a board.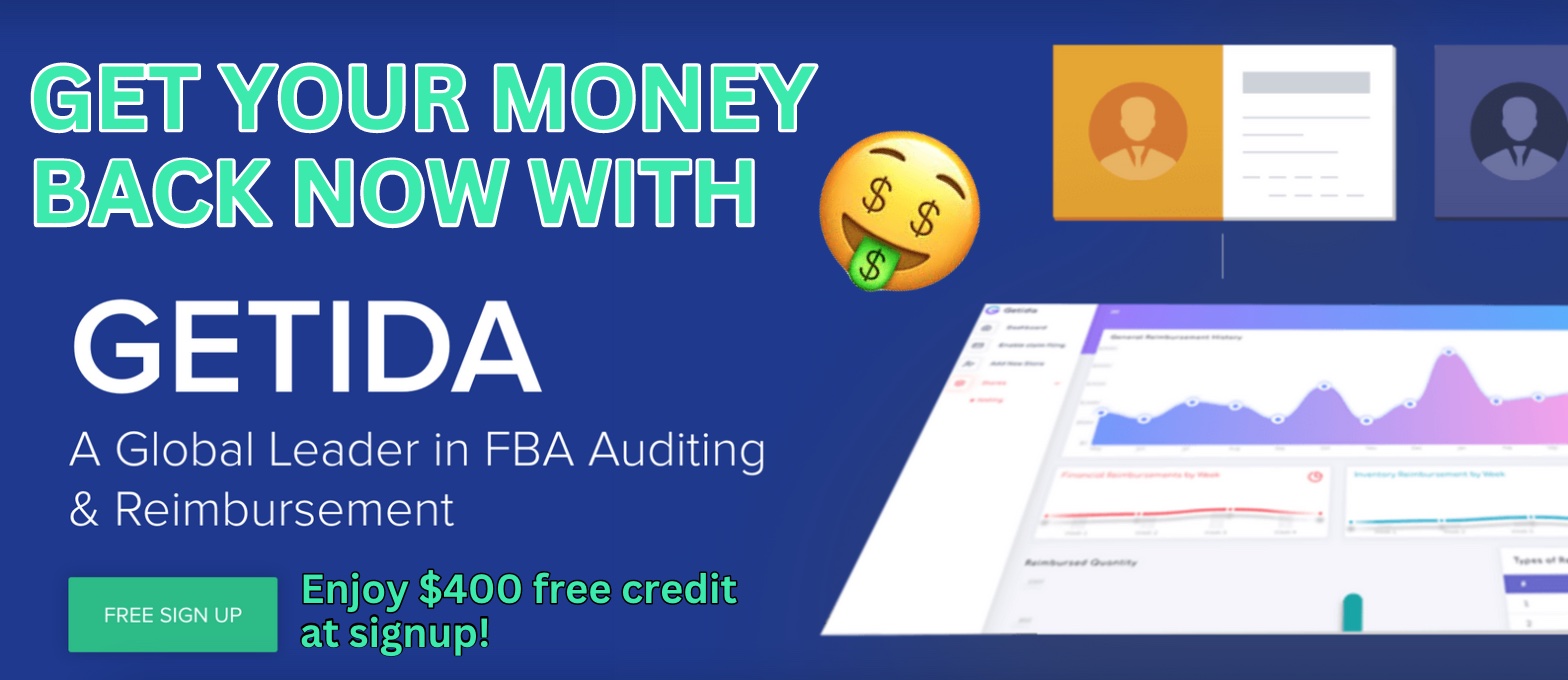 Pinterest Boards
Boards are collections of images that represent your interests. Before creating one, you need to think about the central theme or topic the board will revolve around. Your first board could be about the type of products you're selling – let's say it's craft material like glues, glitters, scissors, etc.
Your second board could complement it with tutorials on how to use your products to create amazing DIY crafts for children or the whole family. You could create additional boards for other product types and complementary tutorials, etc. One thing you shouldn't do is to go overboard with promoting your products. Users on Pinterest don't want to visit a storefront, they want ideas to add to their collections. And your products are the method in which they can make their ideas come to life.
Pinterest is a great tool to market your Amazon products from an external website with high engagement rate and high Page Rank – that would benefit your overall SEO on/off Amazon. Use it to build an audience and to talk to your customer avatar on Amazon, while showing value across your products.
Things to Keep in Mind
Pinterest is entirely visual. You need to upload high-quality and engaging pictures. Pictures with colours and pictures that show a lifestyle are engaged with more than darker and corporate style product photos.
Vertical images work best as most users are on mobile
Be creative with your images and add a descriptive copy with some keywords
Put your logo and branding on your images

Pinterest for Amazon Sellers: Join the Pinning Bees Group:
The Pinning Bees is a free Pinterest educational Facebook group run by Marie O'Shea and Klaidas Siuipy – here you will learn actionable tips, strategies,and insider secrets to harnessing the power of the Pinterest mindset for your online business or blog. Marie taps into Pinterest's marketing potential and applies real time fully tested techniques to maximize your Amazon sales, brand awareness, and ROI by driving free evergreen traffic to your Amazon listing. Marie is drawn to Pinterest's entrepreneurial space because she wants to help Amazon sellers succeed by fast tracking their Pinterest marketing to scale their brands!
Founder, Marie is currently running several Pinterest marketing case studies of her clients brands (with their approval) She shares regular updates delivering ongoing real time results through data-driven strategies, hypervigilant testing of various Pins on Pinterest's algorithm, plus delivering brand-centric SEO content development. 
"We're here to help Pinterest marketers succeed, from their first Pinterest Pin to measuring results. We teach inside secrets on how to make Pins go viral, and how to reach shoppers at critical moments throughout the decision-making process. At The Pinning Bees, we provide valuable group resources, and have an expert panelist board to support members every step of the way."
Join The Pinning Bees Facebook group on this link!
Your Sales Funnel
Once you've done the basic work on Pinterest, you want to make sure that with every picture and every board, you are linking back to your landing page or direct to your Amazon listing. Users on Pinterest are interested buyers so you want to capture them as quickly as possible. You can also add a discount code or other promotion to your Pinterest product listings as an incentive for people to head to your Amazon listing and click buy.
Through Pinterest, not only do you have an audience that is ready to buy your product, but you also have an opportunity to boost your ranking through increased external traffic.
2. TikTok Traffic & Influencers for Amazon Products
TikTok is quickly growing as a sales funnel and external traffic source. Teens and young adults are the biggest demographic and they have a lot of disposable income. TikTok is a video platform where virality happens quick and engagement is at the center of it. We previously covered the possibilities that TikTok presents and went into a lot of detail. You can read that post in full. We'll quickly cover the basics here. If you use TikTok correctly and go viral, it won't be just hundreds of new users landing on your Amazon listings, it could be hundreds of thousands or millions.
Build Your Presence
Start by building your presence on TikTok. Create an account and start creating branded and relevant content tailored to what you think your audience is.
READ MORE: How to Market Your Amazon Products on TikTok – tips & best practices
Find Your Niche
If you're selling beauty products, then young girls and women are your target market – your videos want to be engaging to them. If you're selling men's sportswear, then your videos need to target them.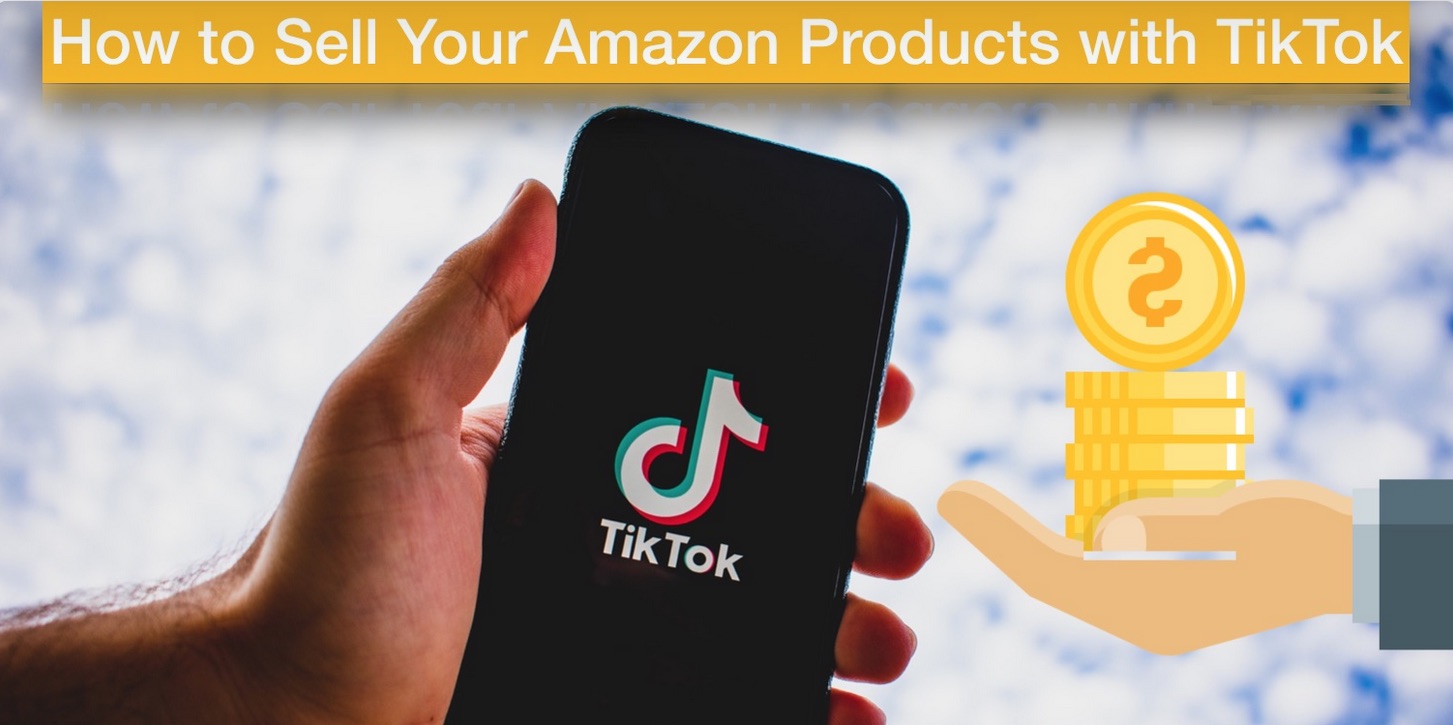 Create Engaging Videos
Your goal on TikTok will be to create short and engaging videos. You don't want anything longer than 20 seconds because users don't have a long attention span and there's so much more content they can watch. You want your videos to be full of energy, to be funny and to surprise your viewers.
Get Linking
Be sure to link your Amazon storefront as well as your Amazon products with relevant videos. You can also link other social media channels that you are leveraging so that your followers on let's say Instagram, can connect with you on TikTok and vice versa.
Work With Influencers
Identify who your influencers are and start promoting to them. Influencers have a lot of power on TikTok and can help your videos and products quickly go viral. Influencer marketing can have a substantial impact on your Amazon sales. Partnering with influencers who align with your brand can help you tap into their established audience and increase brand awareness. Influencers can showcase your products through blog posts, videos, and social media posts, providing direct links to your Amazon listings. By leveraging their credibility and reach, you can gain exposure to a wider audience and drive targeted traffic to your listings.
Use Hashtags
When posting your videos, make sure to use relevant hashtags to promote your brand and products. Hashtags like #AmazonHacks or #AmazonFinds will help your videos find an audience. And don't forget to look out for the newest hashtags and be an early user.
WATCH: TikTok Marketing for Amazon Sellers: Share Coupon Codes & Influencers Strategies with Gracey Ryback
3. Facebook & Instagram Ads & Marketing for Amazon Sellers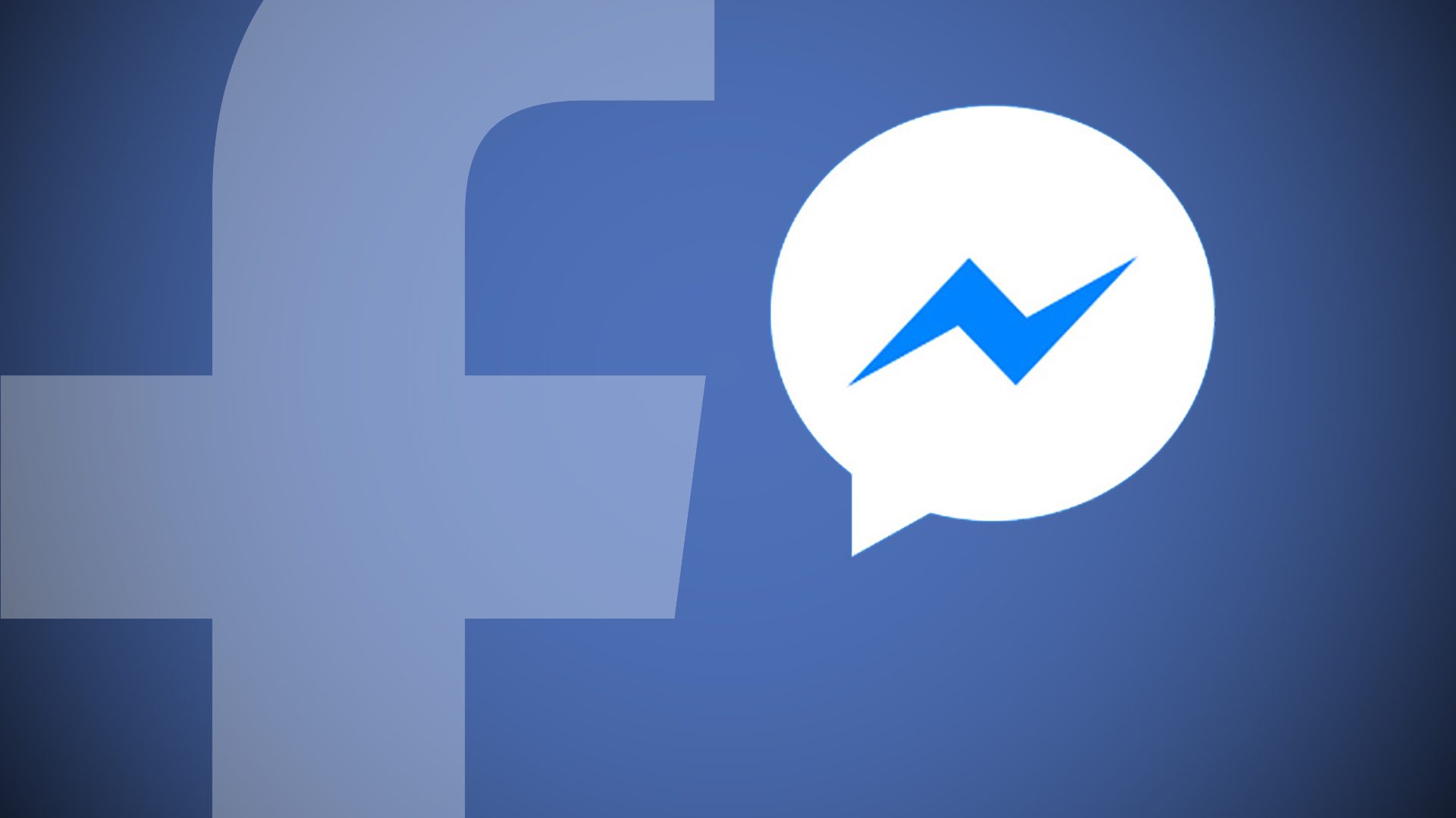 One of the most effective ways to promote your Amazon listings is by sharing them on various social media channels. By regularly posting engaging content that showcases your products and providing direct links to your Amazon listings, you can expand your reach and drive significant traffic. To optimize your social media presence, leverage compelling visuals, craft captivating captions, and offer exclusive promotions that entice users to click through to your listings.
In terms of advertising and the pure power of ad targeting, Facebook is second only to Google. Facebook has successfully harvested the data (and continues to do so) of billions of users around the world. It knows everything from where someone was born, to what school they went to, what their first job was, if they have pets, whether they're black or white, what their favorite brands are and even where they like to hang out.
Targeting Power
Facebook can be extremely useful in advertising your products and driving some fresh external traffic. Not only can Facebook ads be competitively priced, but you can choose to pay per click or per a certain number of impressions. The biggest advantage though, is that you can target your ads very, very specifically.
Create Instagram Ads
One convenient feature of Facebook is that the platform allows you to create Instagram ads at the same as you create Facebook ads. As you go through the steps and create your first Facebook ad, you're presented with an option that lets you create an Instagram ad using the same image, text and link.
Always Keep Testing
One of the caveats of using Facebook is that the company is always changing its algorithms. Not only that, Facebook has been in trouble for hacks, leaks and all kinds of private user information getting out there. As a result of the criticism, Facebook is working on rebuilding its advertising to be less invasive and learn less about its users. This is good news for users but not so good news for advertisers. But there's not much to worry about now because this revamp isn't coming any time soon and Facebook still has a lot of useful user info.
As a result of algorithms changing constantly, you have to keep testing your ads. Sometimes you might launch an ad and it does so well that you want to try it again. But sometimes the magic is gone. It's a good idea to keep trying new ad copy, try videos instead of images, try new audience targeting and keep changing and testing the little details of your ads to see what provides the most conversions.
READ MORE: Amazon PPC: 15 Sponsored Product Mistakes that are Sabotaging Your Gains and How to Fix Them
4. Google Traffic for your Amazon Store & Products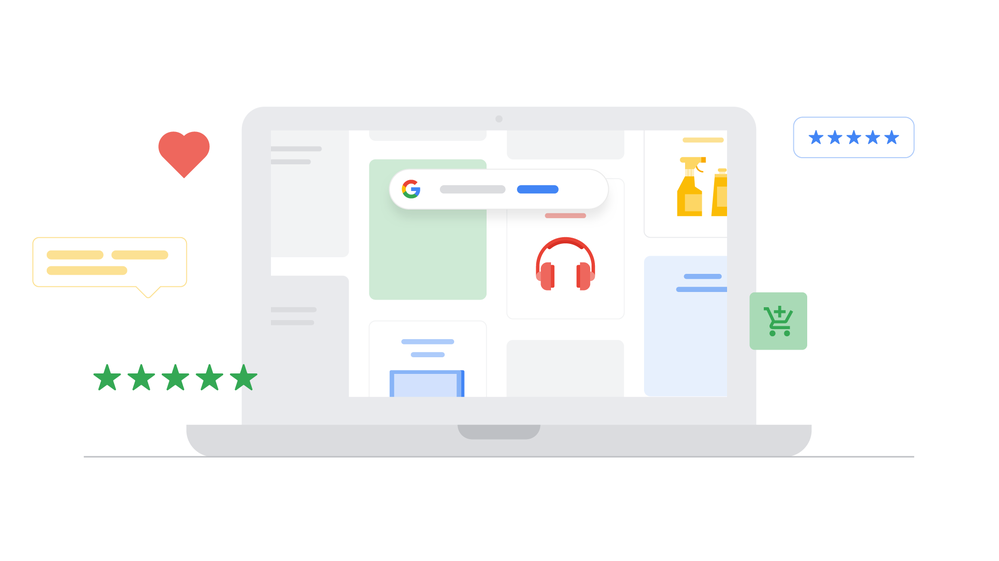 Google is the all-knowing behemoth of external traffic. Google processes 5.4 billion searches per day. It controls 90% of the global search engine market. If you're familiar with SEO and PPC on Amazon, then Google will be familiar. You might realize that often when looking for any product on Google, Amazon's listings are often on top of search results.
Google Ads (direct to Amazon Listings)
Set up a Google Ads account and conduct your keyword searches prior to paying for launching your ads. With Google, you can set up display ads or search ads – but remember – do your keyword research! Google searches can be very broad or very specific. You want to capture the specific searches so that people who are ready to buy will click through to your listings.
Google Shopping Account (ok for Amazon EU, not so good for Amazon US as of 2023)
Going beyond Google Ads, you can set up a Google Shopping account. When shoppers conduct a Google search looking for products they want, Google can display pictures and prices from various merchants that have a catalog on the platform.
To first get on Google Shopping, you need to set up a merchant account and a website/landing page to list your products. Unfortunately, you can't do this directly though Amazon – you must have your own website with a landing page. This landing page essentially serves as an Amazon affiliate page. You can advertise your product, show product reviews, add images, product description and details, and more. Finally, you must have a button or link that sends the potential shopper to your Amazon listing to make the purchase.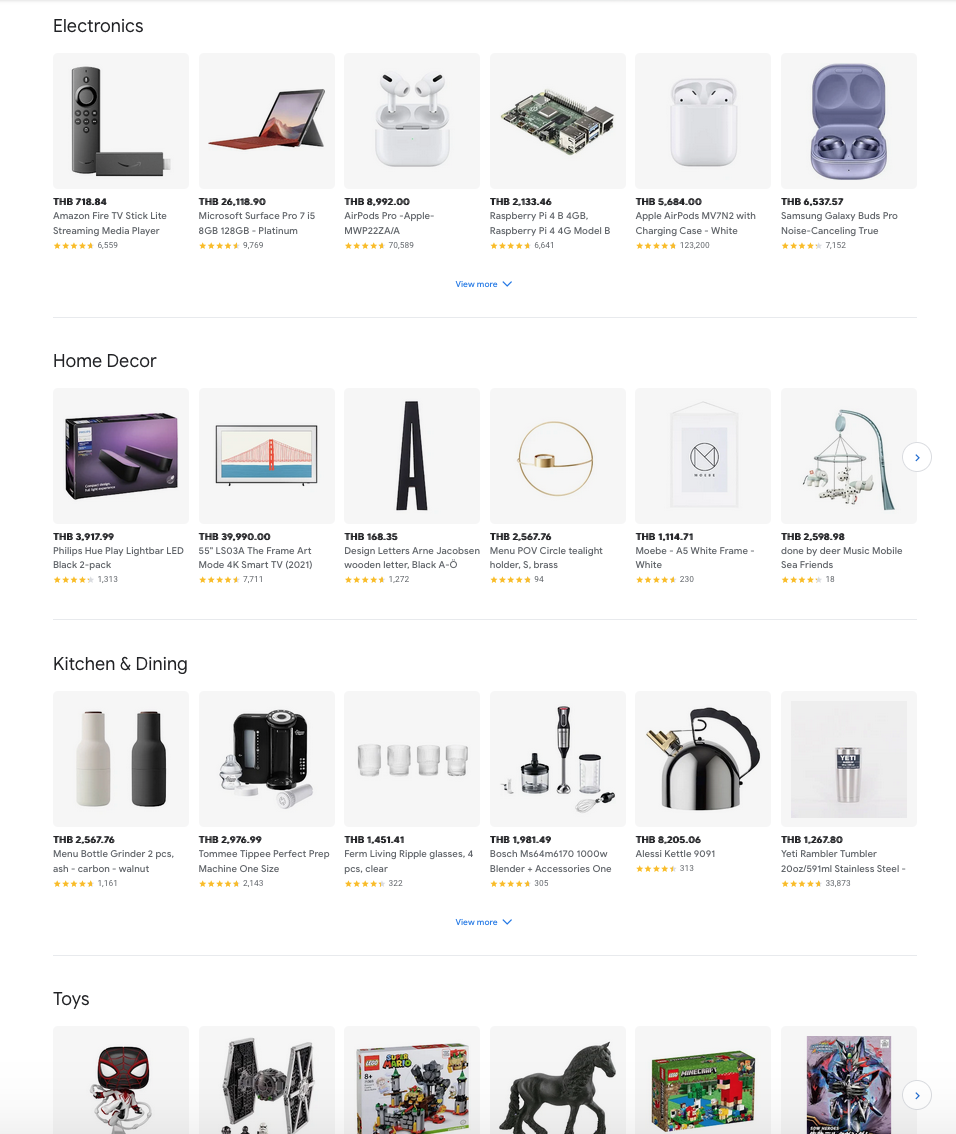 Pros:
You get to access a huge population that is making billions of searches every day
With your own website, you increase its traffic and increase the possibility of selling your other products
You can convert shoppers who don't make a purchase through chatbots or newsletter signups, etc.
You can list and show reviews on your website from other sources (videos, other e-commerce platforms)
Cons:
Google Ads are not free and can eat into your profits
Not everyone who clicks on an ad buys – but you pay anyway
You need to hefty keyword research and stay on top of analytics
5. Using Deal Websites to Sell & Increase Rank on Amazon
You might have heard of websites like Slickdeals, DealNews or RedFlagDeals. These websites and forums are coupon and deal websites where users post the hottest deals or discounts they've found online for products and services. The websites also have sections where users come together and talk about new products they've found and provide authentic reviews – providing confidence for other users to purchase the product.
Dealnews is one of the largest deal websites in the USA and has millions of monthly shoppers. Not only are individual product deals, but roundups of holiday sales like Black Friday, Christmas and Prime Day are offered. These websites regularly work with brands to create advertisements that target their curated audience that is READY to buy. As you can see in the screenshots below (source: Similarweb) Dealnews is an excellent site to drive traffic from, because of its high number of users and purchase driven intent. Also, majority of it's outgoing traffic goes directly to Amazon. If you wish to have your products featured on Dealnews, send us an email at [email protected]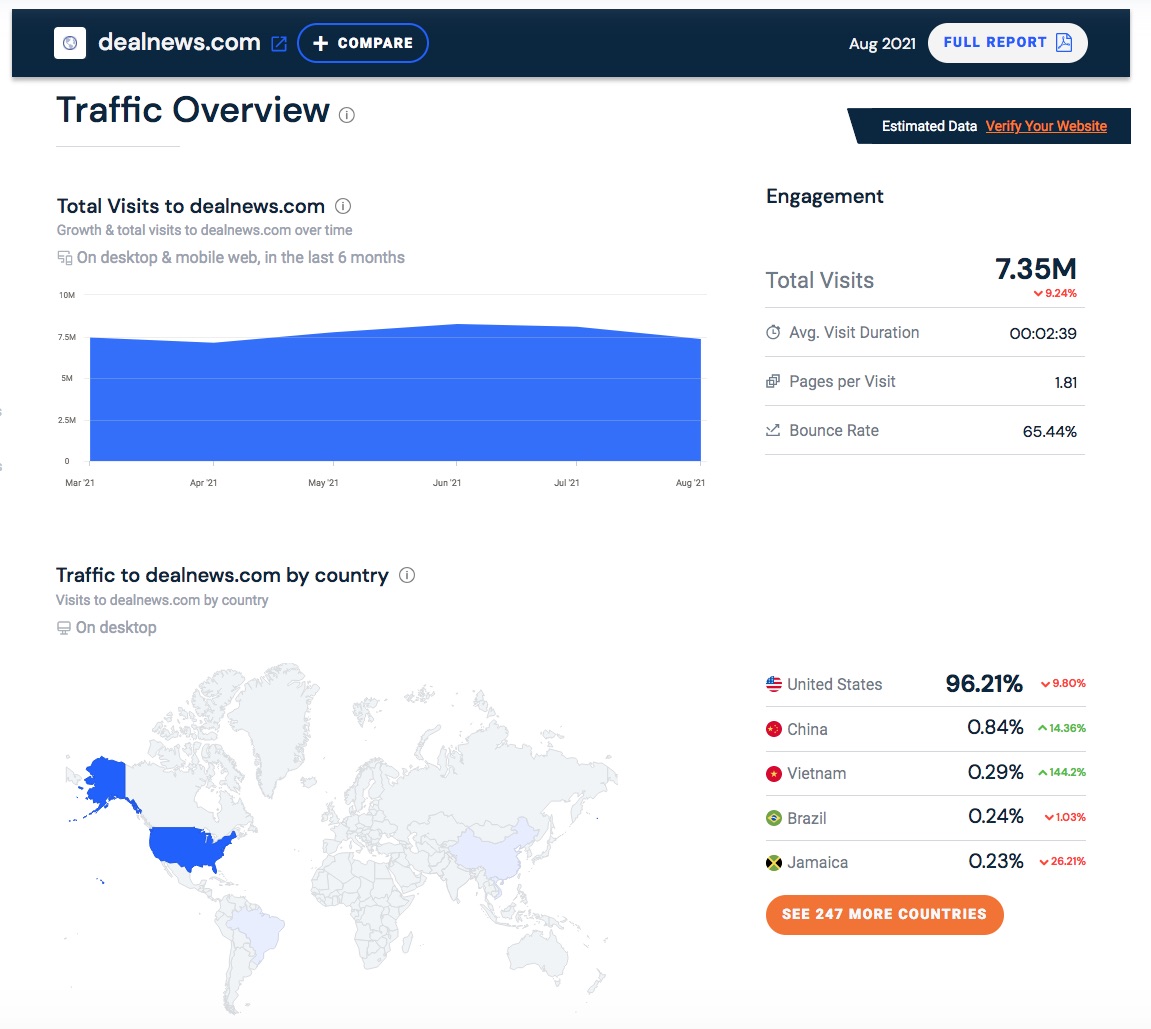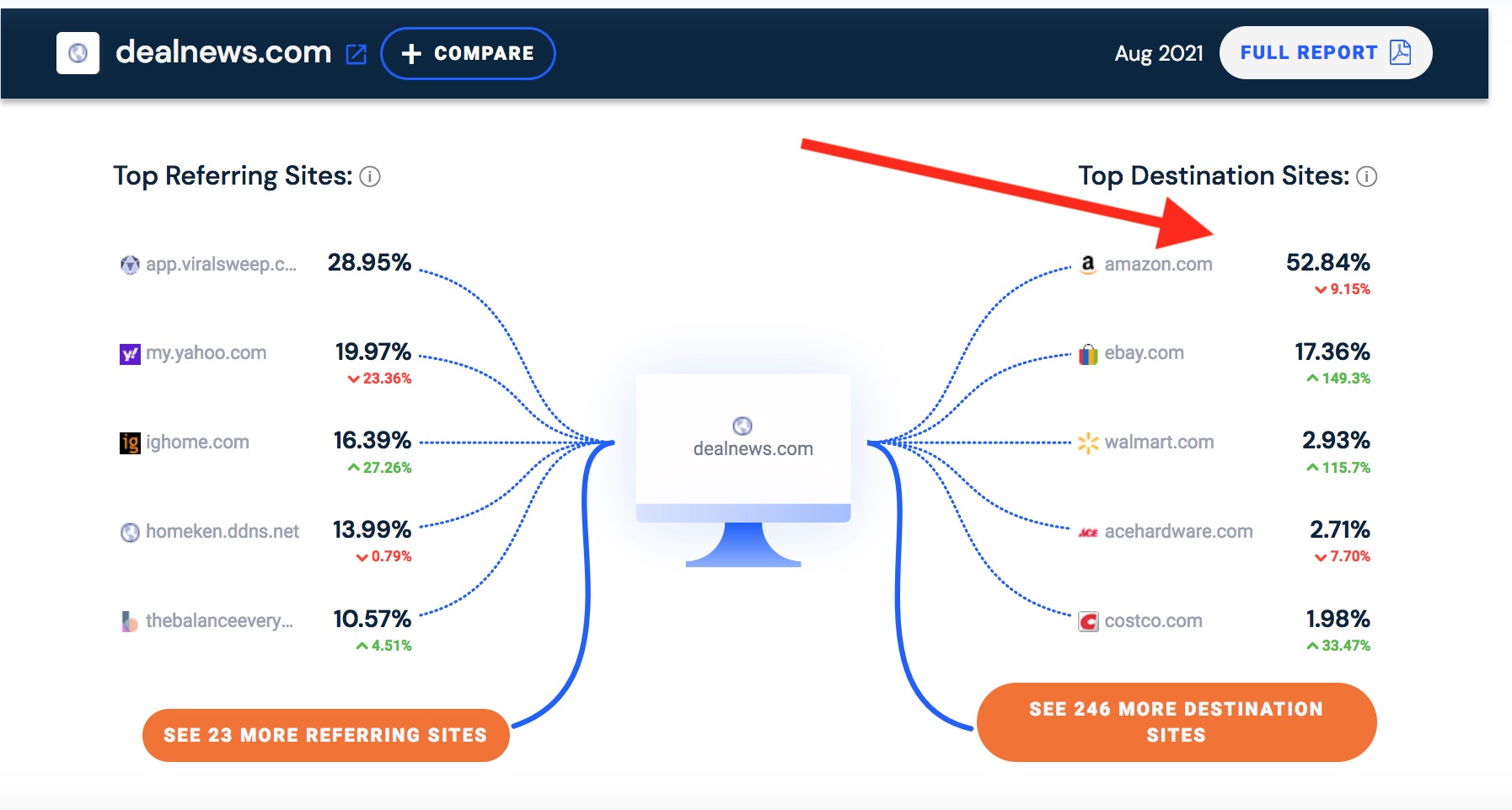 Another method to advertise your products and get external traffic from deal websites is to offer a giveaway promotions or hefty discounts on your products. It's as simple as submitting your own post on the forum. But be careful. Because the users are curating the submissions and can post criticisms, if you're not offering a good product or a fair discount or are overselling yourself – this could backfire on you.
6. Using Chatbots for your Amazon service / post-purchase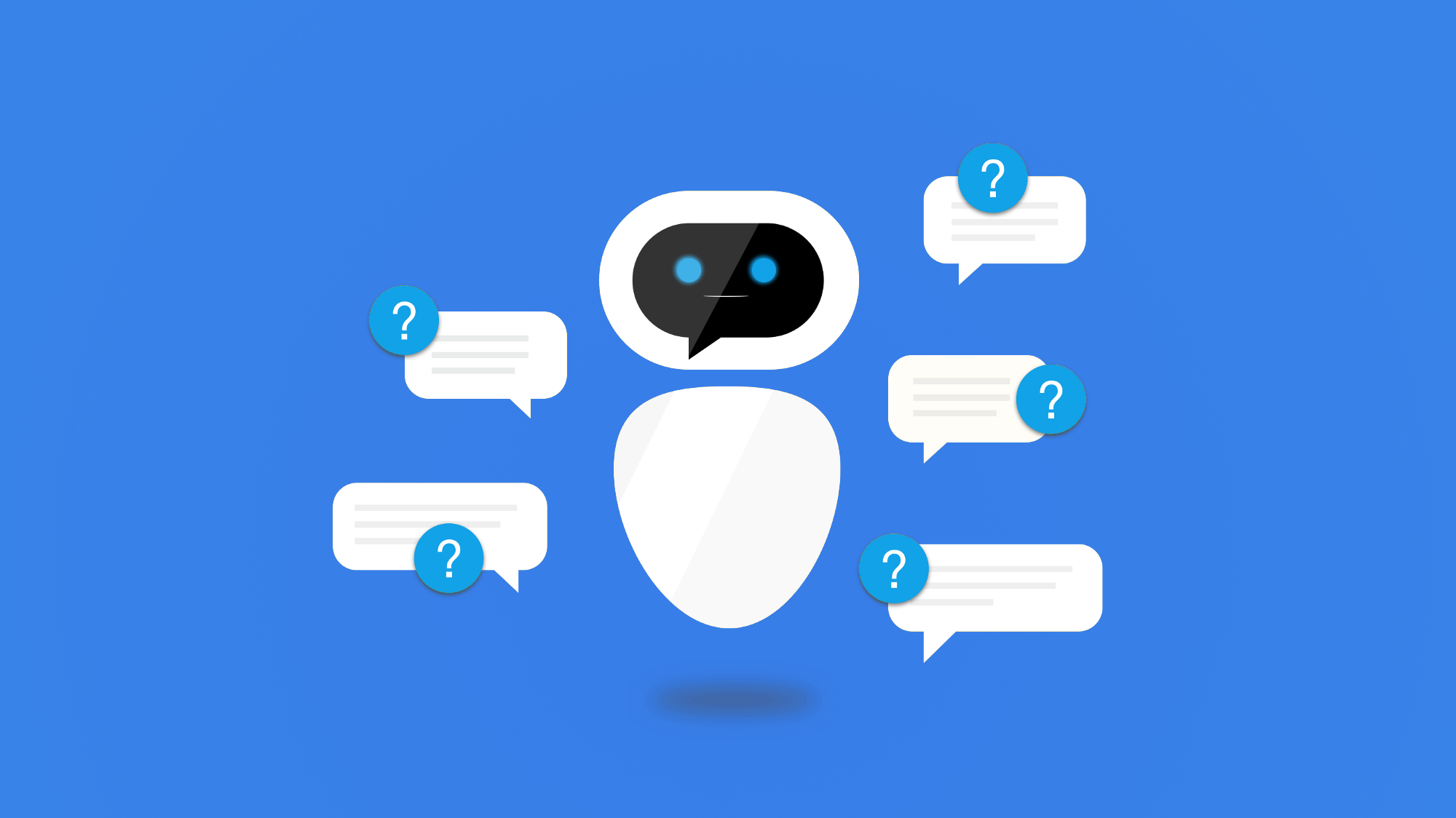 A chatbot is a software application that can be added to websites to create conversations with visitors. You've definitely seen these bots on almost every single website out there. What's good about chatbots is that they grab the attention of visitors and can instantly engage with them. If someone lands on your landing page that is acting as an Amazon affiliate, your chatbot creates a customer service experience by answering questions, collecting emails or redirecting users to a special promotion.
So, how does it boost external traffic for your Amazon listings? If you're running a special promotion, say 30% discount with a promo code, your chatbot can get the attention of new users with a little pop-up that highlights the discount. Visitors then click the link in the chatbot, copy the discount code and head directly to Amazon and make a purchase.
Facebook Messenger
If someone visits your brand page on Facebook, Messenger can be used as the chatbot to answer questions, collect emails and questions and offer discounts on products – all of which can lead to conversions. It's also a good way to continue the conversation with shoppers; you can ask them to leave a favorable review for you just in case they forget.  
Facebook Ads and Messenger
Facebook Messenger also has high open rates and click-through rates than email and is one of the most popular messaging app in the world. It's used by 1.3 billion people every month. A great method to use the Messenger chatbot is to first attract shoppers through your Facebook ads. You can funnel shoppers to your Facebook page and then they can message you through Messenger. If you set up a chat flow through Messenger, you can automate a conversation that can answer a question, ask for a review or provide a coupon.
7. Super URL for Amazon Rank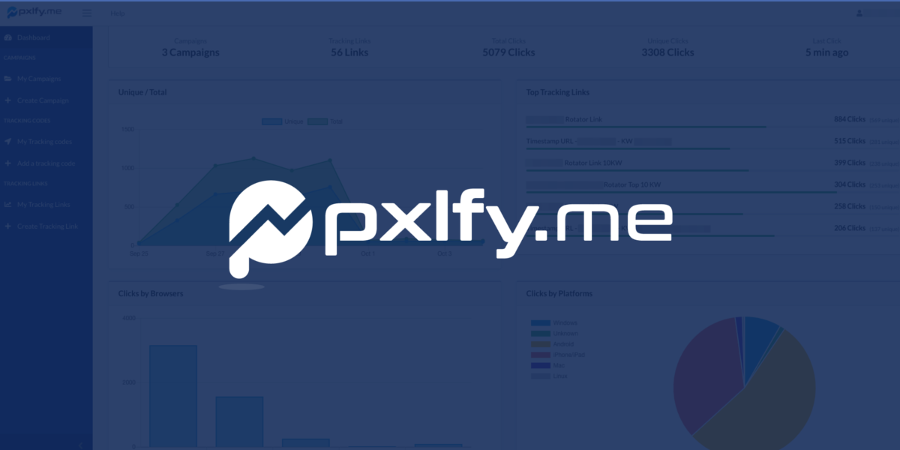 A Super URL is a way to link directly to an Amazon listing. This method makes the Amazon ranking algorithm think that the click came from an organic search. Super URLs are extremely useful when you need to give someone a specific link that leads to your product listing. The best time to use them is to drive external traffic to your listings using specific target keywords.
But there is a downside. Super URLs can only be used once. Because they are unique URLs, if the same Super URL is used multiple times, Amazon will believe all other sales made through the same link are copies. The ranking system won't count them. A way to get around this is through a Super URL generator like Pixelfy.
Services like Pixelfy will generate unique Super URLs that redirect traffic through a unique link with the desired keyword before landing on the Amazon listing. The Super URL generator service circumvents Amazon's ranking system and registers every click and sale as a new click and sale.
It's important to know that Super URLs should be used specifically to make a sale, not just to draw visitors. If you have too many visitors aren't making any sales through them, it can damage your Amazon search rankings. Combined with Facebook/Instagram ads or Facebook Messenger chatbot flows, you can take advantage of Super URLs to drive external traffic.
8. Remember to Sign up for Amazon Attribution!

Amazon Attribution is an invaluable advertising and analytics measurement solution that allows you to gain insights into how your non-Amazon marketing channels perform on Amazon. By utilizing this tool, you can track the effectiveness of your marketing campaigns, identify areas for improvement, and optimize your strategies to drive more traffic and sales to your Amazon listings. Read here the full blog post on How to Get Started with Amazon Attribution!
Conclusions: External Traffic & Amazon
Wow! There's a lot covered here. And yet, there's still many more methods to drive external traffic to your Amazon listings. Whether you use your own website, social media, email marketing, chatbots or Super URLs, all of the methods in this post and the many other methods out there work to drive external traffic. All of this external traffic ultimately boosts your organic search and ranking and is important for the growth of your business. Take some time to learn more about each platform and method in further detail and choose what best fits your time and budget.
If you don't have the time to do that, reach out to us at We Are Growth Hack. We know how to drive organic external traffic to your Amazon storefront and listings. Chat with us and let's work together!
READ MORE: What is Amazon Brand Referral Bonus and How Can it Help You Grow Your Business