passing 1 trillion USD of value in 2017
and promising even more for 2018, the Chinese online market is definitely very appealing to any e-commerce company. If you are planning to tap the Chinese market with your products or services, then
opening and running a Wechat Official Account is a must do thing! 
Wechat, the
all-in-one-app
owned by Tencent Group is a whole unique ecosystem itself. From chatting in private or in
groups,
or paying electricity fees and sending money to your friends, to call taxi or play game like the one that got viral "
honor of kings
" where you can compete and play with your friends.  No wonder Wechat recently reached
1 billion active users.
Read on if you want to know how to get more followers on WeChat! For a brand that opens its official account,
there are 2 ways to build a fanbase:
-Organically
due to a
good brand awareness and communication,
slower to get a lot of fans, but these fans are of a better quality
–Paid (Media buy or KOL),
where you are paying to advertise on Wechat to get more visibility from Wechat or any local influencers that will promote your account. Chinese KOL and influencers work in a slightly different way from the western ones, but the work process is pretty much the same.
READ MORE: The Complete Guide to Influencer & KOL Marketing for Amazon Sellers
In this article we are going to share with you 5 tips to grow you fan base
organically, or without a massive budget,
that can apply to any industry no matter how many fan/followers your brand already has.
1. Focus on Content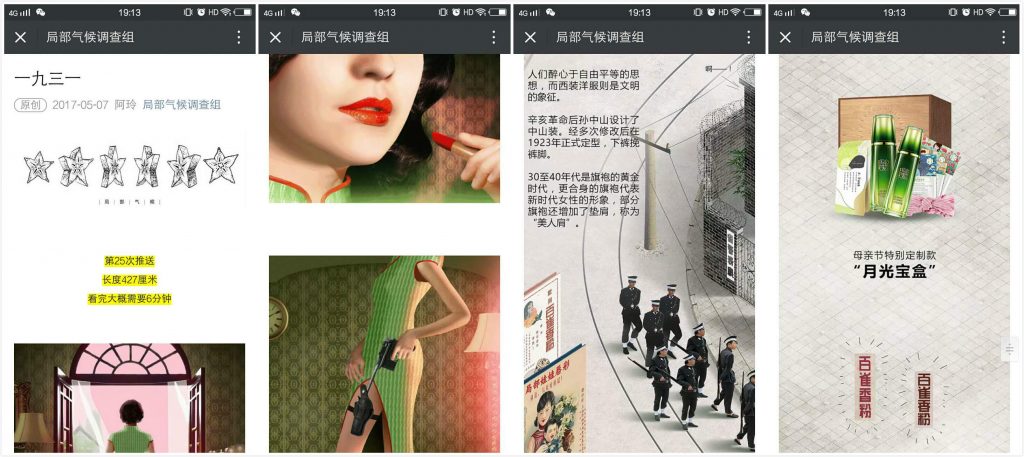 It sounds obvious but this is the truth: no matter if you are in America, Europe or Asia, delivering the right content,
at the right time and to the right audience
is the best way to build a solid
fanbase
. Here are the types of content that appeals to Chinese market on WeChat:
– Article with incentive:
giving a candy or a gift after asking the user to interact with your account
– Interviews:
articles related to someone's experience are also very popular and work very well. For example, an interview of an entrepreneur that share failure and success. The Chinese audience loves to read about business stories.
– Storytelling:
turning any event or experience into a catchy story will make more likely your article to be shared by the readers. The picture above is from a very successful article to promote beauty product; a great way also to build brand awareness.
– Educational post:
users are keen to learn as much as they can, especially in China when we know that
30% of the WeChat users spend more than 4 hours using the digital app
. For example, if you are in the food industry, share a recipe of a popular dish in your next article; share creative ways of wearing and matching the cloths you sell if you're in the fashion industry.
2. Give Visibility to Your Brand's Wechat Account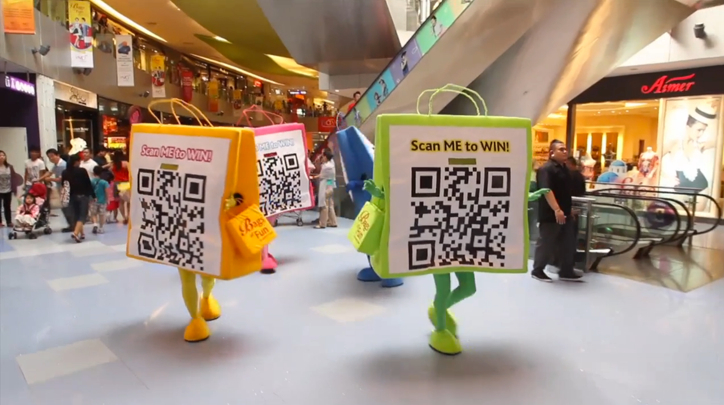 Wechat accounts can be found directly from the search bar featured in the app, however, another great and creative way for a brand to connect with new follower is to use the feature
scan QR Code and follow
. The main tips here is to
make sure that your QR code is fully visible in your main offline and online acquisition channels.
Offline
If you are using your QR code in any offline store and are getting new fans from it, those offline acquisitions are highly precious because
they have already been in one of your physical stores or events hosted by your brand
, so they are some of the most "quality" ones and will have a higher chance to buy your products or services.
Online
Regarding
online visibility
, remember place your QR code on your website, partner's sites, PR releases, other digital media channels and so on. Example: for e-commerce business, make sure the QR code is visible in the delivery package; for services providers, ensure the QR code is visible in your deliverables.
3. Optimize Article Layout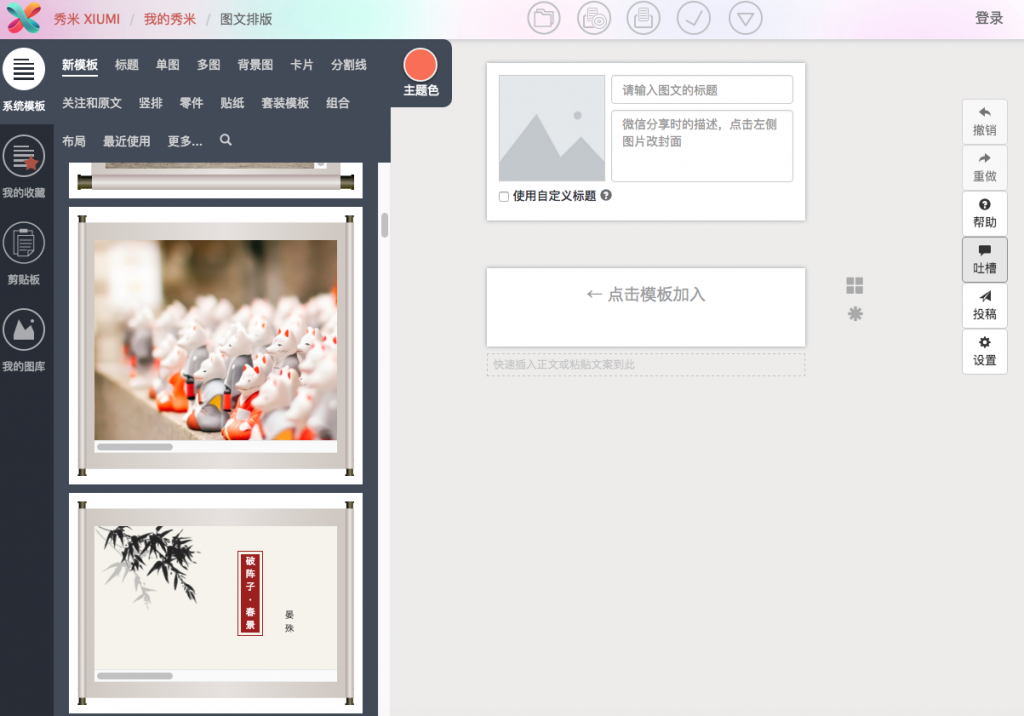 WeChat articles allow lots of possibility in term of creation, from the simple text only, picture or text, picture + video + more sophisticated layouts and designs. A good advice is to
keep it clean with less text and more pictures
(given the fact that WeChat is mainly used on mobile phones). Feel free to add animated picture
GIFs
and video (possibly not more than 1 minute long) or even music. The overall idea is to
let users spend time on your article and share it on their newsfeed,
not only open it and close after a few seconds.
How to do that?
WeChat is embedded with a article creation editor, but the functions are very basic (quite disappointing at the moment) and you won't be able to  create any outstanding layout. Our recommendation is to use another editor and then copy past the layout into the WeChat article editor.
One of our favorite editors is Xiumi Editor,
there's no English version yet, but it is very handy to use and allows to get more than decent designs for free. After a half day of practice you will love it!
READ MORE: The Secrets Behind the Success of Chinese Amazon Sellers, as Revealed by Insiders
4. Dedicate a Realistic Budget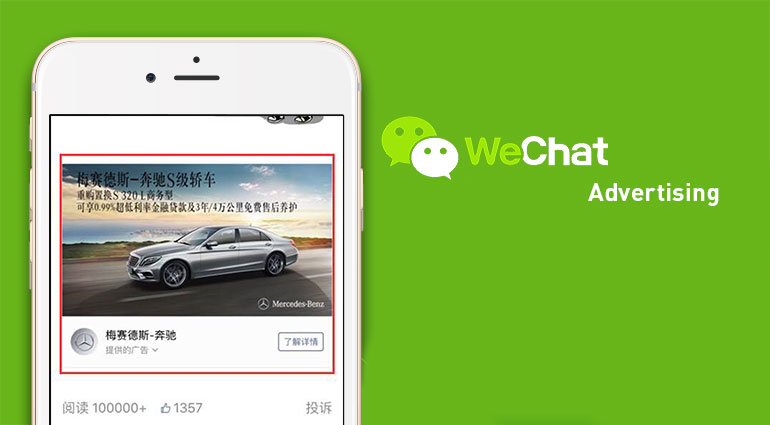 As you probably know, Wechat is not only just a chat app / social media channel: using all of WeChat's features is a great way to generate revenues and to rise your brand awareness. Moreover, the users active on WeChat are more than any other social media platform (talking of users' concentration in China). Therefore, the budget for your WeChat marketing plan should be higher than a the social media budget you might allocate in a western market. The amount and percentage will depend of course of your brand's nature and industry. Do not underestimate what value WeChat can bring to your brand. Again, this all-in-one-app can be a wonderful revenue driver tool!
How to allocate the budget?
1. Using a digital marketing agency that can help you to drive your strategy and manage your account in a very short time 2. If you are not using any agency, make sure you have a in-house designer, Chinese Mandarin / bilingual copywriter and digital marketing expert to drive your social media campaigns.
5. Find Partners and Work on Cross-Promotion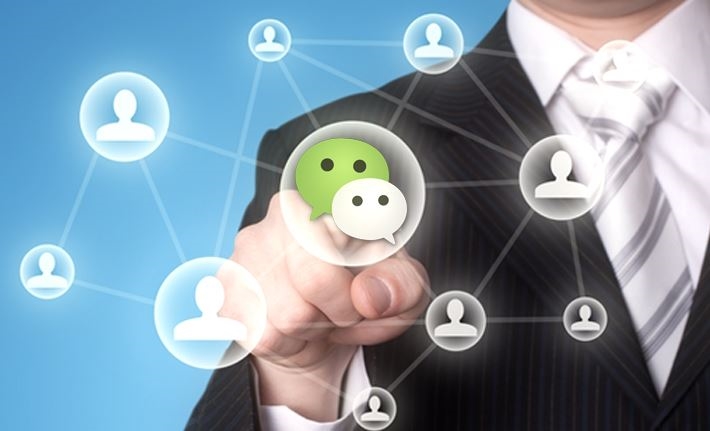 The objective of
Cross-Promotion
is not to pay to have visibility but to
identify potential partners (private or brands) who share the same target audience with you within the same or a related industry
, in order to build a collaboration by redirecting to each other's Wechat account an article and promote both brands.
Example
: if you are selling bags, it would make sense for you to partner with a company in the travel industry.
How to do it?
1. Identify a potential good partner,
basing your judgement on the industry, on the brand's fit and on the average number of views on their articles.
2. Reach the partner
by WeChat or other social media channels.
3. Suggest to post an article
about them / their services on your official account and ask them to do the same in exchange.
4. Work on a follow-up plan
with recurrent posts if the cooperation is successful!
Bonus Tip:
Don't forget to leverage the other chinese media to gain more visibility such as Weibo, video streaming platform and UGC. We hope that you enjoyed reading our 5 Tips to Get More Followers On WeChat! We definitely didn't cover all the possibilities on this digital marketing tool, but starting to use 5 ways will already show you how easy it will is to start getting more followers and more engagement on WeChat. Feel free to drop any comment or questions on the section below.

After