Unless you've been living under a rock, you definitely know that AI is the next hot thing for Amazon FBA Sellers and is going to change the way we sell on Amazon. Artificial intelligence is the buzz word of the year. It's everywhere.
Whether you're watching or reading the news, watching YouTube, browsing social media or doing anything these days – you've probably been inundated with artificial intelligence this and artificial intelligence that. It's a lot. But artificial intelligence, or AI for short, is really changing the world. With the emergence of ChatGPT, an AI chatbot, every major tech company is scrambling to release their version of AI bots or to implement their AI technology into existing services and products. So, let's see how AI is changing the work of Amazon FBA Sellers and how you can implement it into your daily routine to make it even better!

Artificial Intelligence is a powerful tool and it can be a very helpful one for business. Many people around the world have used ChatGPT to write code, write essays, do menial tasks, find solutions to common problems, and many Amazon & E-commerce entrepreneurs are already using AI to improve SEO, content, sales and marketing for their  business.
What is artificial intelligence?
Artificial intelligence (AI) is intelligence or intelligent ability that is demonstrated by machines (computers/computer-controlled robots). The "intelligence" part is defined as tasks that you and I would think and say, "yeah, that's smart." That's the simplest explanation. A more detailed explanation is that AI is code formatted into complex algorithms that is trained using existing and real-time data to think and act like humans to make smart decisions that would mimic what a human would do.
No, AI is not a scary post-apocalyptic sort of thing where Skynet from the Terminator movies is sending robots from the future to destroy mankind. We're not there… yet.
How can AI help my Amazon FBA Business?!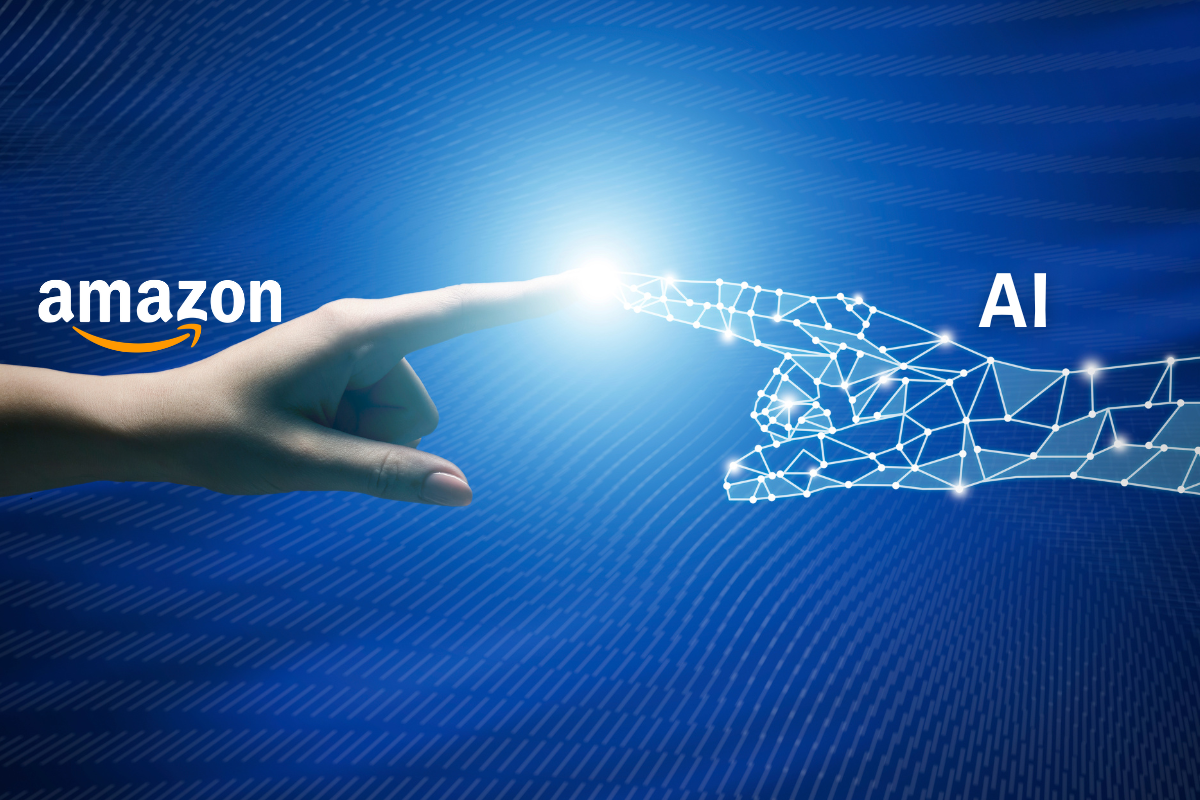 We will list later on how AI applications are already shaping the business worldwide, but we're here for one thing first: how can AI help me increase my sales and make it easier to sell on Amazon?! We got you. People-friendly AI tools like ChatGPT can help you improve your Amazon FBA marketing and sales by doing menial tasks in seconds or minutes, that would take you hours or days to do.
1. AI can help with Amazon Listing Optimization & Creation

AI tools can help you write or rewrite listing content to optimize the content regularly to stay on top. With ChatGPT, you can ask it to create a 5-bullet point listing with top keywords for LED light strips. In a detailed request, you can have it search its Amazon knowledge database that it is trained on to create your five bullet points. Other AI tools, like copy.ai, can write engaging content or even rewrite something you wrote to make it read better.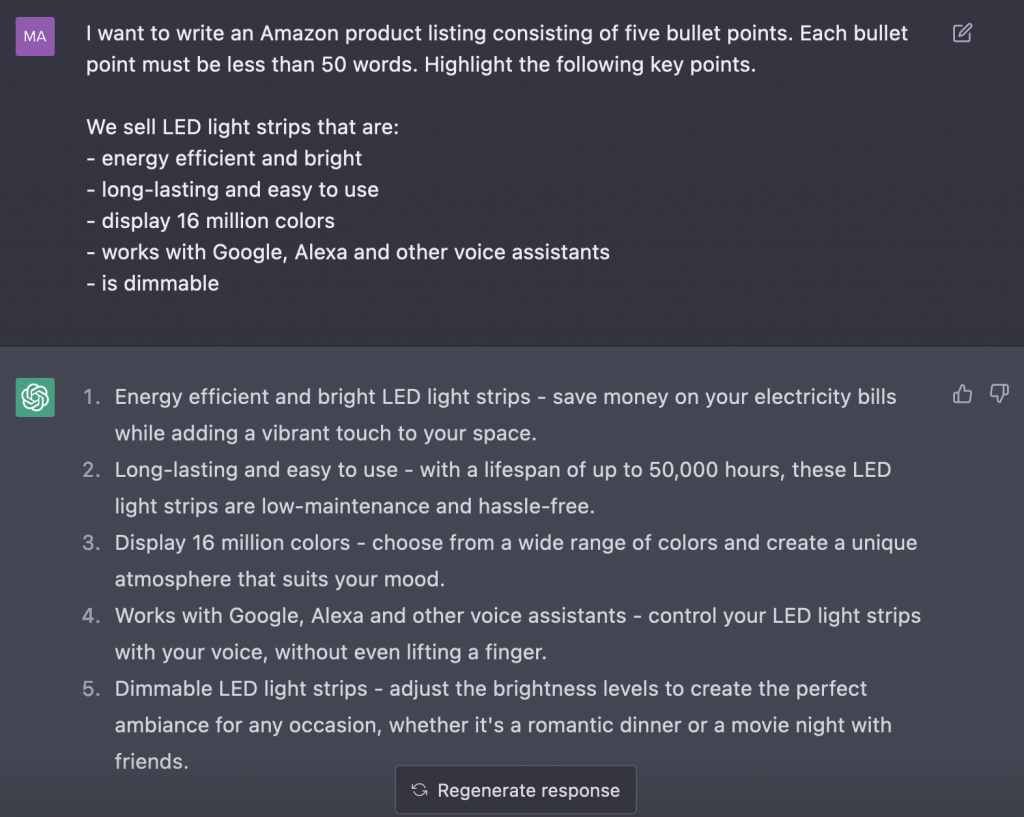 You can also ask AI tools to aggregate content from reviews to create bullet points featuring the top features of your Amazon product based on what people like. Instead of relying on yourself to write features you think buyers will like, AI makes it easy to write content that highlights what people already like! You can go into further detail of key product features in your EBC content.
Other AI tools can even help generate product titles, features and descriptions. They can further help optimize listings by comparing them to existing listings and search results on Amazon, letting you know if your current content is good or needs improvement.
Fun stuff: our favorite Amazon Listing Builder & Optimizer tool (Data Dive Tool) is soon going to integrate AI into his software to help Amazon sellers write the best listings. Read more here on how to use Data Dive for Amazon Sellers.
2. AI Can help Writing Your Amazon Brand Story
Let's just say you're not inspired today. And you really need to come up with some way to tell your brand story so that people will buy your product. After all, people connect with and resonate with a story. If writing isn't your strength, no problem. ChatGPT can write a short brand story for you that you can use in your EBC content and Social Media, Website, etc. Check out the example below. We asked ChatGPT to write a short brand story about a LED light strip business between two brothers. It's not real, of course, but it gives you an idea of what's possible.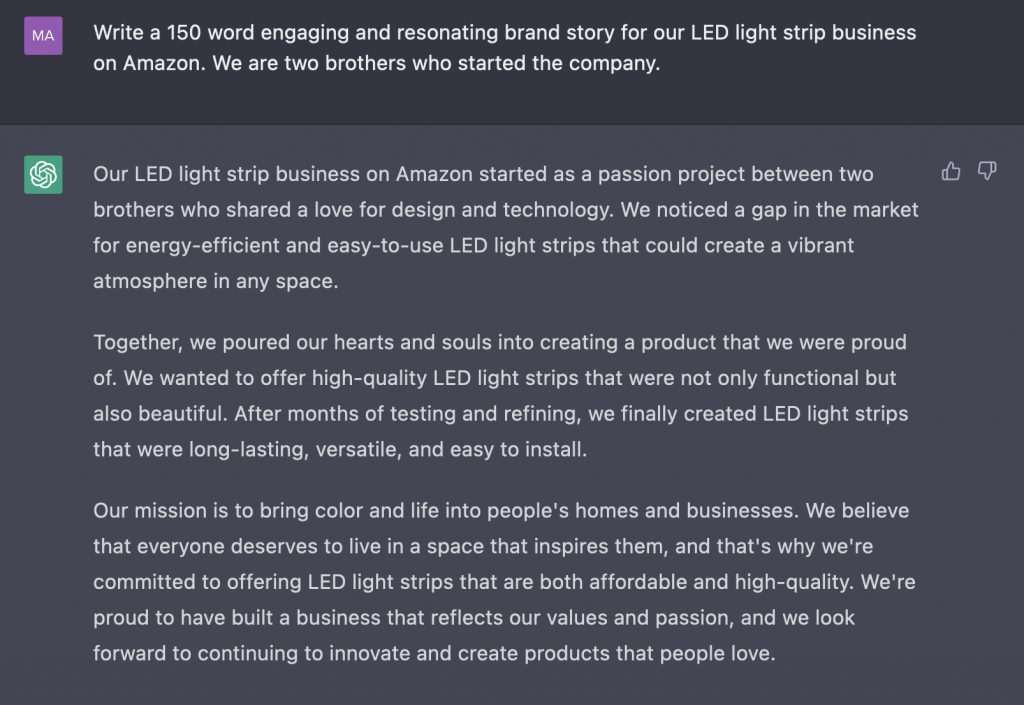 3. AI can help Creating Unique Product Images for Amazon Listings

Let's say you've got a new product but don't have the time or budget to take quality pictures of the product in use or you just want to get some ideas of what a potential product image could look like. After all, you might have to find a model and the right lighting and the right place to take a picture for a set of Bluetooth headphones.
A good picture sells, right? You're in luck! AI tools like DeepAI.org and OpenAI.com are text-to-image tools that can create artwork and photo-realistic images from a text prompt. What sort of images can be created is all up to your imagination. PetaPixel has a great article covering the various AI image tools and how they perform, with examples.

4. Help with Translations in all Languages

A key feature of AI that you can use today is translation. If you've ever been concerned about trying to sell on Amazon in other countries, and you thought language barrier was an issue, no more! Did you know that Google Translate is just AI taking words (information) from one language and rewriting it in another? All translation services and software work similarly. Five years ago the translation software was good. Real good. But today? It's insanely good. Speaking for myself, I speak five languages fluently and write between three of them. Google Translate has gotten so good that it's got my seal of approval.
Important! There is a caveat. Google Translate isn't good at picking up on local language customs or slang. American English vs. British English, for example. While both languages are the same, how they are written and how certain words are used can be confusing. While AI can do the translation work, always have it proofread by a native speaker in the language you're translating to!
5. AI is being integrated into Keyword Research Tools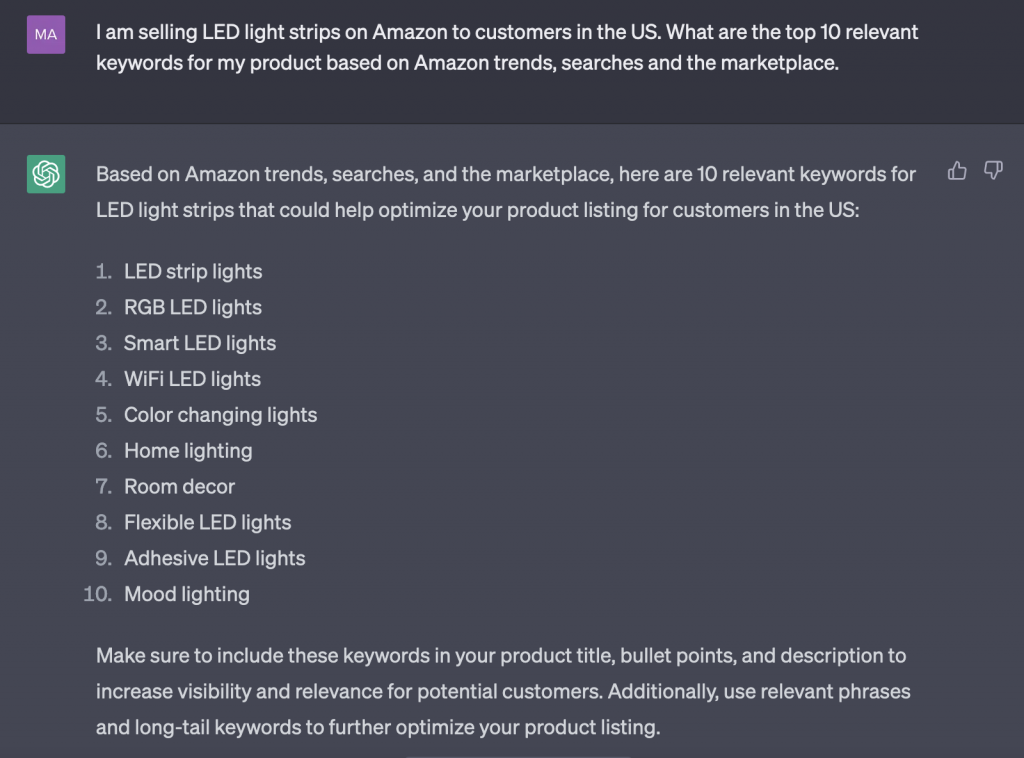 This can be a pain point for a lot of Amazon sellers. Keyword research can take anywhere from hours to days to complete for just one product. It requires manually sifting through existing Amazon listings, Google Trends results and going top-to-bottom on Amazon to fine-tune keywords that will help your products rank higher. But thanks to the many Keyword tools available today for Amazon FBA Sellers, you can take a break. As we were mentioning before, the best Amazon Sellers' tools, are already taking advantage of the benefits of AI and integrating it already into their systems. 
Always remember to ask the AI tools, to add your most important keywords into your bullets / title / content when creating the listing.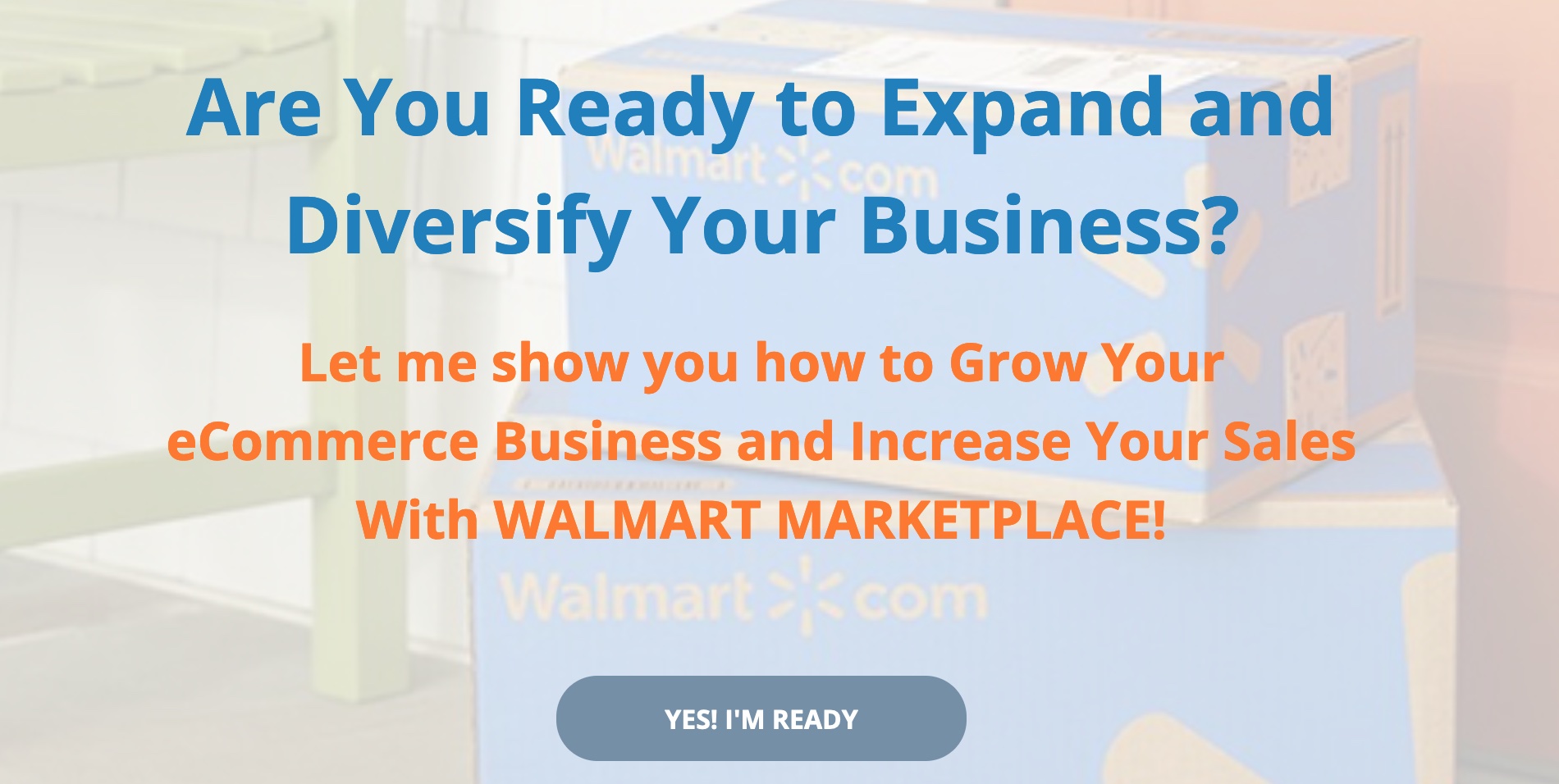 Once you've used an AI tool to do keyword research for your product and have a list of the best ranking keywords, you can start writing your listing content!
Tip! Take what you've written and insert it into an AI copywriting tool to rewrite and make your content read better and be more engaging with buyers.
6. AI can help with Amazon Market Research

Maybe you're in a position where you're looking to start a new product to sell and you've got an amazing source in place. But as always, you need to do your market research to find out if you can sell successfully and make a profit. Some product categories on Amazon are so saturated that it's hard to rank and beat some of the more established players. You could go and search Amazon and count how many listings there are for LED light strips. Or you could ask ChatGPT.
7. AI can help Creating an Effective Marketing Campaign
While ChatGPT can't create and run the marketing campaign for you, it's a great tool to outline a step-by-step campaign. If you're a new seller and new to the world of marketing and advertising and you don't know where to start, ask ChatGPT!
Important! You need to run the campaign yourself and constantly monitor it. There isn't an AI tool out there that can do the work for you.
8. Let it help Communicating with Customers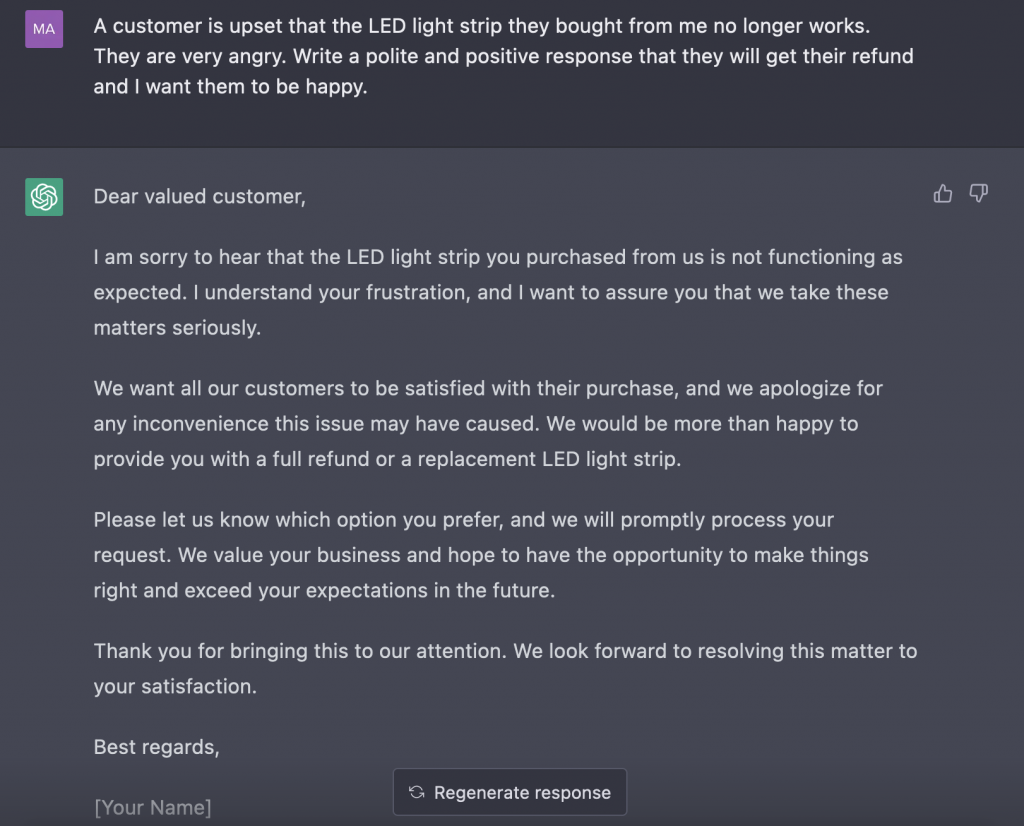 This is the most annoying part of being an entrepreneur. Dealing with customers. Most of the time, you will get amazing customers who love your product. But sometimes, you'll get annoying customers that want to make you pull your hair out. Instead of writing back an annoying and of-off-putting message, why not ask ChatGPT to write a reply for you? ChatGPT can write a reply that is polite, concise and uses positive language to assuage customer complaints. This might help you get a long-time customer and even prevent a bad review!
9. Help in Communicating with Amazon Seller Support and solve cases

We have heard from several sellers about their troubles with Amazon Seller Support. Sometimes it's good. Sometimes it's not. If you ever find yourself in a bind with Seller Support and face suspension because of too many negative reviews or defective items, which can really be out of your control, ChatGPT can help. Seller Support may ask you to remedy the situation with a plan of action to make sure that your buyers are happy and you ship them a quality product for their hard-earned money. Simply ask ChatGPT to create a plan of action with detailed action points for how you will tackle the issue and make sure it doesn't happen again. This could save you from suspension and losing A LOT of money, especially when you're already stressed out from running a business.
Wait, can I trust AI?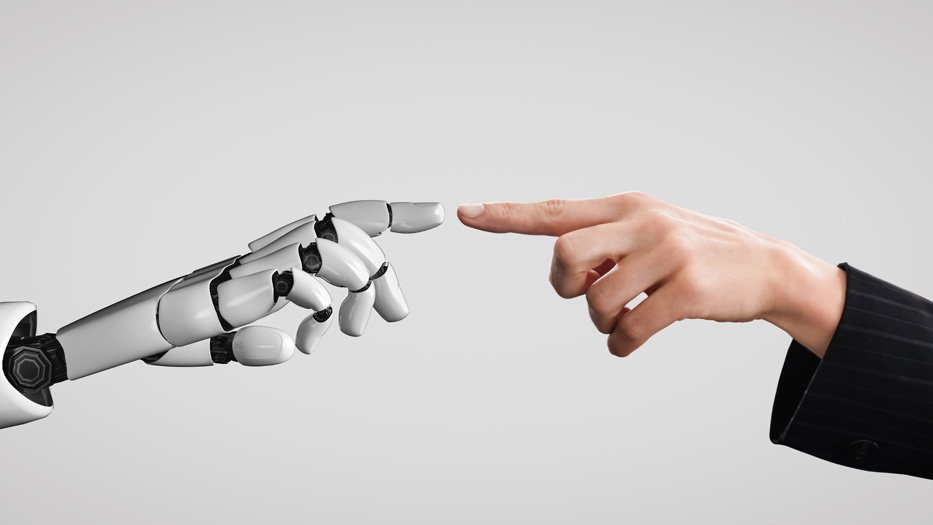 Good question! There's a lot of ways to use AI to save time and make your life easier as an Amazon seller. But AI is just a tool created by people. It's going to make mistakes. Can you blindly trust ChatGPT to give you the right answers every time? I wouldn't.
You see, AI tools are trained using data that is purposely given to them and sometimes, that data can be incorrect or outdated. ChatGPT can only use data up to September 2021, meaning that everything after that – it has no clue! So, if a world-changing new product was invented and you're trying to create a listing or conduct keyword research for it, ChatGPT can't help you there. AI is a fantastic tool to help you do research, find quick answers, come up with new and fresh ideas and help you save time. It's not a perfect tool so you need to always supervise it.
I'm a writer by trade. That's what I do. I've asked ChatGPT on many occasions to write me a blog post or copy – just to see what it can do. Each time, I've been surprised and let down. Surprised by the speed and how readable it is. But let down because the information it wrote wasn't accurate, wasn't targeted toward the audience I wanted to write it for or it used 250 words to write about useless stuff and only give me 50 words I could use.
Don't take my word for it, take a look at what ChatGPT has to say.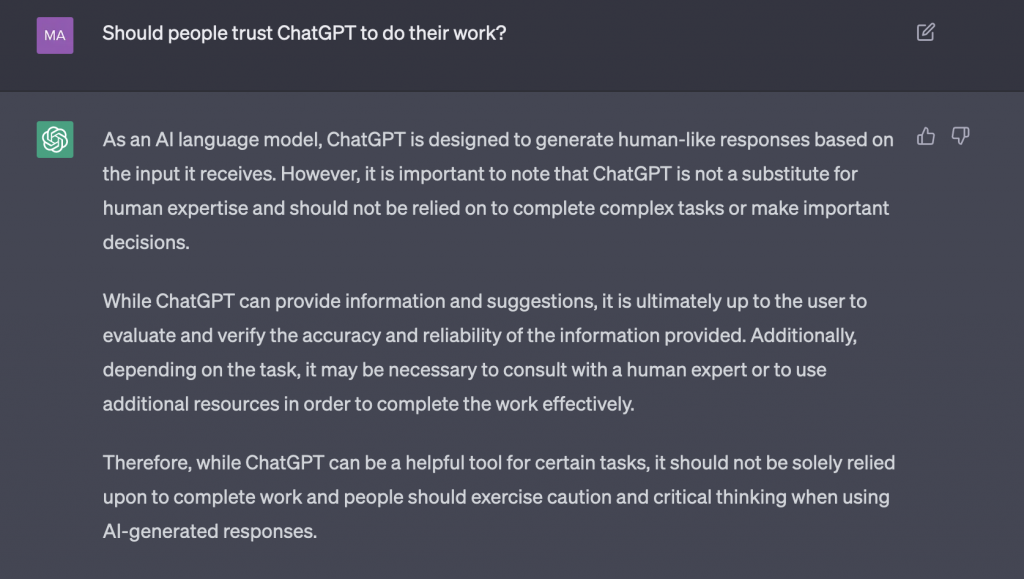 Sooo don't use AI?
No, I'm not saying that. AI tools are great as a supplementary tool to your own knowledge, your own hard work and your own ability. Think of it like driving a Tesla on autopilot. You know that the car's computer will help you drive the speed limit, change lanes for you, brake for you and get you to your destination. But is it smart to take a nap on your morning commute to work? NO! You should be awake the entire time because autopilot isn't 100% effective and sometimes, you need human reaction to prevent a serious accident.
So what level is AI at today?
As smart as AI tools like ChatGPT are, they're not at the point of what we see in movies where an AI robot can talk like a human, act like a human and do what people do.
However, ChatGPT is a strong example of what's possible and what's to come. Like all technological hardware and software, each year it gets better and better and better. ChatGPT-4, the successor, is already being revealed. And it's going to be miles better. The chatbot is also allowing the inclusion of plugins (just a few for now) that can be used to make its output even better. With travel, cooking and shopping plugins, ChatGPT can now help you book a vacation, find the best cake recipe and order the ingredients right to your door.
How is AI Shaping Business Worldwide, Today
Searching and Shopping: AI is used in everyday life – and you might not even know it. As I said earlier, AI is a coded algorithm that makes intelligent decisions based on real-time data. When you're browsing the internet to search or shop for something on Google, Facebook or Amazon, your recommendations and the advertisements you see are unique to you based on your online behavior and search history.
Voice Assistants: Voice assistants like Google, Alexa, Siri and others use AI to speak to you and answer your questions. When you ask Siri about the weather, the algorithm behind the AI is using real-time data such as your location, time of day and processing your question in a number of languages to answer your question as accurately as possible – in your language!
Smart Homes and Cities: If you have a smart thermostat at home, that's AI helping you save energy and money! Beyond that, developers of smart cities are hoping to use AI to regulate traffic and reduce congestion on roads. Imagine if traffic lights down a stretch of the road operated not on a time but on how much traffic there was at a particular time of day? Traffic could be exponentially reduced and you could get to your destination quicker!
Autonomous Vehicles: As we head towards a future of self-driving cars and trucks, AI is integral to an autonomous vehicle future to make sure that collisions don't happen, people don't get hurt, and people and supplies get to where they're going. AI can use real-time data from the road, traffic conditions, information from other connected vehicles and even weather, to choose the shortest and most economical way to get to a final destination – all without human aid!
In conclusion…
Artificial intelligence is a very useful method to help you run your Amazon e-commerce business. You can ask AI like ChatGPT to create listings for you with a simple command. You can ask it to do keyword research for you, aggregate key terms and features out of hundreds of reviews, and some tools can even help you create unique images to use for your brand or product images. Furthermore, AI tools can help rewrite your existing content to read better, be more engaging and speak to the audience that you're trying to target. It can also be a huge help for you to dip your toes and expand your e-commerce business in other countries' Amazon marketplaces.
Using AI to improve sales and marketing for your Amazon e-commerce business can be extremely helpful to save time. Instead of spending hours and days doing keyword research or writing a product listing for ten variations of your own products, you can have it done in minutes with AI. Instead of getting pro camera equipment or hiring people to take photos of your products, AI tools can help you improve your existing pictures with filters and more.
But it's always important to remember that you shouldn't be entirely reliant on AI tools. AI is still a developing software and it will get better over time, but until then, no one knows your product better than you, no one knows your brand story better than you – so you need to make sure you're always reviewing the work and tweaking it until it's perfect. So, if you're working with people for writing, design, sourcing, marketing, advertising and other work, keep working with them. AI is not going to replace humans any time soon!